South Korean tech industry finds warm reception in L.A.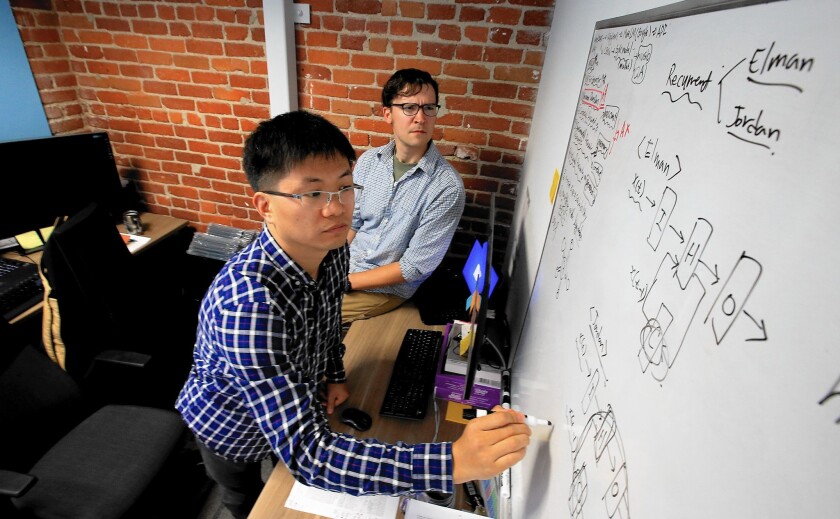 When a South Korean technology entrepreneur wanted to recruit computer programmers working in Seoul, he didn't load up on perks like a masseuse, sleeping pods or beer kegs. The most tantalizing benefit his start-up AKAStudy offered Koreans: a job in Los Angeles.
Populated with the largest Korean-heritage community outside North and South Korea, Los Angeles is a natural U.S. beachhead for Korean companies and entrepreneurs. But until recently, Koreans — like other Asians — preferred to open their outposts in Silicon Valley, close to storied companies such as Google, Intel and Apple.
Now, with support from the South Korean government and venture capitalists on both sides of the Pacific, Los Angeles is emerging as a corner in a tech triangle connecting Seoul to Silicon Valley to Silicon Beach.
The number of U.S.-based investments in Korean companies doubled from 2012 to 2014 and the sum rose from $8 million to nearly $600 million, according to venture capital data tracking firm PitchBook. In part, that's because there are more start-ups in South Korea than the country's venture capital industry is equipped to handle.
Korean venture capital coming to the U.S. is harder to track because its investors are more cautious about disclosure. But venture capitalists in the U.S. say that Koreans — the government, corporations, wealthy families and even celebrities — are fighting through language and cultural barriers to add zeros to their checks to California venture capital firms, especially amid a slowdown in China's economy.
"Everyone has start-up fever in South Korea," said Richard Jun, who runs Santa Monica venture capital firm BAM Ventures.
A number of video game companies with ties to South Korea are expanding in Southern California. App start-ups are blooming; a handful are moving into a new co-working space in the heart of Koreatown.
For companies with links to South Korea such as AKAStudy, Los Angeles offers more affordable living than Silicon Valley and a more pleasant and natural cultural transition for Koreans.
"Pretty much everything you can experience in Korea, you can have in L.A.," said Celina Lee, AKAStudy's business development director.
But it's what Los Angeles could offer and South Korea couldn't that sealed the deal: a U.S. education. Lee, who split her upbringing between eastern Los Angeles suburbs and South Korea, said that when AKAStudy sought to lure engineers from Samsung Electronics Co., they wanted their children to attend schools in the U.S. That influenced founder Raymond Jung to set up shop a year ago in Santa Monica.
"It plays a factor in us being able to recruit the best talent," Lee said.
The educational apps company, which has raised about $5 million in venture capital, debated where to locate U.S. offices. They'd heard of Korean immigrants feeling lonely in Silicon Valley. New York was a plane ride too far from Seoul. But Los Angeles offered the best chance of stepping into American culture without tripping. Lee helped AKAStudy's Korean families settle into Hancock Park, on the edge of Koreatown.
The Los Angeles region's Korean immigrant population, at about 226,000, is nearly five times that of Silicon Valley and the San Francisco Bay Area combined, according to a report last December from the Migration Policy Institute. USC and UCLA have attracted the world's largest cohort of Korean students, according to the Institute of International Education.
"We joke in Korea that L.A. is a place you can live without learning English," said Brian Koo, a general partner at Formation 8, a Silicon Valley venture capital firm that invested in AKAStudy.
Koo, a scion of the South Korean conglomerate LG Corp., has capitalized on his lineage to invest in six start-ups based in South Korea and to help companies such as virtual reality technology developer Oculus VR strike trans-Pacific partnerships.
In Los Angeles, John Nahm and his venture capital firm Strong Ventures have invested in more than a dozen start-ups led by Asians or doing business in Asia. A couple of the companies took flight. Coupang, South Korea's budding version of Amazon.com, bought one. Another recently returned to South Korea to make its debut.
Now, a new batch of Nahm's start-ups is being incubated in fancier digs. Strong Ventures and BAM Ventures just opened Kolabs, a nearly 5,000-square-foot co-working facility across from the trendy Line Hotel in Koreatown.
Today, it houses meal ordering app RushOrder; SnackFever, a subscription service that mails Korean snacks such as seaweed and cookie sticks; and 8/Omakase, a men's clothing retailer leveraging the Web and data analysis to serve style-conscious customers. Several more companies are expected to join this summer. Their advisors will include Brian Lee and Michael Yang, a pair of Korean American businessmen who have made big money in tech.
"We want to give Korean Americans and Korean start-ups a launching pad, and what better location for that than the place where the U.S. meets Korea like nowhere else," Nahm said as he stood by a pingpong table at Kolabs. "There's a lot of Korean entrepreneurship in the U.S. in real estate, garments, restaurants, but we want to encourage the same within tech."
South Korean President Park Geun-hye is intent on energizing an economy reliant on aging family-run conglomerates. One part of the plan: tap into California.
Last month, the South Korean government flew representatives of 10 start-ups from South Korea to meet more than 100 investors in Santa Monica and Irvine. It was the second event of its kind, a government spokeswoman said. The first one, in Silicon Valley last fall, resulted in at least three start-ups receiving capital.
On the Southern California stops, at least five start-ups endeared themselves to investors, according to Amir Banifatemi of K5 Ventures, who pushed for the Southern California visit because he'd heard from several South Korean techies looking to locate in cities from Irvine up to Glendale.
For instance, an arm of the South Korean game maker NHN flip-flopped between Mountain View and Irvine for nearly a decade. NHN didn't find success until moving in late 2013 to Santa Monica. It has tripled to 35 employees in the last year, and its latest game, "Crusaders Quest," has drawn more than 8 million downloads.
Nearly all of NHN's hires are American, and they speak a variety of languages, skills important to a company trying to make games playable worldwide.
South Korean game maker Com2us moved to El Segundo last March after competing for workers and affordable accommodations in San Francisco proved unbearable. Its 23 employees operate next door to South Korean game company Gamevil, which became Com2us' largest shareholder in 2013.
"We really want to be the first Korean gaming company to establish ourselves in the U.S.," said Com2us U.S. boss Casey Lee.
Most everyone speaks Korean because communication with Seoul is important. The company brought in chairs and red glass sketch boards similar to those at its South Korean office, but then added a U.S. twist with candy dispensers and fancy couches.
Another South Korean company, AfreecaTV, arrived in Torrance just before the new year. Bryan McKinney, in charge of the company's U.S. business development, said it made sense to be close to content creators and distributors in the center of the entertainment industry. Plus, there's the Korean connection.
"With so many Korean companies out here it makes it convenient for companies coming to the U.S. market for the first time," McKinney said. "Koreans have a very collective society; many things like to be done together."
The trend is further professionalizing the Korean community in Los Angeles.
"The second generation became more sophisticated," said David Choi, director of Loyola Marymount University's Fred Kiesner Center for Entrepreneurship. "I don't own a liquor store in South Central anymore. I'm an attorney in Bel-Air or an engineer at Hyundai in Orange County."
To be sure, Silicon Valley and San Francisco remain destinations. In the last couple of years, cybersecurity firm Seworks and online cosmetics retailer Memebox moved their main offices from Seoul to San Francisco.
Still, South Korea's rising tech conglomerates, like online communications and commerce platform Daum Kakao, say if they come to the U.S., Los Angeles is a logical destination.
As Nahm of Strong Ventures enjoys saying, "Just like Popeye needs his spinach to stay strong, Koreans need their kimchi, and they have that culinary support here."
Twitter: @peard33
---
Your guide to our new economic reality.
Get our free business newsletter for insights and tips for getting by.
You may occasionally receive promotional content from the Los Angeles Times.