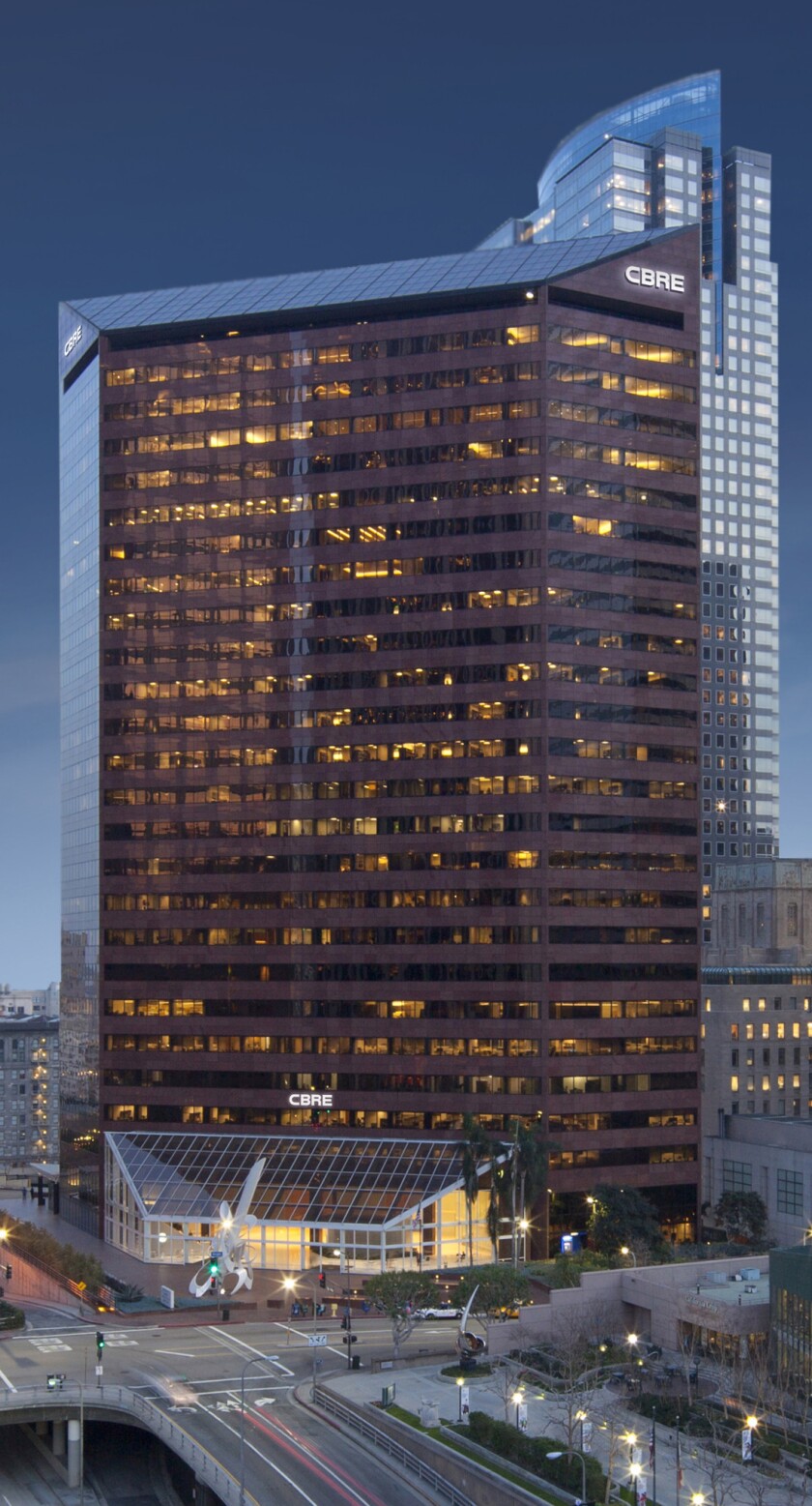 In April, Hasbro Inc. announced that it was ditching its old Burbank office for one about double the size in the city's media district as part of a major corporate expansion.
The reason the Rhode Island toy maker decided to sign a nearly 80,000-square-foot office lease? It needed more room for its growing number of Los Angeles-area employees.
That deal reflected an improving regional economy and office market in the second quarter as concerns over the national economy faded from the beginning of the year.
Countywide, the average monthly asking rent hit $3.02 a square foot, up from $3 in the first three months of the year, according to Los Angeles real estate services firm CBRE Group Inc. Vacancy, meanwhile, dropped from 14.8% to 14%.
The improvement was widespread, touching every major L.A. County office market from downtown to the South Bay, with growing businesses moving into larger spaces.
Such an improvement indicates that "all of the key drivers in L.A.'s diverse economy" are contributing to economic growth, CBRE said in its quarterly report.
"We expect 2016 to be a strong year," said Petra Durnin, CBRE's director of research.
Among the hottest markets was the Tri-Cities area of Glendale, Pasadena and Burbank. Growth there was driven by several industries, including finance and entertainment.
Vacancy in the submarket fell from 13.4% in the first quarter to 12% last quarter – the largest drop seen countywide. Average rents rose 3 cents to $2.92 a square foot.
The 78,000-square-foot office lease signed by Hasbro helped fill Burbank's Media Studios North office park, a joint venture between Shorenstein Properties and major Burbank landlord Worthe Real Estate Group Inc.
Big leases in other areas included a 135,003-square-foot renewal by law firm Quinn Emanuel in downtown Los Angeles, CBRE said.
The brisk second quarter that ended June 30 marked an improvement from the beginning of the year, which got off to a slow start as the stock market plunged over concerns about slowing economies abroad, particularly in China.
Those concerns eased through the second quarter and some foreign investors didn't shy away from pulling the trigger on a big deal.
That includes GLL Real Estate Partners, a German asset manager that along with a partner purchased CBRE's headquarters downtown for $314 million.
What comes next in the office market is less clear. Durnin of CBRE said that L.A. County is likely to reach full employment next year, leading to slower growth in the regional office market.
The British vote late last month to leave the European Union has also renewed concerns about global weakness.
However, David Rifkind, principal of Los Angeles real estate investment banking firm George Smith Partners, said Los Angeles could stand to benefit.
The so-called Brexit vote means that interest rates are likely to stay low for a prolonged period and that international investors could turn away from the European Union and Britain and toward major U.S. cities, Rifkind said.
"L.A.," he said, "becomes a beneficiary."
Follow me @khouriandrew on Twitter
---