LA Weekly's new era starts with backlash; some advertisers step back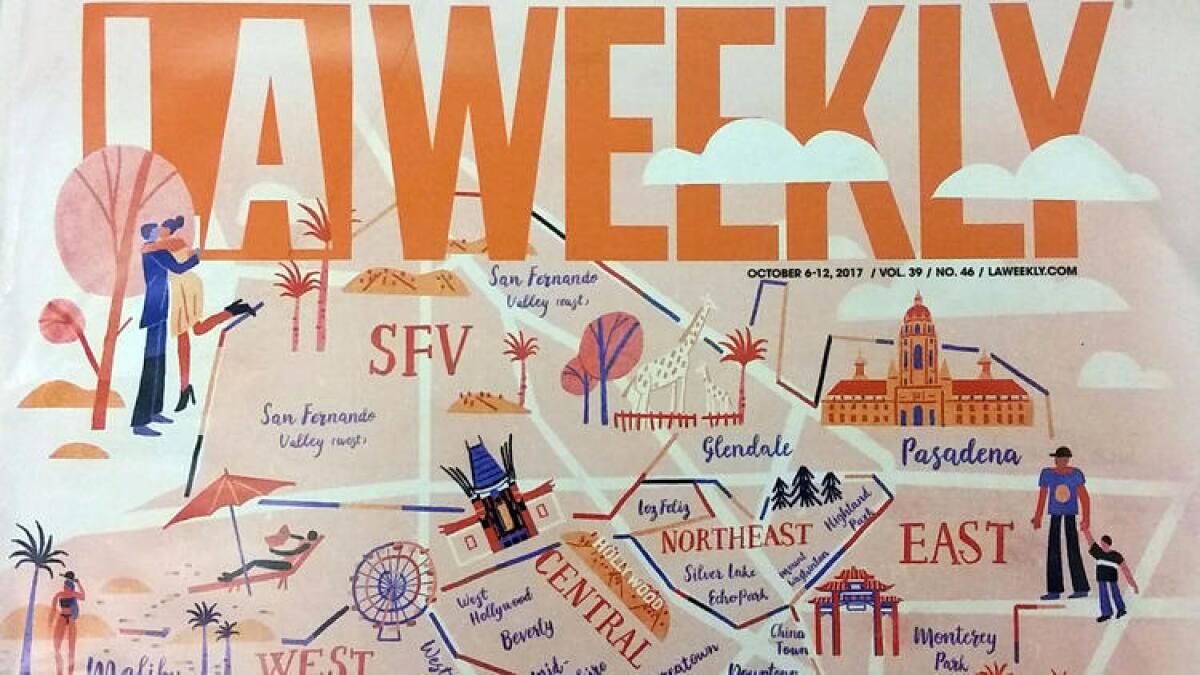 Since LA Weekly laid off most of its journalists last week and its new owners revealed their identities Friday, backlash has been swift and fierce.
There has been outcry over the new owners' political backgrounds and their plan to use articles by unpaid contributors. Former writers for the alternative weekly are spearheading a call for a boycott. A few advertisers have taken a step back.
On Monday, LA Weekly's sales director, Chris Hubbert, sent an email to staffers and new managers with a list of topics to address at an afternoon meeting. Among the topics: "Advertisers pulling," "Why everyone saw this coming except you" and "Social Media - Who's [posting] and why, because this weekend was horrible and amateur."
Investors in Semanal Media, which bought LA Weekly last week from Voice Media Group, said Monday that the backlash was unfair and many of the allegations against them untrue.
Much of the outcry online has centered on the identities of Semanal's financial backers. Semanal's owners consist largely of men with Orange County ties. Most have donated to conservative causes, and two of them — boutique hotel developer Paul Makarechian and real estate redeveloper Mike Mugel — have given large sums to numerous Republican political campaigns.
The ownership group includes Brian Calle, LA Weekly's new operations manager. Calle previously was an opinion editor for the Orange County Register and 10 other daily newspapers in the Southern California News Group. While running the Register's historically libertarian editorial page, he described himself as a "free-market enthusiast." A decade ago, he spent about a year working for the conservative Claremont Institute.
On Friday night, punk-rock veteran Henry Rollins, a columnist for LA Weekly since 2010, announced he was leaving the publication.
Jeff Weiss and April Wolfe, who until last week were a music columnist and film critic for LA Weekly, turned to Twitter to exhort readers, advertisers and event sponsors to boycott the paper. Director Ava DuVernay and actor Mark Ruffalo expressed support for the effort.
On Saturday, LA Weekly issued a tweet calling for contributors — "passionate Angelinos to share stories about their life and culture in L.A." — and asking for submissions to be emailed in. Twitter users excoriated the LA Weekly for seeking unpaid work and for the unusual spelling of "Angelenos." Within hours, LA Weekly deleted its tweet, and it has not tweeted since.
Calle called the wording of sales director Hubbert's Monday email "kind of a joke."
The new owners have "some level of frustration about the amount of backlash," he said. He believes he and his Semanal colleagues are an unfair target for journalists' unhappiness about last week's layoffs and the overall industry's struggles, and about billionaire Joe Ricketts' decision last month to shut down local news website LAist and its sister sites in the Gothamist network.
He said that no advertisers had canceled their accounts with LA Weekly, but that at least three have decided to hold off on running ads until they see that the paper is keeping its progressive bent.
Calle called much of what has been written about him online in recent days "absolute falsehood." He said that after a short time with the Claremont Institute, he realized he didn't share its principles and values. "On economic issues I'm just right of center," he said. "On social issues I'm progressive. On immigration issues I'm very, very progressive."
The new incarnation of LA Weekly, he said, will "advocate for things no one else is willing to advocate for … that people view as inappropriate." When asked what specifically it would advocate for, he demurred, saying that choice would be up to the editorial staff.
All of LA Weekly's top editors and all but one of its staff writers were laid off last week as the sale to Semanal went through. The new leadership plans to rely largely on pieces written by paid freelancers and unpaid contributors.
Many people have contacted the new management in recent days wanting to write, said Los Angeles attorney David Welch, a Semanal investor who is the company's chief executive.
LA Weekly has hired no new editors yet.
Welch said the paper is on track to meet deadlines for this week's print publication. The issues, which are free to the public, typically hit newsstands on Thursdays.
lauren.raab@latimes.com