Latest minimum wage hike comes as some employers launch bidding wars for scarce workers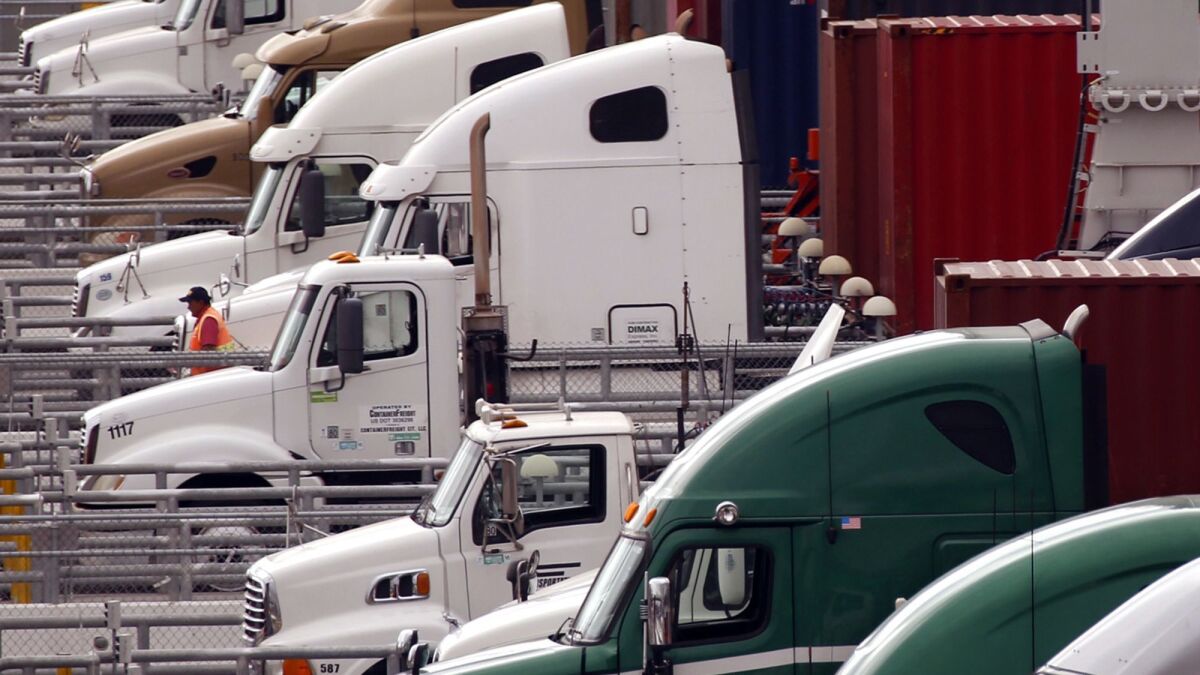 Karen Quintana is keenly aware of how hard it is for companies to find workers who can handle the government red tape and other complexities of shipping containers of electronics, toys and machine parts in and out of the nation's largest port complex in San Pedro Bay.
Once companies do find a qualified applicant, said Quintana, president of L.A'.s Customs Brokers and Freight Forwarders Assn., it's not uncommon for them to already have four other offers.
At that point, Quintana said, "there is a bidding war."
As unemployment hits record lows, Southern California employers are increasingly being forced to compete for a dwindling supply of workers. In many cases, they're responding by lifting wages. Others are investing in training or automating functions to make do with fewer workers.
It is against that backdrop of a tightening labor market that the minimum wage rises again in the city of Los Angeles and some smaller local municipalities, providing another boost to hundreds of thousands of low-paid workers in retail, healthcare and other industries.
Some experts say the growing economy should lessen the chance of companies having to cut hours or lay off workers to afford the latest step increase toward a $15 minimum wage for larger employers in 2020. (Companies with fewer than 26 workers have another year to catch up.)
As of Sunday, the minimum wage in Los Angeles, Santa Monica and Pasadena is $13.25 for large employers, up from $12. Smaller companies saw a $1.50 increase to $12. Unincorporated areas of L.A. County had the same increases.
California is also heading toward $15 an hour, but won't get there until two years after the local municipalities.
"It's a good time to be raising the wages," said Daniel Flaming, president of the Economic Roundtable, a local research group, noting many companies are seeing growing profits and are already facing pressure to lift pay.
Across the United States, there are now more job openings than unemployed people, the first time that's happened since the government started collecting that data in 2000.
And in California, unemployment was 4.2% in May, a record low for a survey that began in 1976. L.A. County unemployment clocked in at 4.4%. The county rate was slightly lower in November and December 2017; otherwise, that's the lowest since at least 1989.
Wage growth had been stubbornly slow during the economic recovery, but there are signs it's accelerating.
During the first five months of this year, average weekly earnings in L.A. County rose an average of 5.8% from a year earlier, the highest rate of increase since 2014, according to the Bureau of Labor Statistics. They had been essentially flat over the same period in 2016 and 2017.
But many employers still resist raising permanent pay levels.
Homebuilder consultant Don Neff with LJP Construction Services said many construction companies would find it tough to turn a reasonable profit if they raised pay. Instead, they're switching from a bi-monthly pay schedule to a weekly one to keep and attract employees. Some builders are turning to automation, choosing to construct the walls of a house or apartment in a factory.
That means big business for Entekra, a company that builds parts of a home its factory just outside Modesto.
"My biggest problem at the moment is having to turn away work," Chief Executive Gerard McCaughey said.
The Economic Roundtable estimates that about 624,000 workers in Los Angeles will see a pay bump from the latest minimum wage hike.
Not all workers are gaining ground. Mar Martinez, organizing coordinator with the Garment Worker Center, said she doesn't expect that the workers the group helps in downtown Los Angeles factories will see much of a benefit. Already, too many employers illegally pay garment workers less than the minimum wage, because major retailers don't pay their web of contractors a rate that can support it, she said.
Garment pay has firmed in some cases, Martinez said, but she attributes the slight boost to more aggressive enforcement from the California labor commissioner's office.
Even as the economy improves, some employers say the minimum wage hikes are squeezing them. In May, restaurateur George Abou-Daoud closed his Hollywood restaurant Farida, which employed about 20 workers and was frequented by middle- and upper-middle class diners who paid an average of $13 for a dish. Abou-Daoud said he was barely breaking even as it was, and if he had to pay a minimum of $12 an hour, it would have put him in the red.
Many restaurants are passing the wage hike on to customers by raising menu prices. Abou-Daoud said he may have tried. But after factoring in his non-minimum wage employees asking for a raise — something he has seen time and time again after previous increases — he didn't think diners would pay enough to cover his increased costs. He's also cut hours at a Hollywood deli he owns.
"You can only spend as much as you bring in," said Abou-Daoud, who before the minimum wages increase passed in 2015 campaigned unsuccessfully to let tips count toward the requirement.
Various studies have found little change in employment from minimum wage increases. However, one study last year from the University of Washington did suggest that when Seattle increased its minimum to $13, employers there cut hours and jobs for the lowest-paid workers.
Dave Smith, an economist at the Pepperdine University Graziadio Business School, is not a fan of minimum wage increases, believing that government subsidies are a more effective way to help low-wage workers. But he doesn't expect too many employers to close their doors as a result.
"We have a strong economy and there is shortage of workers and upward pressure on those wages," he said.
That's particularly true in the trucking industry, which is battling a worsening driver shortage amid rising demand for consumer goods and just-in-time shipments.
Like many companies, KKW Trucking in Pomona has been turning away shipments because it doesn't have the drivers to haul goods. In June, the company raised pay 11% for the notoriously tough job, which requires nights on the road away from family. KKW updated its online ads with the new pay rate and emailed previous applicants.
Chief Financial Officer Lynnette Brown said the company did so even though it can't recoup costs right away because of its long-term contracts with retailers.
"What is really needed is to raise the wages to the point this type of job is attractive to people," she said.
It's only been a couple weeks, but the company is already seeing results. The phone is ringing "a little bit more" and the quality of applicants is significantly improved, Brown said.
Follow me @khouriandrew on Twitter
---
UPDATES:
11 a.m.: This article was updated to clarify George Abou-Daoud's position in the minimum wage debate in 2015.
This article was originally published at 7 a.m.
Our six-week newsletter will help you make the right decision for you and your property.
You may occasionally receive promotional content from the Los Angeles Times.