Two-year sentence for Lerach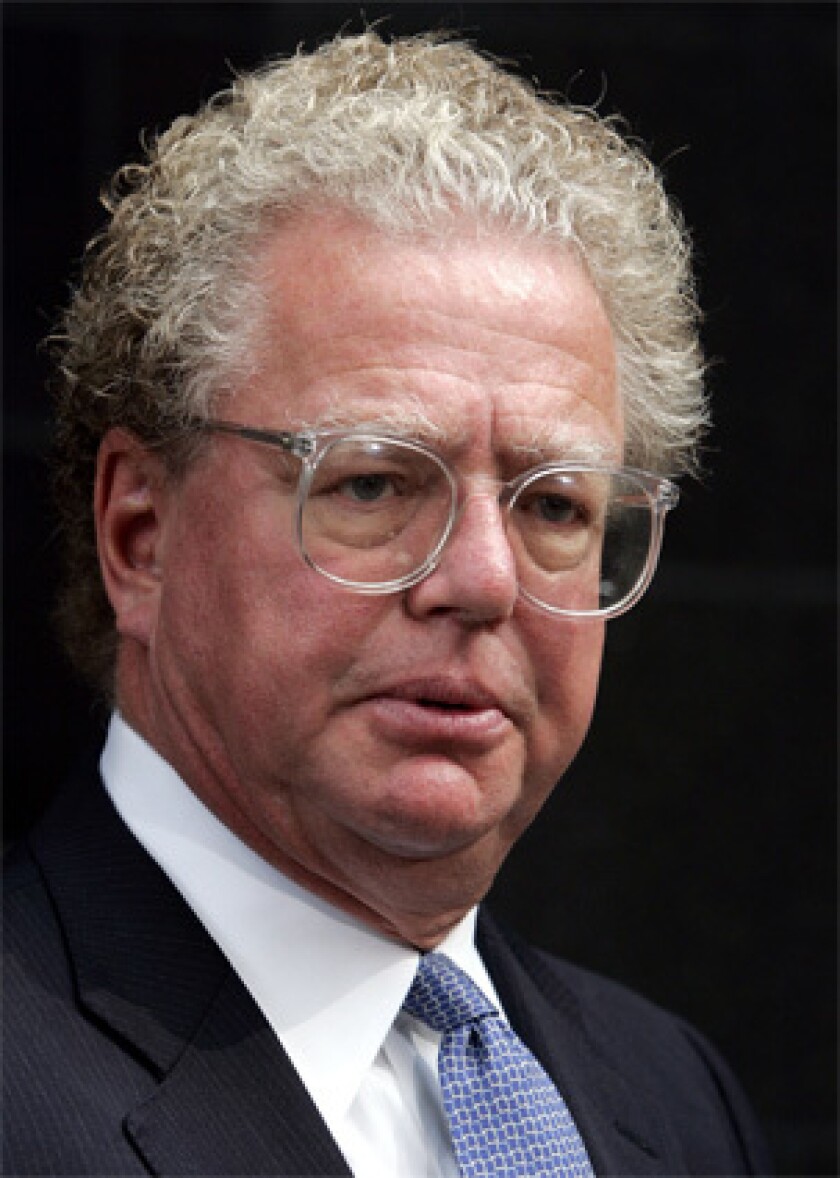 Los Angeles Times Staff Writer
William S. Lerach, once one of the nation's most successful attorneys, was sentenced to two years in prison Monday for his part in a kickback scheme involving class-action lawsuits against some of corporate America's biggest names.
The 61-year-old San Diego resident, who had pleaded guilty to one count of conspiracy to obstruct justice and make false statements, also received two years' probation, was fined $250,000 and ordered to complete 1,000 hours of community service.
U.S. District Judge John Walter said the kickback scheme had corrupted the law firm where Lerach practiced for 28 years "in the most evil way."
Before the punishment was handed down, Lerach read a statement in the courtroom, which was packed with family, friends, former colleagues and plaintiffs.
"I knew what I was doing was wrong," he said. His voice quavered as he continued. "My conduct was completely and absolutely unacceptable from anyone, and especially a lawyer."
According to an indictment handed down earlier this year, the New York law firm now known as Milberg Weiss made an estimated $250 million in fees over two decades by filing class actions on behalf of ready-made plaintiffs who received kickbacks. The indictment claims the firm paid $11.3 million to people who agreed to be plaintiffs in suits against Xerox Corp., United Airlines, Beverly Hills Savings & Loan Assn. and dozens of other companies.
Seven people, including the three former partners at the firm, have pleaded guilty in the case. The firm itself and co-founder Melvyn Weiss have pleaded not guilty and are scheduled to go on trial in Los Angeles in August.
For Lerach, federal prosecutors had recommended a prison term of one to two years. His lawyer, John Keker, asked for six months behind bars and six months of home confinement, saying Lerach had accepted responsibility for his actions, apologized and suffered humiliation and the loss of a profession he loved.
Walter rejected that request, saying Lerach "got a lot of forgiveness in the plea agreement" and that his crime deserved "significant punishment."
Wearing a dark suit and his trademark white-frame glasses, Lerach sat quietly during the 2 1/2 -hour sentencing hearing, sometimes fidgeting with his watch and swiveling slowly in his chair. When the judge announced his sentence, Lerach stared at the table where he sat between his lawyers, his face flushed red.
Lerach left Milberg Weiss in 2004 to found a San Diego class-action practice now called Coughlin Stoia Geller Rudman & Robbins. He resigned from that firm in October, days before his guilty plea, and will probably be disbarred.
As part of his deal with prosecutors, Lerach was able to shield Coughlin Stoia from prosecution, and he won't have to testify in the upcoming trial. He also agreed to forfeit $7.75 million.
The kickback case ended the career of a man that Keker called "a lion of the bar."
Revered by his clients, including large pension funds, and reviled by many corporate executives, Lerach's explosive rants and courtroom prowess won him celebrated success and wealth. He extracted $7.2 billion in settlements from Enron on behalf of defrauded investors and employees. The victories secured him millions in legal fees that over the years paid for multiple houses, a private jet and original artwork. He was also a major Democratic Party donor.
Lerach requested that he be allowed to serve his time at the federal prison in Lompoc and upon his release to be allowed to teach, for no salary, via teleconference at his alma mater, the University of Pittsburgh School of Law, on ethics and corporate governance.
"I don't think the world has heard the last from Bill Lerach," said John Coffee, who teaches at Columbia Law School. He noted that Lerach had written a series of op-ed pieces in recent years and suggested he might profitably spend his time behind bars writing his autobiography "which . . . will be more interesting than any John Grisham novel."
Scores of friends and former colleagues, clients and politicians wrote letters praising Lerach in what Walter called "a genuine outpouring" of support. Many of those letters were filed under seal, but at the start of Monday's hearing Walter approved a request by the Los Angeles Times and Bloomberg News to see the letters and ruled they be unsealed later this week.
Lerach is expected to surrender to federal authorities in April.
---
Must-read stories from the L.A. Times
Get the day's top news with our Today's Headlines newsletter, sent every weekday morning.
You may occasionally receive promotional content from the Los Angeles Times.