3 Images
Lettuce in the field
Lettuce sprouts up on a Sanlinas Valley farm. The spinach scare is only the latest bad news for Salinas. The biggest city in Monterey County was so broke it nearly shut its libraries two years ago.
(Stephen Osman / LAT)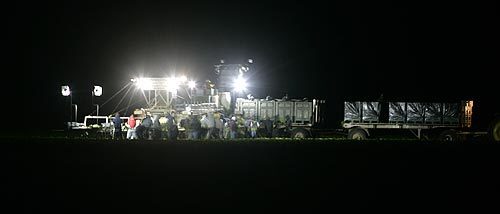 Illuminated by flood lights, workers pick lettuce before the Sun rises on a Salinas Valley farm.
(Stephen Osman / LAT)
A helicopter sprays a lettuce field in Salinas. Expensive homes dot the hills above Salinas in background.
(Stephen Osman / LAT)