Loot Crate delivers monthly surprise to 'geek and gamer' subscribers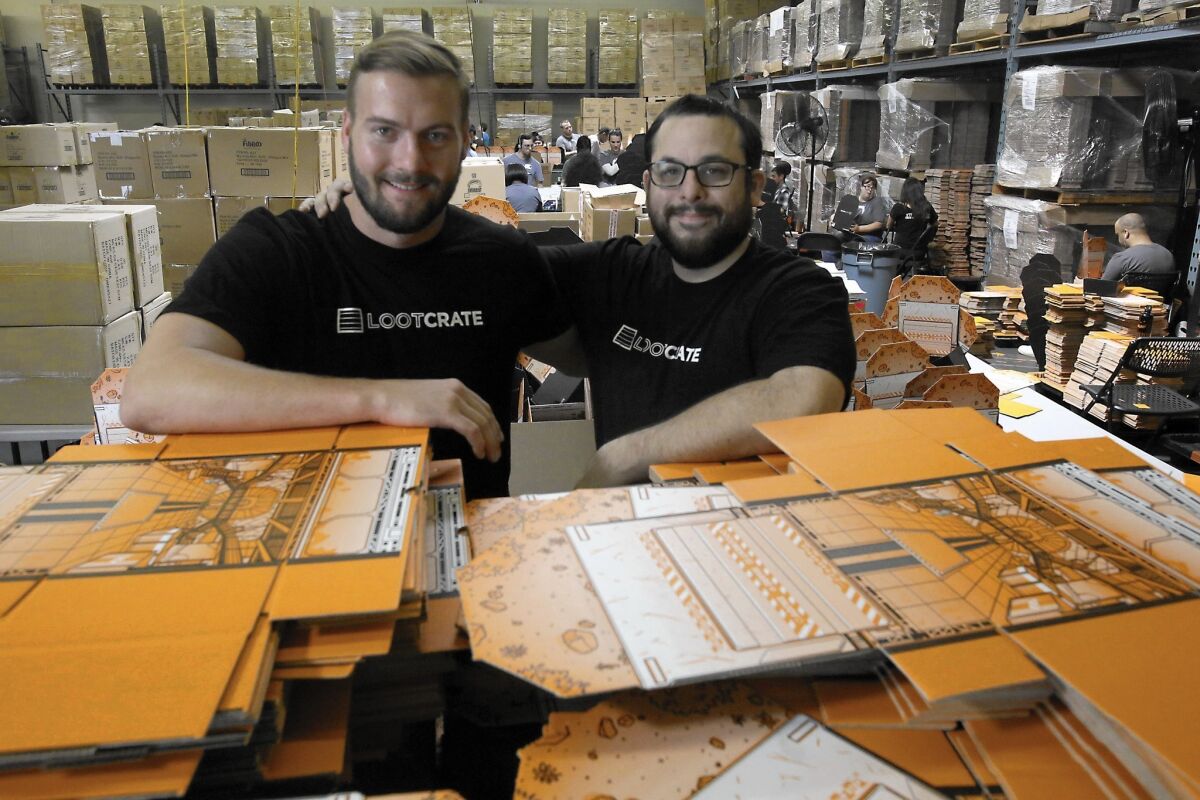 Chris Davis wanted to sell "energy infused" snacks to video game fanatics, so he tried catchy names — Cashews of Chaos, Seeds of Victory.
When that didn't work, he tried a new tactic — offering up a subscription to "geek and gamer" products, delivered to doorsteps. Customers wouldn't know what they were buying until the monthly surprise arrived, much like a wine or book club.
He tried to put together "Comic-Con in a box" for gamers, he said, referring to the massive annual convention in San Diego celebrating comic book and superhero culture.
The resulting business, Los Angeles-based Loot Crate, now peddles all kinds of toys, magazines, T-shirts and trinkets to more than 200,000 geeks and gamers in 10 countries. The 2-year-old company joined a growing industry of subscription box sellers, including several based in Los Angeles, that are catering to dozens of different passions and needs.
Loot Crate's October box, with a theme of "fear," included a chain saw/hammer pen, a book on surviving a "Sharknado," an exclusive "The Walking Dead" comic book and a T-shirt decorated with scary cats organized as a skull.
"For $20 a month, you can get items no other company can give you, because we're working hand in hand with major entertainment and video game brands on items designed just for our community," said Matthew Arevalo, a Loot Crate co-founder.
The concept isn't exactly new. Entrepreneurs have long tried enticing subscribers to pay for regular shipments of items as varied as fishing bait, shaving razors and socks. Such services appear and disappear each month.
But a few seem to stand out, with the leading companies scoring more than 1 million subscribers and tens of millions of dollars in venture capital.
To become large enough to challenge traditional retailers, Loot Crate and its peers may have to shift strategy. During the last year, some companies have become product manufacturers themselves to lower costs. Others have expanded offerings, considered acquiring competitors or sold out to big-box retailers.
Los Angeles start-up Dollar Shave Club, which counts 1 million subscribers and $73 million in funding, added a $4-a-month option for a 40-pack of toilet wipes to its signature $1 package of five razor blades.
Wine shipper Club W, based in El Segundo, shifted from shipping other producers' wines to making its own in Santa Maria, with grapes from Central Coast vineyards. The company expects 10-fold subscriber growth in 2014.
Culver City-based Quarterly Co. sees four-times-a-year subscription boxes as just the first of many new mediums for celebrities to deepen their connection to fans and collect some cash. The stars curate items in line with their interests. Author and technology investor Tim Ferris' $100 box has included titanium sunglasses, cookbooks and tea, for instance.
"We don't want to be seen as a quirky, different way to shop, because that kind of business has its limits," said Quarterly Chief Executive Zach Frechette, noting that his approach has led to sales rising about 30% each month.
Making sign-ups outpace cancellations is every box's challenge.
"Negative reviews — and the fact that consumers often end up with wasted products they never use — make it difficult for box services to maintain momentum," said Danny Silverman, vice president of business consulting services at retail advisory firm Clavis Insight.
Though analysts are skeptical that the box curators can build $1-billion businesses, interest from traditional retailers has kept entrepreneurs excited.
Target and Amazon now offer discounts for recurring shipments. In August, Nordstrom said it paid $350 million in stock to buy Trunk Club, a men's clothing subscription. Nordstrom identified subscriptions bundled with strong customer service as a growing trend but decided that it would be tougher to build a competitor.
On everyday items, start-ups say growth is contingent on continuing to beat the giants on price and customer service. For novelty shops like Loot Crate, social media has been imperative.
Arevalo said Loot Crate has won people over online through transparency — showing the team hand-stamping the first boxes at Davis' father's house, and stuffing them with items such as "Avengers"-themed cologne — and influencers, such as YouTube stars that promote the service.
"We're trying to be entertaining and interesting, not just a company that sends you cool stuff," Arevalo said.
The large following recently allowed the 50-employee company to commission a 10-minute film based on the Fox show "Firefly." Loot Crate's huge order of the "Rocket Raccoon" comic book led it to debut at No. 1 on the monthly sales chart before falling to No. 17 the next month.
And Loot Crate's ability to influence consumer demand has led the likes of Marvel, Electronic Arts, Microsoft and Warner Bros. to include a Loot Crate strategy in marketing for movies, games and shows.
By hitting thousands of people in a short period, Loot Crate breeds "a surge" of user-generated content around a title, Arevalo said.
Funko, an Everett, Wash., company known for its vinyl action figures, has seen orders from Loot Crate grow at a quick rate, senior account manager Shawndra Illingworth said.
Because of the huge quantities Loot Crate purchases, Funko can manufacture one-of-a-kind items — giving the start-up an edge over hobby shops. Based on trailers, Loot Crate bet that the hit character from this summer's "Guardians of the Galaxy" would be Groot, an alien superhero who resembles a tree.
So the company ordered a doll of the Groot character with exclusive glow-in-the-dark parts. It was a winner with subscribers, including Jenni Powell, head of production at New Media Rockstars in Los Angeles.
"I went crazy for Groot. Oh my gosh," she said.
Powell, who also subscribes to clothing service StitchFix, has enjoyed the monthly surprise so much that she helps video makers partner with Loot Crate. They get a small commission if their viewers subscribe.
"They built a whole culture around the crate," she said. "It was very smart."
Loot Crate, which hasn't sought outside funding, just bought a new warehouse in the city of Commerce. During weeklong crate-packing, a Highland Park facility had become jammed with about 75 workers, loot and ornately decorated boxes.
Davis abandoned his energy snacks business, but Loot Crate still delivers for small firms.
A recent crate included a pair of fashionable lightning bolts meant to be tied to shoes. Shwings, the Los Angeles company that makes the accessory, saw Loot Crate's audience as a new one, President Alan Johnson said. Despite selling the shwings at a discount, he called the campaign successful because online sales rose 20% the month after the crate shipped.
"That's certainly going to have trickle-down effect, when you put a product in 200,000 people's hands," Johnson said.
Twitter: @peard33
---
Sign up for the California Politics newsletter to get exclusive analysis from our reporters.
You may occasionally receive promotional content from the Los Angeles Times.