Lyft stock drops more than 11%, falling below IPO price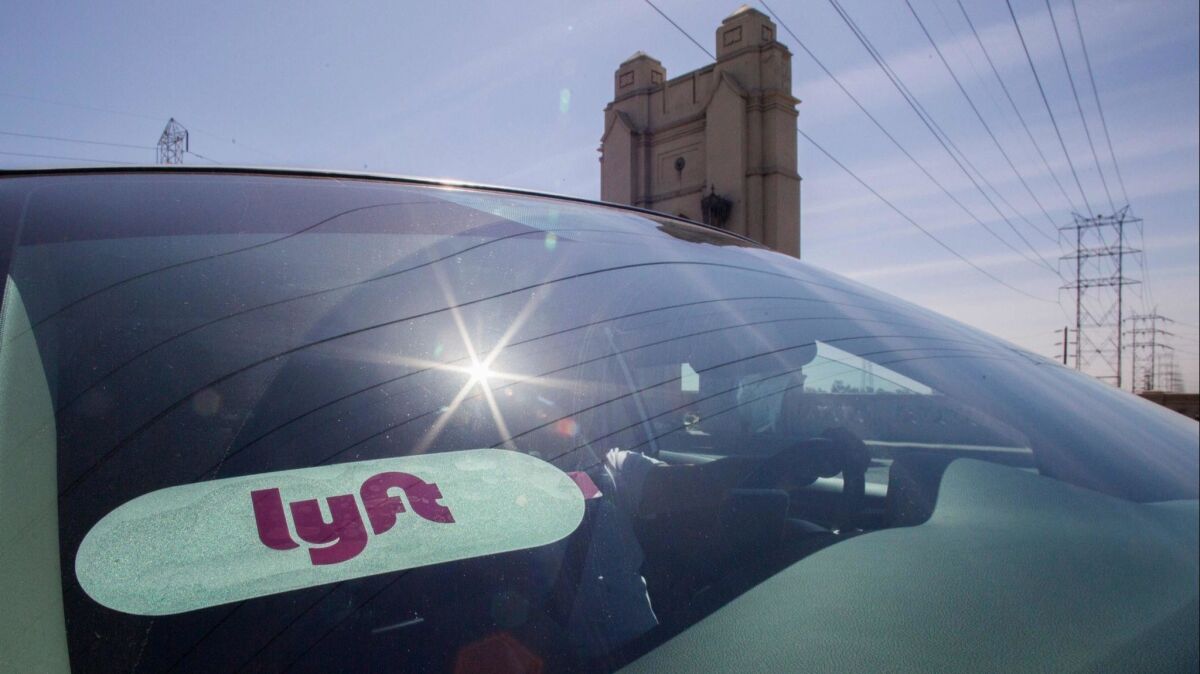 Lyft Inc. shares tumbled more than 11% on Monday, dropping below their IPO price of $72 in a rough second day of trading for the San Francisco ride-hailing firm.
Because stocks usually leap during their first day of trading, it's not unusual to see them falter the second day, said Dan Ives, managing director at Wedbush Securities.

For the record:
12:45 p.m. April 1, 2019An earlier version of this article said Lyft posted a loss of $911 billion last year. It posted a loss of $911 million.
Lyft was following that pattern, opening Friday at $87.24, or 21% above its IPO price. Its stock closed at $78.29, up nearly 9%.
Then, on Monday, Lyft's stock fell to $69.01 a share — down 11.9% for the day and 4.2% from the IPO price.
"Falling below an IPO price is a black eye," Ives said. "When a stock falls below an IPO price on its second day of trading, that's not good news."
For Lyft, part of the trouble could stem from investor concerns that the company's path to profitability "continues to be very murky," he said. Lyft posted a loss of $911 million last year.
Ives said only a few tech companies had traded below their IPO price on their second day of trading.
In 2011, shares of streaming music firm Pandora Media Inc. plunged nearly 24% on their second day of trading to $13.26 — down more than 17% from their IPO price of $16. A year later, shares of Facebook Inc. dropped 11% to $34.03 on their second day of trading. That was down more than 10% from the social media giant's IPO price of $38 a share.
Lyft's IPO is viewed as a litmus test for the larger tech IPO market. The company is one of the first major companies to go public this year. Rival Uber Technologies Inc. is expected to follow suit soon, as are message-platform company Slack Technologies Inc. and digital-scrapbooking and image-search site Pinterest Inc.
But it's too early to predict Lyft's future.
"It's a new market, ride-sharing, so I also think you can't jump to conclusions," Ives said. Lyft is not having a great start, he said, "but its success is going to be determined on how it does over the next 12 to 18 months, or next few years, not the second day."
Pandora saw its stock fluctuate for years before the company was acquired in January by satellite radio firm SiriusXM Holdings Inc. Meanwhile, Facebook's stock price has soared since its post-IPO stumble. On Monday, the shares were trading at $168.23.
S&P Global Market Intelligence examined companies that went public at a value of more than $500 million since 2009. About 65% showed a positive change in the stock price after six months from the IPO. At the end of a year, 62% showed a positive change.
Some of Lyft's Monday drop can be attributed to timing. Friday was the end of the first quarter. Some pre-IPO investors may have delayed selling the stock until Monday because of disclosure reasons, according to observers.
"To avoid the underwriters' scrutiny, big investors who were allocated stock in the offering may have waited until April 1 to sell so that their quarter-end reports didn't reveal their flightiness," said Daniel P. Wiener, chief executive of Adviser Investments, a Newton, Mass., money manager. "It was a short ride for Lyft's shares."
The Washington Post contributed to this report.
Twitter: @smasunaga
---
Sign up for the California Politics newsletter to get exclusive analysis from our reporters.
You may occasionally receive promotional content from the Los Angeles Times.