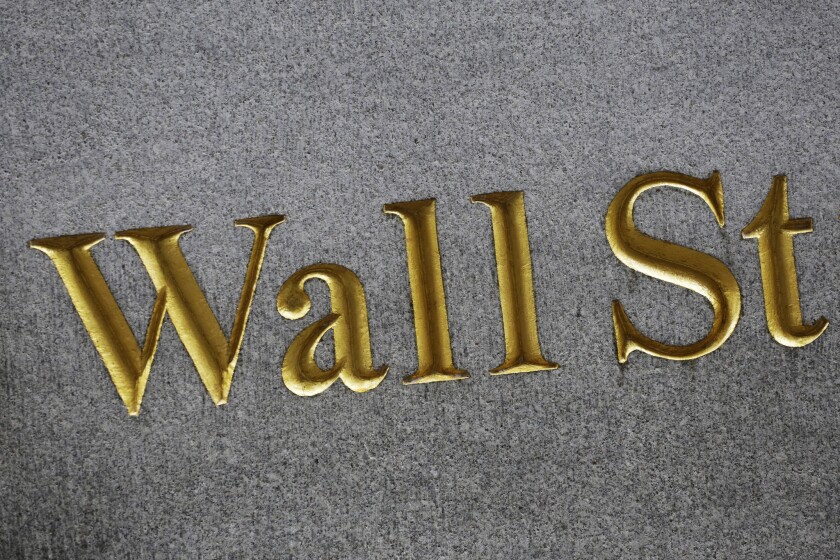 U.S. stocks rose Monday as investors were cheered by a spate of corporate dealmaking over the weekend. Technology companies made the biggest gains. But investors were doubtful that the biggest deal, AT&T's agreement to buy Time Warner, will happen.
Companies announced almost $100 billion in deals over the last few days. Investors had mixed reactions to the moves, but they were pleased the companies were willing to spend.
"Any time you see a lot of IPOs, a lot of merger activity, it boosts confidence," said Karyn Cavanaugh, senior markets strategist for Voya Investment Strategies.
Big-name technology companies including Apple and Alphabet, which owns Google, rose ahead of reporting their earnings this week. Amazon also rose, giving other consumer companies a boost. Energy companies slipped with the price of oil.
The Dow Jones industrial average rose 77.32 points, or 0.4%, to 18,223.03. The Standard & Poor's 500 index advanced 10.17 points, or 0.5%, to 2,151.33. The tech-heavy Nasdaq composite climbed 52.42 points, or 1%, to 5,309.83.
Over the weekend, telecom giant AT&T agreed to pay $85.4 billion for Time Warner, the entertainment conglomerate that owns HBO, CNN and Warner Bros. Time Warner jumped almost 8% Friday but remains far below the $107.50 a share AT&T agreed to pay. On Monday, AT&T fell 1.7% to $36.86 while Time Warner slid 3.1% to $86.74.
Read more: The rise of the small screen is what's driving the AT&T-Time Warner deal »
Both presidential tickets have already expressed skepticism about the deal, and it's not clear if regulators will let the companies combine. The concern is that the combined company might favor its own media properties at the expense of those owned by rivals. In recent months the government has stepped in to stop a series of big deals, including two major health insurance mergers.
"Any deal is seen as reducing competition and unfair to the consumer," said Cavanaugh, who said there can be major benefits to such deals.
Investors also worried about the price AT&T is paying. The company, which bought DirecTV for $48.5 billion last year, already has about $117 billion in long-term debt.
Also over the weekend, aviation electronics company Rockwell Collins agreed to buy commercial aircraft and business jet maker B/E Aerospace for $62 a share, or $6.4 billion in cash and stock. B/E Aerospace shares leaped 16.4% to $58.89 and Rockwell Collins sank 6.2% to $79.21.
Read more: Consolidating the cockpit: Rockwell Collins to buy B/E Aerospace »
Tech stocks have done very well over the last few months; that could continue as more companies report their earnings. S&P Global Market Intelligence says analysts think earnings for tech companies will grow 6% in the third quarter. Overall earnings for companies in the S&P 500 index are expected to rise less than 1%.
Microsoft, which is trading at all-time highs after strong earnings last week, rose 2.2% to $61. Alphabet advanced 1.4% to $835.74 and Apple ticked up 0.9% to $117.65.
TD Ameritrade will combine with competitor Scottrade at a time when investors are choosing index funds over stock picking. In a related transaction, TD Bank will also combine with Scottrade Bank. The two deals were valued at $4 billion together. TD Ameritrade slid 4.4% to $35.46.
China Oceanwide Holdings agreed to buy Genworth Financial for $5.43 per share, or $2.7 billion. The financial services firm traded at $25 a share at the end of 2007, before the financial crisis, and its stock hasn't recovered. It's taken steep losses the last few years and on Monday it sank 8.1% to $4.79.
Benchmark U.S. crude slipped 33 cents to $50.52 a barrel; earlier in the session, it was down more than 2%. Brent crude, the international standard, fell 32 cents to $51.46 a barrel.
Wireless carrier T-Mobile jumped 9.6% to $51.19 after reporting better-than-expected results and raising its forecasts for new customers. It hadn't traded above $50 a share since October 2007.
Consumer companies also did better than the broader market. Amazon picked up 2.3% to $838.09 and PepsiCo rose 1.6% to $107.31.
Kimberly-Clark fell 4.7% to $113.91 after reporting its biggest loss in more than a year. The maker of consumer products such as Huggies diapers and Kleenex tissues reported weak results for the quarter and cut its annual sales forecast. The stock reached all-time highs in early July but has fallen 17% since then.
The dollar rose to 104.24 yen from 103.85 yen. The euro edged up to $1.0879 from $1.0871.
Bond prices slipped. The yield on the 10-year Treasury note rose to 1.76% from 1.74%.
Wholesale gasoline slipped 3 cents to $1.50 a gallon. Heating oil remained at $1.58 a gallon. Natural gas sank 16 cents, or 5.4%, to $2.83 per 1,000 cubic feet.
Gold fell $4 to $1,263.70 an ounce. Silver rose 1 cent to $17.60 an ounce. Copper remained at $2.09 a pound.
Germany's DAX gained 0.5% and the CAC 40 in France went up 0.4%. The FTSE 100 of Britain lost 0.5%. Hong Kong's Hang Seng jumped 1%, Japan's Nikkei 225 rose 0.3% and the Kospi in South Korea climbed 0.7%.
ALSO
California actually benefits a lot from trade with China
Elon Musk describes his vision for human habitats on Mars
China's red hot box office is cooling, and bad movies are only one part of the problem
---
UPDATES:
3:20 p.m.: This article was updated with closing prices, analysis and additional information.
This article was originally published at 8:10 a.m.
---