Stocks end mixed as investors seek safety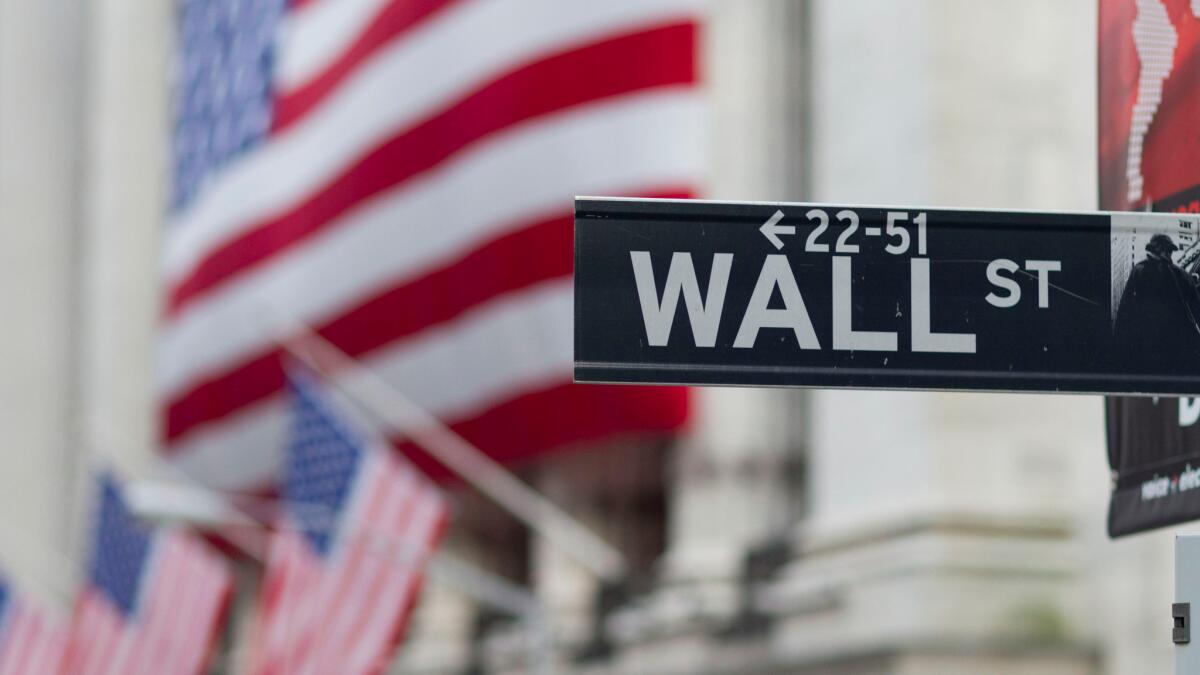 Stocks wobbled Thursday as investors changed course and tempered their expectations for faster economic growth. Industrial companies, which have surged over the last few months, finished lower as Wall Street focused on gold, bonds and companies that pay big dividends.
Construction equipment, transportation and metals companies skidded. Small-company stocks, which are more sensitive to changes in economic growth, also slumped. Technology companies fell for the first time this month. The biggest gains went to utilities, real estate investment trusts and other companies that pay hefty dividends.
Still, the Dow Jones industrial average, which tracks 30 large U.S. stocks, rose for the 10th day in a row.
Industrial companies have made big gains since November as investors expect the Trump administration and Republican Congress to ramp up spending on infrastructure. That optimism faded on Thursday.
An infrastructure spending bill is one of the administration's key proposals for speeding up economic growth, along with tax cuts and reduced regulations. But Jeff Kravetz, regional investment strategist at U.S. Bank Wealth Management, said it might take a while before any bills are introduced or become law.
"They're all positive initiatives for the economy, but to get any of these done is not something we can get done in a few months," he said. "We may have gotten ahead of ourselves with a lot of these initiatives."
The Dow rose 34.72 points, or 0.2%, to 20,810.32. The Standard & Poor's 500 index edged up 0.99 of a point to 2,363.81. The Nasdaq composite fell 25.12 points, or 0.4%, to 5,835.51. The Russell 2000 index of smaller-company stocks slid 9.23 points, or 0.7%, to 1,394.62.
Industrial companies declined for the second day in a row, taking some of their biggest losses since the election. Construction equipment maker Caterpillar fell 2.7% to $95.55, its biggest loss since September. United Rentals slid 5.6% to $120.90.
Copper fell 3.3% to $2.64 a pound, its biggest one-day decline in more than a year. Companies that make basic materials also fell, and U.S. Steel sank 7.9% to $37.31.
Bond prices rose. The yield on the 10-year Treasury note fell to 2.37% from 2.42%.
That helped companies that pay big dividends, such as utilities and real estate investment trusts. Electricity company FirstEnergy picked rose 1.9% to $31.39. Realty Income, which owns properties used by retailers like drugstores and discount stores, climbed 2.8% to $62.86.
In another sign investors were seeking some refuge, gold jumped $18.10, or 1.5%, to $1,251.40 an ounce and silver rose 17 cents to $18.12 an ounce.
L Brands, the owner of Victoria's Secret and Bath & Body Works, tumbled 15.8% to $48.94 after it said February sales have been weak, especially at Victoria's Secret. The company decided to stop selling swimwear last year and said sales at older stores have dropped sharply.
Food conglomerate Hormel skidded 5.4% to $35.29 after it said low turkey prices hurt its profit and sales in the first quarter, and it cut its annual profit estimate because it expects those prices to remain weak.
HP Inc. climbed 8.6% to $17.60 after the company blew past analyst estimates in the fourth quarter thanks to a 10% jump in revenue from personal computers. HP said laptop sales jumped, which made up for lower printer revenue and flat desktop sales.
That wasn't enough to keep the recent technology rally going, but Kravetz said technology stocks should continue to do well because their earnings are improving and consumers and businesses are feeling more comfortable spending. Tech stocks are at their highest levels since the dot-com boom.
Square leaped 14% to $17.15 after the mobile payments processor reported a larger-than-expected profit and gave strong estimates for 2017.
Tesla slid 6.4% to $255.99 after reporting a loss for the last three months of the year. It had forecast a profit.
Boston Scientific fell 2.9% to $24.43 after it said it will take all of its Lotus Valve devices off the market and from clinical testing sites because of a manufacturing problem. The device is intended to replace damaged or defective aortic valves. Last year the company announced a similar problem with a related Lotus product. Competitor Edwards Lifescience jumped 3.8% to $95.76.
Benchmark U.S. crude oil futures rebounded, rising 86 cents, or 1.6%, to $54.45 a barrel. Brent crude, the standard for pricing international oils, rose 61 cents to $56.58 a barrel.
Wholesale gasoline rose 2 cents to $1.53 a gallon. Heating oil rose 3 cents to $1.66 a gallon. Natural gas rose 3 cents to $2.62 per 1,000 cubic feet.
The dollar fell to 112.75 yen from 113.12 yen. The euro rose to $1.0574 from $1.0568.
Britain's FTSE 100 index and Germany's DAX both declined 0.4% and the French CAC 40 slipped 0.1%. Japan's benchmark Nikkei 225 lost less than 0.1% and the Kospi of South Korea finished up 0.1%. Hong Kong's Hang Seng shed 0.4%.
ALSO
Trump administration wants tax reform done by August, Mnuchin says
Obamacare 101: Are health insurance marketplaces in a death spiral?
Trump's promise to ramp up deportations spreads fear — among California businesses
---
UPDATES:
2:45 p.m.: This article was updated with closing prices, context and analyst comments.
This article was originally published at 8:05 a.m.