Dow scores biggest gain since March to pass 24,000 on tax-cut hopes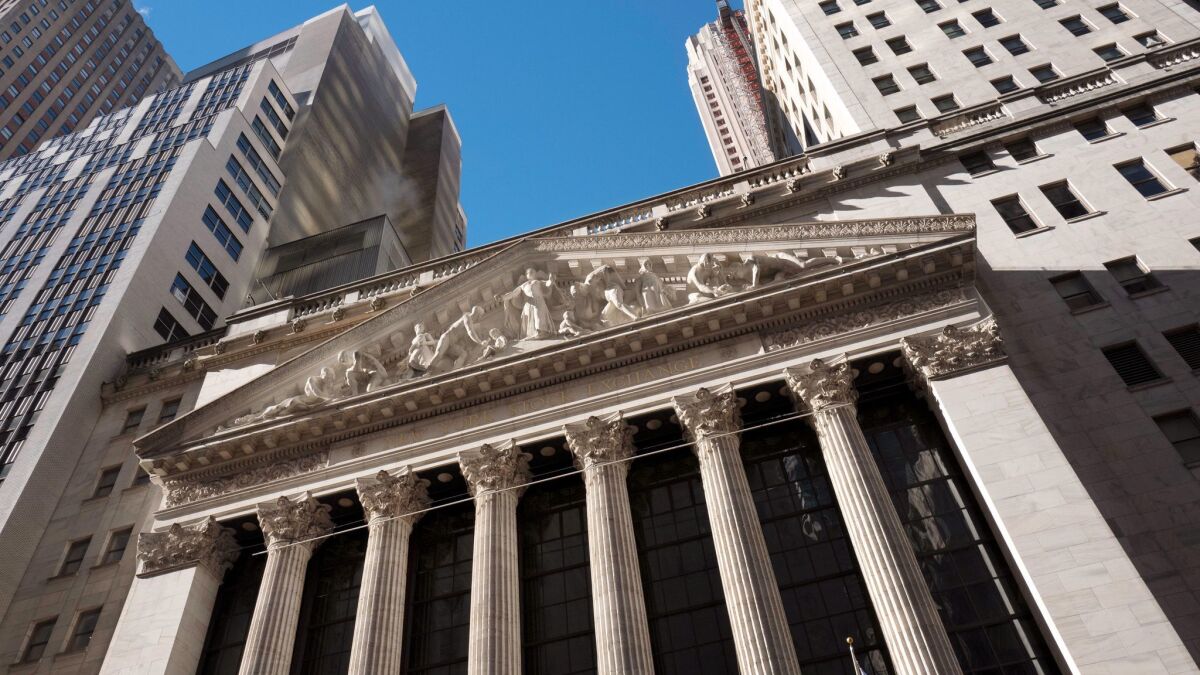 Investors are exuberant and for good reason: the global economy is strong, corporate earnings are solid, Washington appears closer to delivering lower taxes on corporations and is signaling less restrictive oversight of the financial sector.
Thanks to that enthusiasm, Wall Street finished November with a broad rally that gave the Dow Jones industrial average its biggest gain since March and pushed it past the 24,000 mark for the first time.
Other market indicators also reached milestones Thursday. The Standard & Poor's 500 index, which is widely followed by professional investors, had its biggest monthly gain since February.
Technology stocks, the biggest driver of the market's increase this year, were responsible for much of the gain, rebounding from a sharp pullback the day before. Financial stocks slowed a bit, but remain in the midst of a weeklong rally sparked by rising interest rates and encouraging words from regulators.
Investors were encouraged by the latest batch of economic data pointing to a pickup in global and domestic demand. But the run-up in the market really kicked in after developments in Washington gave traders fresh optimism that the Republican-led effort to forge a sweeping tax cut bill will succeed.
The S&P 500 index climbed 21.51 points, or 0.8%, to 2,647.58. The Dow jumped 331.67 points, or 1.4%, to 24,272.35. The average was briefly up more than 387 points.
The Nasdaq added 49.58 points, or 0.7%, to 6,873.97. The Russell 2000 index of smaller-company stocks picked up 1.84 points, or 0.1%, to 1,544.14.
Stocks are being driven higher by a healthy economic backdrop and by the prospect that policy changes will fatten corporate profits.
The global economy is gathering momentum and a falling dollar has made American-made products cheaper overseas, benefiting U.S. corporations. And recent economic data have given investors more reason to feel bullish. The Commerce Department reported this week that the U.S. economy grew at a 3.3% annual pace from July through September, the fastest in three years.
The encouraging economic picture has pushed the yield on the 10-year Treasury higher. It climbed Thursday to 2.41% from 2.39% late Wednesday.
Investors are also enthusiastic about the Republican tax bill moving through Congress. On Thursday, Republican Sen. John McCain, who derailed the GOP effort to dismantle the Obama healthcare law last summer, said he would back the tax bill. The announcement was a major boost for the legislation, which would slash the tax on corporate earnings to 20% from 35%, reduce the likely taxes on foreign earnings and temporarily let companies immediately deduct the cost of investments from their taxes.
A day after technology stocks fell sharply, investors seized upon the lower share prices to buy into the sector. PayPal added $2.48, or 3.4%, to $75.73.
Benchmark U.S. crude added 10 cents to settle at $57.40 a barrel on the New York Mercantile Exchange. Brent crude, used to price international oils, rose 46 cents, or 0.7%, to $63.57 a barrel in London.
The dollar rose to 112.53 yen from 111.82 yen Wednesday. The euro strengthened to $1.1896 from $1.1863.
Gold fell $8.90, or 0.7%, to $1,273.20 an ounce. Silver dropped 8 cents to $16.38 an ounce. Copper was little changed at $3.04 a pound.
---
UPDATES:
2:35 p.m.: This article has been updated with the close of the market.
This article was originally published at 10:05 a.m.
Sign up for the California Politics newsletter to get exclusive analysis from our reporters.
You may occasionally receive promotional content from the Los Angeles Times.