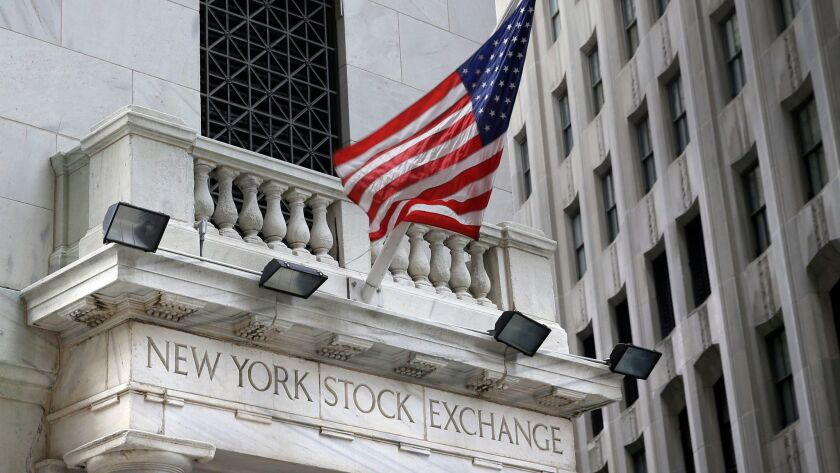 Banks and energy companies led U.S. stocks higher Thursday, erasing modest losses from the day before.
Retailers and makers of consumer products also posted solid gains. Small-company stocks rose more than the rest of the market, and technology stocks lagged. Trading was mostly subdued as investors looked ahead to the long holiday weekend.
"Most of the optimism of the tax plan was probably built into the market already, and I thought we might be in a little bit of a sideways mode here for a while," said Randy Frederick, vice president of trading and derivatives at Charles Schwab. "But we've pretty much gained back almost what we gave up in the last two days. It's a pretty good sign."
The Standard & Poor's 500 index rose 5.32 points, or 0.2%, to 2,684.57. The Dow Jones industrial average rose 55.64 points, or 0.2%, to 24,782.29. The Nasdaq composite edged up 4.40 points, or 0.1%, to 6,965.36. The Russell 2000 index of smaller-company stocks climbed 7.03 points, or 0.5%, to 1,547.11.
The indexes are all on course to finish the month with solid gains. They have risen in the last few weeks as Washington moved closer to passing its tax overhaul, but they haven't done much in the last several days as Congress voted on the bill.
Investors received some encouraging data on the economy Thursday.
The Commerce Department said the U.S. economy grew at a solid 3.2% annual rate in the third quarter, slightly slower than previously estimated. The latest gross domestic product estimate follows a 3.1% gain in GDP for the second quarter. Combined, the two quarters represent the best back-to-back quarterly growth rates in three years.
"GDP is still strong," said Tom Martin, senior portfolio manager at GLOBALT Investments. "A revision of one-tenth of a percentage point is really not much."
Banks and other financial firms accounted for a big portion of the market's gains. Wells Fargo rose 2.4% to $61.61.
Oil prices veered higher, reversing losses from earlier in the day. The rebound helped lift energy stocks. Hess climbed 5.3% to $46.34.
Benchmark U.S. crude rose 27 cents to settle at $58.36 a barrel. Brent crude, which is used to price international oils, rose 34 cents to $64.90 a barrel.
Pacific Gas & Electric Co. plunged 12.9% to $44.50 after it suspended its dividend to conserve cash amid worries that it may be found liable for wildfires in Northern California.
Several big retailers and makers of consumer products posted solid gains. Toy maker Mattel climbed 3.9% to $15.71. Luxury jeweler Tiffany & Co. advanced 2.4% to $102.46.
Investors bid up shares in companies that beat earnings or outlook forecasts.
Finish Line jumped 12.9% to $13.20 after the athletic shoe and apparel retailer reported quarterly revenue that beat analyst estimates and a loss that was smaller than analysts expected.
Consulting firm Accenture rose 1.6% to $154.20 after it reported earnings that beat analyst estimates.
Technology stocks — which are on track for an annual gain of 38%, the most of any sector — lagged the most Thursday. Micron Technology was among the sector's big decliners, sliding 2.9% to $44.42.
Wholesale gasoline rose 1 cent to $1.75 a gallon. Heating oil rose 1 cent to $1.95 a gallon. Natural gas fell 4 cents, or 1.5%, to $2.60 per 1,000 cubic feet.
Gold rose $1 to $1,270.60 an ounce. Silver fell 4 cents to $16.24 an ounce. Copper rose 2 cents to $3.22 a pound.
Bond prices rose. The yield on the 10-year Treasury note fell to 2.48% from 2.50%.
The dollar fell to 113.35 yen from 113.42 yen. The euro fell to $1.1873 from $1.1879.
Major stock indexes in Europe closed higher: Germany's DAX rose 0.3%, France's CAC 40 gained 0.6%, and the FTSE 100 index of leading British shares climbed 1%. In Asia, Japan's benchmark Nikkei 225 edged down 0.1%, and the Hang Seng in Hong Kong gained 0.5%.
---
UPDATES:
2:55 p.m.: This article was updated with closing prices, context and analyst comment.
This article was originally published at 8:05 a.m.
---