Stocks edge down, ending their new year's rally, after Treasury yields rise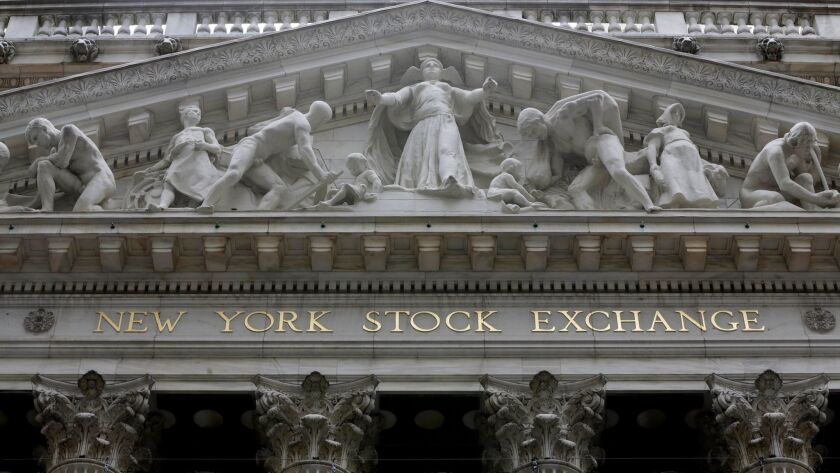 The stock market's fantastic start to 2018 stalled Wednesday after real estate companies and other dividend payers sank on concerns about rising interest rates.
The losses knocked indexes a bit off their record highs and provided the first minor hiccup for a market that had climbed six straight days — its longest start-of-year winning streak since 2010. Stocks fell after the yield on the 10-year Treasury note reached its highest level since March, but they ended up recovering most of their losses as the day progressed and rates pulled back.
The Standard & Poor's 500 index slipped 3.06 points, or 0.1%, to 2,748.23 after being down as much as 0.6% in the morning.
The Dow Jones industrial average lost 16.67 points, or 0.1%, to 25,369.13, the Nasdaq composite edged down 10.01 points, or 0.1%, to 7,153.57 and the Russell 2000 index of small-cap stocks fell 0.30 of a point, or less than 0.1%, to 1,559.80.
"Last year was an investor's dream and a nightmare" for short-term traders because of how calm and strong the market was, said Kirk Hartman, global chief investment officer for Wells Fargo Asset Management. "I think this is going to be a better year for traders because you're going to get some volatility."
That's in part because he expects interest rates to climb as the government's need to borrow rises and as the Federal Reserve raises rates and pulls back from bond purchases it made to aid the economy.
Low interest rates have been one of the main propellants of the stock market's smooth rise to record highs. They make borrowing easier for companies and people, which greases the skids for economic growth. Low rates also make bonds less attractive, which pushes investors into stocks.
Investors have long been preparing for a gradual increase in bond yields, and Hartman said stocks can keep climbing as long as rates rise at a measured pace. But a sudden or sharp jump in rates could easily upset markets.
The yield on the 10-year Treasury went as high as 2.59% in the morning before falling back to 2.55%, the same level it was at late Tuesday. That's up from 2.40% at the start of the year.
A report from Bloomberg News said that China is considering a slowdown or halt to its purchases of Treasury notes, which helped push rates higher. Investors are also speculating about whether Japan's central bank will slow its bond purchases to keep rates low.
The rise in rates slammed stocks that pay big dividends. Real estate, utility and telecom stocks tend to move in the opposite direction of interest rates because when bond yields are high, investors seeking income are likelier to buy bonds instead of stocks.
Real estate stocks fell 1.5%; that was the sharpest loss of the 11 sectors in the S&P 500. Utilities lost 1.1%, and telecoms fell 0.9%.
On the opposite end were banks, which can make bigger profits from loans when interest rates rise. Financial stocks in the S&P 500 rose 0.8%.
United Continental jumped 6.7% to $73.08 — the biggest gain in the S&P 500 — after the airline said a key revenue trend last quarter was better than it had earlier forecast. It credited stronger demand and fares.
Signet Jewelers dropped 6.9% to $52.69 — the largest loss of the S&P 500 — after it reported weaker sales for the holiday season than a year earlier.
Domino's Pizza fell 3.2% to $200.09 after it said its chief executive, Patrick Doyle, will leave at the end of June.
Supervalu sank 13.7% to $16.94 after the grocery store company posted quarterly results that disappointed investors.
Intuitive Surgical climbed 6.6% to $423.76 after the Sunnyvale, Calif., maker of robotic surgery devices said its fourth-quarter revenue will be greater than Wall Street expected.
The dollar fell to 111.35 yen from 112.61 yen. The euro rose to $1.1957 from $1.1933, and the British pound fell to $1.3519 from $1.3534.
In the commodities markets, gold rose $5.60 to settle at $1,319.30 an ounce. Silver rose 3 cents to $17.04 an ounce. Copper rose 2 cents to $3.24 a pound.
Benchmark U.S. crude rose 61 cents to settle at $63.57 a barrel. Brent crude, the international standard, rose 38 cents to $69.20 a barrel.
In overseas stock markets, Japan's Nikkei 225 index fell 0.3%, South Korea's Kospi lost 0.4%, and the Hang Seng in Hong Kong added 0.2%.
France's CAC 40 fell 0.3%, the FTSE 100 in London added 0.2%, and Germany's DAX lost 0.8%.
---
UPDATES:
2:05 p.m.: This article was updated with closing prices, context and analyst comment.
1:20 p.m.: This article was updated with the close of markets.
This article was originally published at 7:50 a.m.
---
Your guide to our new economic reality.
Get our free business newsletter for insights and tips for getting by.
You may occasionally receive promotional content from the Los Angeles Times.