Stocks rise, extending win streak to 3 days, as markets regain some calm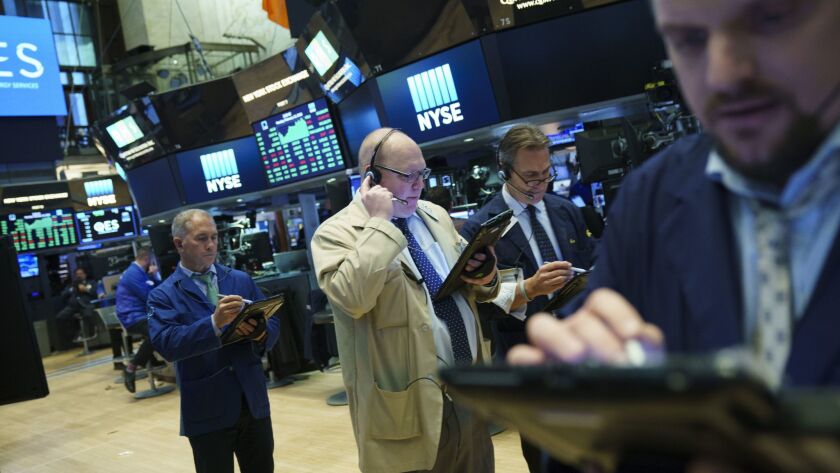 U.S. stocks rose for the third day in a row Tuesday, led by banks, retailers and technology companies. The rebound over the last few days follows a harrowing drop of more than 10% over the previous two weeks.
After a wobbly start, stocks started climbing, and they wound up with their most placid day in the last few weeks.
Amazon climbed once again, and athletic apparel companies rose after Under Armour issued solid fourth-quarter results.
Apple continued to recoup some of its recent losses. Energy companies slipped again, and companies that distribute prescription drugs and medical supplies slumped.
Stocks have been making big swerves up and down recently. Last week, the Dow Jones industrial average twice fell 1,000 points in a day, sometimes gaining or losing hundreds of points in a few minutes. But on Tuesday, the gap between the Dow's highest mark and its lowest was a more modest 284 points.
Mark Hackett, chief of investment research at Nationwide Investment Management, said investors who have steered clear of the stock market started to pile in over the last few months, but that round of buying ended abruptly.
"The pattern that we saw over the last month and a half is not by any stretch of the imagination unusual," he said. "But it is compressed. It normally doesn't happen over a six-week period."
Hackett said he feels stocks have fallen to more reasonable prices, partly because of the market slump and partly because corporate earnings grew at a strong clip in the fourth quarter.
The Standard & Poor's 500 index ended the day with a gain of 6.94 points, or 0.3%, at 2,662.94. The Dow advanced 39.18 points, or 0.2%, to 24,640.45. The Nasdaq composite rose 31.55 points, or 0.5%, to 7,013.51. The Russell 2000 index of smaller-company stocks rose 3.97 points, or 0.3%, to 1,494.95.
On Wednesday, the Labor Department will issue its monthly report on consumer prices. Investors will be watching carefully because the recent bout of market volatility was touched off by worries that inflation might be increasing.
Under Armour leaped 17.2% to $16.70 after it reported better-than-expected sales as shoe and accessory revenue picked up. The stock had plunged 50% in 2017 on top of a 30% decline in 2016. Athletic apparel retailer Foot Locker also gained ground Tuesday.
Amazon climbed 2% to $1,414.51. Dollar stores, department stores and clothing companies made gains as well.
Prescription drug distributor AmerisourceBergen jumped 9.3% to $97.77 after the Wall Street Journal reported that Walgreens Boots Alliance wants to buy the rest of the company. Walgreens already owns 26% of AmerisourceBergen. The Journal said that Walgreens made an approach several weeks ago but that no offer has been made. Walgreens edged down 17 cents to $68.29.
Separately, the Journal reported that Amazon is looking to win over hospitals and clinics to distribute a variety of medical products. Two other distributors of prescription drugs also fell. Cardinal Health slid 3.4% to $65.69. McKesson fell 1.9% to $146.18.
In January, Amazon announced a partnership with JPMorgan Chase and Berkshire Hathaway aimed at reducing healthcare costs. It's widely believed to have designs on a larger role in the healthcare system.
The Federal Trade Commission said it is suing three large dental product suppliers, alleging they conspired to deny discounts to groups that buy products for small practices. Henry Schein, Patterson and privately held Benco control 85% of the $10-billion market for products such as gloves, sterilization products, lights and dentists' chairs.
The companies rejected the allegations and said they will defend themselves in court. Henry Schein shares sank 6.6% to $67.39. Patterson slid 5.2% to $31.21.
Nutrition supplement company GNC Holdings soared 18% to $4.96 after it formed a joint venture with Harbin Pharmaceutical Group of China. Harbin is investing $300 million in GNC, which will make it the company's largest shareholder.
Bond prices rose. The yield on the 10-year Treasury note fell to 2.83% from 2.86%.
Energy companies declined. Benchmark U.S. crude fell 10 cents to $59.19 a barrel in New York. Brent crude, used to price international oils, rose 13 cents to $62.72 a barrel in London.
Wholesale gasoline rose 1 cent to $1.69 a gallon. Heating oil stayed at $1.84 a gallon. Natural gas rose 4 cents to $2.59 per 1,000 cubic feet.
Gold rose $4 to $1,330.40 an ounce. Silver fell 4 cents to $16.53 an ounce. Copper rose 8 cents to $3.16 a pound.
The dollar fell to 107.69 yen from 108.67 yen. The euro rose to $1.2355 from $1.2284.
In overseas markets, Germany's DAX shed 0.7%, the CAC 40 of France fell 0.6% and Britain's FTSE 100 lost 0.1%. Japan's Nikkei 225 lost 0.7%. Hong Kong's Hang Seng index climbed 1.4%. South Korea's Kospi rose 1.1%.
---
UPDATES:
2:10 p.m.: This article was updated with closing prices, context and analyst comment.
8:05 a.m.: This article was updated with market prices and context.
This article was originally published at 6:55 a.m.
---
Must-read stories from the L.A. Times
Get the day's top news with our Today's Headlines newsletter, sent every weekday morning.
You may occasionally receive promotional content from the Los Angeles Times.