Stocks climb again as investors shake off inflation worries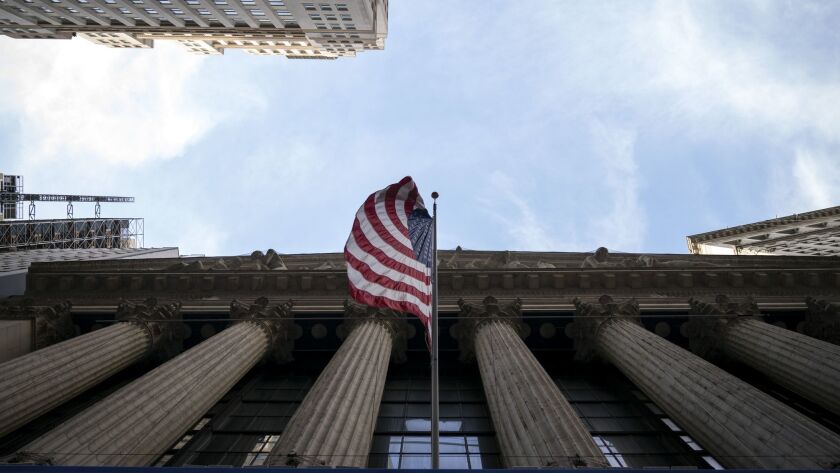 Investors saw some new hints Wednesday that inflation is increasing, but they still sent banks, technology firms and consumer-focused companies climbing. That was a big change after the market's inflation-inspired plunge earlier this month.
After a shaky start, stocks rose for the fourth straight day. Banks made some of the largest gains as bond yields reached new four-year highs. The move in yields came after the government said consumer prices climbed in January slightly faster than economists had expected. A different government report showed retail sales were unchanged in December and slipped last month.
"I think the fears of the economy overheating have been a little bit balanced out with the combination of these two numbers," said Katie Nixon, chief investment officer for Northern Trust Wealth Management. "The bond market is not suggesting that runaway inflation is a deep concern."
Stocks began plunging Feb. 1 after the Labor Department said wages grew at a rapid clip in January. Investors worried that that meant inflation was rising and that it would push the Federal Reserve to start raising interest rates more quickly, making it more expensive for people and businesses to borrow money. That would slow economic growth as well growth in corporate profits.
Nixon said Wednesday's reports show inflation probably isn't rising that fast.
The Standard & Poor's 500 index rose 35.69 points, or 1.3%, to 2,698.63. The Dow Jones industrial average rose 253.04 points, or 1%, to 24,893.49. The Nasdaq composite climbed 130.10 points, or 1.9%, to 7,143.62. The Russell 2000 index of smaller-company stocks advanced 27.15 points, or 1.8%, to 1,522.10.
After a 10% plunge in just nine days, the S&P 500 has risen 4.5% in the last four days.
The Labor Department's consumer prices report pushed up bond yields and gold prices.
The yield on the 10-year Treasury note rose to 2.91%, its highest mark in four years, from 2.84%. That helped banks, as the higher interest rates make lending more profitable. But it hurt high-dividend firms such as utility and phone companies. Those stocks often are compared to bonds because of their big dividend payments and relatively steady prices, but investors find them less appealing when bond yields are rising.
Americans cut back on purchases of cars, furniture and a variety of other products in January. The Commerce Department also lowered its estimate for spending in December. That came after a three-month stretch that included the strongest holiday sales in a decade.
Retailers traded higher despite the tepid numbers in the report. Amazon rose 2.6% to a record high of $1,451.05. Tiffany rose 2.1% to $103.11. Nike climbed 3.2% to $67.96.
Nixon, of Northern Trust, said she doesn't expect inflation to increase very much, but it can be unpredictable from month to month. She noted that it could rise as people who received tax cuts or bonuses spend their extra pay.
Netflix climbed 3% to $266 after the streaming video company said it signed another big-name TV writer and producer to a production deal. "Glee" and "American Horror Story" producer Ryan Murphy received a $300-million deal that will span five years. In August, Netflix announced a deal with "Scandal" and "Gray's Anatomy" creator and producer Shonda Rhimes.
Chipotle Mexican Grill soared 15.4% to $289.91 after naming Taco Bell CEO Brian Niccol to lead the company. Chipotle — whose stock traded above $700 in mid-2015 — has been hit hard by food-safety scares over the last few years and has had trouble winning back customers. Niccol launched breakfast at Taco Bell and also introduced mobile ordering from its restaurants, and investors felt he might improve the company's fortunes. Founder Steve Ells resigned as CEO in November.
After years of declines, watchmaker Fossil soared 87.7% to $16.97 after it posted fourth-quarter results that were far better than Wall Street expected. At the end of 2014, the stock was worth more than $100; it plunged as competition from smart watches and fitness trackers eroded its sales.
Gold jumped $27.60, or 2.1%, to $1,358 an ounce. Silver rose 35 cents, or 2.1%, to $16.88 an ounce. Copper rose 7 cents, or 2.3%, to $3.24 a pound.
U.S. crude rose $1.41, or 2.4%, to $60.60 a barrel in New York. Brent crude, used to price international oils, climbed $1.64, or 2.6%, to $64.36 a barrel in London.
Wholesale gasoline rose 3 cents to $1.71 a gallon. Heating oil rose 5 cents to $1.88 a gallon. Natural gas fell 1 cent to $2.59 per 1,000 cubic feet.
The dollar fell to 107.09 yen from 107.69 yen. The euro fell to $1.2435 from $1.2355.
In overseas markets, the DAX in Germany rose 1.2%, the French CAC 40 advanced 1.1% and the FTSE 100 in Britain ticked up 0.6%. Japan's benchmark Nikkei 225 slipped 0.4% after the nation's economy grew at a slower-than-expected pace in the fourth quarter. South Korea's Kospi gained 1.1%. Hong Kong's Hang Seng rose 2.3%.
---
UPDATES:
1:50 p.m.: This article was updated with closing prices, context and analyst comment.
This article was originally published at 8:05 a.m.
---
Be your money's boss! Learn how to make a budget and take control of your finances with this eight-week newsletter course.
You may occasionally receive promotional content from the Los Angeles Times.