Stocks record surprising jump, taking back ground lost to correction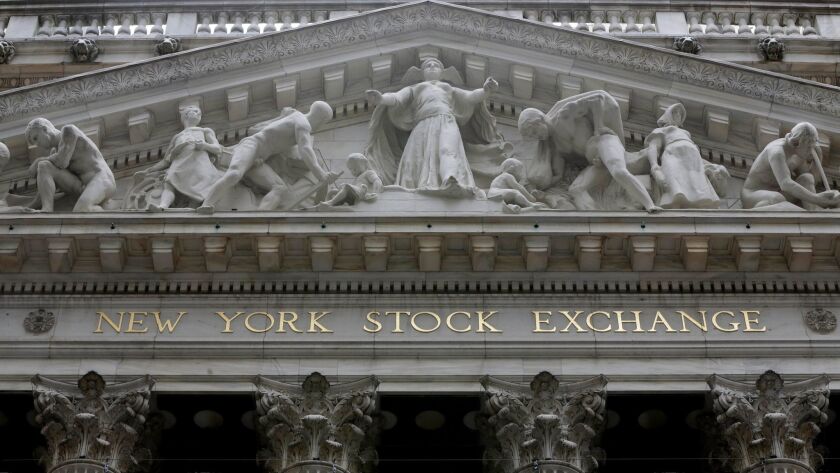 Stocks jumped on Monday, with gains again accelerating in the last hour of trading, as markets around the world continue to claw back from a sharp tumble earlier this month.
The Standard & Poor's 500 powered to a third straight gain, and the index has erased about two-thirds of its 10% loss since setting a record a month ago.
Analysts said the key reason for Monday's gain was a drop in Treasury yields, which have been at the center of worries for stock investors in recent weeks, but some were still surprised by how much the stock market climbed.
The S&P 500 gained 32.30 points, or 1.2%, to 2,779.60, with telecoms and technology stocks leading the way. For the second straight day, the market turned higher as the day wore on. That's an encouraging sign to investors who see the last hour of trading as being dominated by the "smart money."
The Dow Jones industrial average rose 399.28, or 1.6%, to 25,709.27, and the Nasdaq composite gained 84.07, or 1.1%, to 7,421.46. All three indexes are back within 3.4% of their record highs.
"I think you can very confidently say the worst is over for now," said Randy Frederick, vice president of trading and derivatives at the Schwab Center for Financial Research. "The concern I have is that it's recovering too quickly. Today's rally has been very surprising."
Frederick said he saw few reasons for a big move higher in stocks on Monday, with no big-ticket earnings or economic reports on the calendar. If the market continues rising at this rate, it could hit record heights again in the next couple weeks. "And then we'd be vulnerable to another correction, so I'd prefer it to slow down a bit here," Frederick said.
What triggered the first correction, which is what traders call a 10% drop in stock prices, was fear that interest rates are set to march much higher, and quickly. Treasury yields have been climbing over the last month for a range of reasons, including higher expectations for inflation, a strengthening U.S. economy and the U.S. government's increased need to borrow.
Higher interest rates can hurt stock prices by making bonds look more attractive as investments, and Wall Street is split on how high they can climb. Most of Wall Street is anticipating a gradual increase, as the Federal Reserve moves short-term rates higher.
That's why an appearance this week by the Federal Reserve's chairman is so widely anticipated. Jerome Powell is scheduled to deliver his first testimony as chairman of the Fed to Congress, and he'll speak about monetary policy before the House of Representatives' Financial Services Committee on Tuesday morning. Investors will dissect it immediately for clues on how aggressive the Fed will be in raising interest rates to forestall inflation.
Ahead of the testimony, the yield on the 10-year Treasury note slipped to 2.86% from 2.87% late Friday. The two-year yield, which is influenced more by expectations of movement by the Fed, fell to 2.23% from 2.27%. The 30-year yield, which is influenced more by expectations for inflation, sank to 3.15% from 3.16%.
One driver for stocks in recent weeks is how impressive corporate profit reports have been.
Roughly 90% of S&P 500 companies have said how much they earned during the last three months of 2017, and three-quarters of them made more than analysts expected, according to S&P Global Market Intelligence. More important to investors is that 75% of companies reported more revenue than expected. Revenue growth is on pace to be the best since the summer of 2011, according to FactSet.
In Europe, France's CAC 40 rose 0.5%, and Germany's DAX gained 0.3%. The FTSE 100 climbed 0.6%. In Asia, Japan's Nikkei 225 index rose 1.2%, and the South Korean Kospi added 0.3%. China's Shanghai composite jumped 1.2%.
In the commodities markets, benchmark U.S. crude oil rose 36 cents to settle at $63.91 per barrel. Brent crude, the international standard, gained 19 cents to $67.50 a barrel.
Natural gas rose 1 cent to $2.64 per 1,000 cubic feet, heating oil added 2 cents to $1.99 per gallon and wholesale gasoline gained 2 cents to $1.83 per gallon.
Gold added $2.50 to settle at $1,332.80 per ounce, silver rose 7 cents to $16.55 per ounce and copper fell 1 cent to $3.22 per pound.
The dollar inched up to 106.91 Japanese yen from 106.75 yen late Friday. The euro rose to $1.2312 from $1.2295, and the British pound edged up to $1.3968 from $1.3967.
---
UPDATES:
2:50 p.m.: This article was updated with details on the day's trading and closing stock prices.
This article was originally published at 7 a.m.
---
For reporting and exclusive analysis from bureau chief John Myers, get our California Politics newsletter.
You may occasionally receive promotional content from the Los Angeles Times.