Tech stocks rise but industrial stocks fall, leaving indexes mixed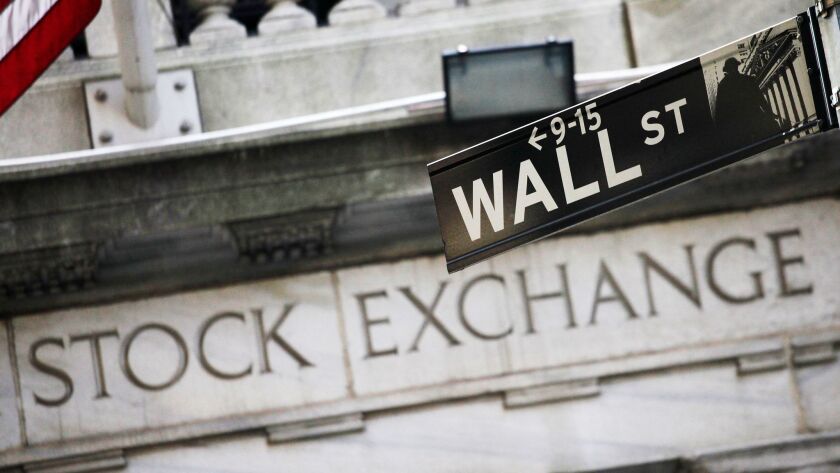 U.S. stocks ended split Monday — technology companies continued to climb, but Boeing and other industrial companies gave back some of the ground they won Friday.
Companies such as Apple and Alphabet, Google's parent company, and chipmakers including Micron Technology have led the market's recovery in recent weeks. Retailers including Amazon and Starbucks also made headway. The market was coming off its biggest gain in a month; Friday's jump followed the February jobs report, which showed strong hiring and moderate growth in wages.
Inflation has been the market's dominant concern over the last six weeks. Two more measuring sticks of inflation will be reported this week: The Labor Department is scheduled to disclose data on consumer prices Tuesday and producer prices Wednesday. Prices paid by consumers jumped in January, and so did producer prices, which measure the cost of goods before they reach the consumer.
The Federal Reserve is gradually raising interest rates to keep inflation in check, and it expects to boost rates at least three times this year. JJ Kinahan, chief market strategist for TD Ameritrade, said investors are looking at a lot of data but are really just wondering how many times the Fed will raise interest rates this year.
"If you think about the selloffs that we've had, they've all been about 'are we going to get a fourth rate hike, or aren't we?' " he said.
The Standard & Poor's 500 index fell 3.55 points, or 0.1%, to 2,783.02 on Monday.
The Dow Jones industrial average declined 157.13 points, or 0.6%, to 25,178.61. Almost all of that loss came from three industrial stocks: Boeing, Caterpillar and United Technologies.
The Nasdaq composite rose 27.51 points, or 0.4%, to 7,588.32, a new record high. The Russell 2000 index of smaller-company stocks rose 3.91 points, or 0.2%, to 1,601.06.
Most of the stocks on the New York Stock Exchange ended the day higher.
Optical communications company Oclaro surged 27.5% to $10.01 after it agreed to be bought by optical networking company Lumentum Holdings. The deal values Oclaro at $9.99 a share, or $1.69 billion. Lumentum shares rose 4.4% to $72.
Late Friday the Wall Street Journal reported that Intel might try to buy rival Broadcom. Broadcom is trying to buy a third chipmaker, Qualcomm, for $117 billion, and the Journal said that if that deal appears to be moving forward, Intel will consider responses that could include an attempt to buy Broadcom. It could also attempt a smaller deal. Broadcom shares climbed 3.6% to $262.84. Intel fell 1.3% to $51.52. Qualcomm slipped 22 cents to $62.81.
Industrial companies such as aerospace and defense firms and machinery makers lost about half of what they gained during their Friday rally. Boeing slid 2.9% to $344.19. Lockheed Martin fell 2.2% to $333.10. Construction equipment maker Caterpillar slipped 2.4% to $154.50.
Industrial companies have bounced around since President Trump said he would order tariffs on imported steel and aluminum. That will mean higher costs for companies that use those metals to make machinery, and their sales could be hurt if other companies respond by placing tariffs on goods made in the U.S.
The February jobs report, which came out Friday, eased investors' minds and sent stocks jumping. The market tumbled in early February after the release of the January jobs report, which showed a surprise jump in hourly wages. Wall Street worried that that might be the start of faster inflation, which would lead the Federal Reserve to raise interest rates more rapidly. Higher rates slow down economic growth.
Goldman Sachs rose 1% to $273.38 after it said David Solomon will become its sole president and chief operating officer, clearing the way for Solomon to become the firm's next chief executive. Solomon and Harvey Schwartz had shared both job titles, but the company says Schwartz will retire next month. Last week the Wall Street Journal said that CEO Lloyd Blankfein could retire as soon as the end of this year, and that Solomon and Schwartz were the only two candidates to replace him.
Deckers Outdoor sank 7.4% to $90.28 after Marcato Capital Management, which had owned an 8.5% stake in the shoe company, said it no longer owns any Deckers stock.
Benchmark U.S. crude fell 68 cents, or 1.1%, to $61.36 a barrel in New York. Brent crude, used to price international oils, fell 54 cents to $64.95 a barrel in London.
Wholesale gasoline fell 1 cent to $1.89 a gallon. Heating oil fell 2 cents to $1.86 a gallon. Natural gas climbed 5 cents to $2.78 per 1,000 cubic feet.
Bond prices edged up. The yield on the 10-year Treasury note fell to 2.87% from 2.90%.
Gold fell $3.20 to $1,320.80 an ounce. Silver fell 7 cents to $16.54 an ounce. Copper fell 1 cent to $3.12 a pound.
The dollar fell to 106.35 yen from 106.77 yen. The euro rose to $1.2336 from $1.2313.
In overseas markets, the German DAX rose 0.6%, the FTSE 100 in London lost 0.1%, and France's CAC 40 eked out a small gain. Tokyo's Nikkei 225 added 1.6%. The Hang Seng of Hong Kong jumped 1.9%. The Kospi in South Korea gained 1%.
---
UPDATES:
2:20 p.m.: This article was updated with closing prices, context and analyst comment.
9:05 a.m.: This article was updated with more recent stock movement.
This article was originally published at 7:05 a.m.
---
Your guide to our clean energy future
Get our Boiling Point newsletter for the latest on the power sector, water wars and more — and what they mean for California.
You may occasionally receive promotional content from the Los Angeles Times.