Stocks fall as tech companies drop; Facebook takes a beating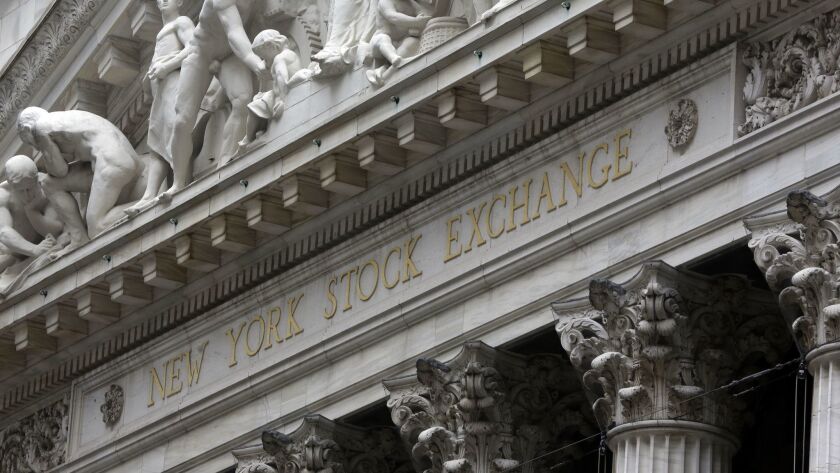 Facebook stock plunged Monday to its worst loss in four years, leading a rout in technology companies that helped drag down the major U.S. stock indexes. The social media company's stock fell following reports that Cambridge Analytica, a data mining firm working for the Trump campaign, improperly obtained data on 50 million Facebook users.
The drop in Facebook stock came after the New York Times and the Guardian reported that Cambridge Analytica was able to tap the profiles of more than 50 million Facebook users without their permission. Legislators in the U.S. and Europe criticized Facebook and said they want more information about what happened. Investors wondered if companies such as Facebook and Alphabet will face tighter regulation as a result, and those companies' stocks slid too.
Also on Monday, the British pound rose and European stocks slumped after Britain and the European Union said they are getting closer to a deal that will complete Britain's departure from the EU in March 2019.
The Standard & Poor's 500 index sank 39.09 points, or 1.4%, to 2,712.92. The benchmark index took its biggest loss since Feb. 8, when it tumbled almost 4% as investors worried that rising inflation would slow the progress of the market and the U.S. economy.
The Dow Jones industrial average fell 335.60 points, or 1.3%, to 24,610.91. During the day it was down as much as 493 points. The Nasdaq composite dropped 137.74 points, or 1.8%, to 7,344.24. The Russell 2000 index of smaller-company stocks declined 15.49 points, or 1%, to 1,570.56.
Larger technology companies including Apple and Microsoft fared worse than smaller ones. Another market favorite, Amazon, also dropped, and healthcare stocks fell more than the rest of the market.
Representatives of Britain and the European Union said they made progress on the terms of Britain's departure from the bloc. British envoy David Davis said important steps have been made in the last few days and he thinks EU leaders will back them in a meeting Thursday and Friday. Britain is scheduled to officially leave the EU on March 29, 2019.
The pound rose to $1.4050 from $1.3938. The British FTSE 100 index sank 1.7%, Germany's DAX slid 1.4% and France's CAC-40 fell 1.1%.
Facebook said late Friday that it suspended Cambridge Analytica and its parent company. It said Cambridge Analytica obtained data from 270,000 people who downloaded a purported research app that was described as a personality test. A former employee said Cambridge Analytica was able to get data from tens of millions of other users who were friends with the people who downloaded that app.
Facebook first learned of the breach more than two years ago but hadn't disclosed it. Facebook also said it recently received a report that Cambridge Analytica hadn't deleted all of the data it obtained from Facebook, something Facebook said the company claimed to have done. Sen. Amy Klobuchar (D-Minn.) said Facebook Chief Executive Mark Zuckerberg should testify before the Senate Judiciary Committee. Legislators in Britain and the European Union also called for inquiries.
On Monday, Facebook said it hired an outside firm to audit Cambridge Analytica. Its stock sank 6.8% to $172.56, its biggest one-day drop since March 2014.
Daniel Ives, chief strategy officer and head of technology research for GBH Insights, said Facebook is in a crisis and will have to work hard to reassure users, investors and governments.
"This is a defining moment for them," he said. "It either becomes a blip on the radar and it helps the platform mature or it becomes the start of something broader."
Ives said Wall Street is more concerned about the latest situation than it was about issues such as fake news spreading on Facebook's platform. That's because Cambridge Analytica reportedly got access to the personal data of a large number of users, and the backlash suggests Facebook may face more regulation and could lose users, advertisers or advertising revenue.
He estimated that $5 billion in annual revenue for Facebook might be at risk and said the situation could create problems for other tech companies, especially Alphabet's YouTube unit and Twitter.
Alphabet shares fell 3% to $1,100.07. Twitter fell 1.7% to $34.98.
Twenty-nine of the 30 Dow stocks finished the day with losses. The only exception was airplane maker Boeing.
Universal Display dived 12.1% to $109 after Bloomberg News reported that Apple is designing and making display screens and may stop buying them from other companies.
Internet technology company CSRA rose 0.9% to $41.08 after CACI International offered to buy it for $44 a share in cash and stock, or about $7.2 billion. Defense contractor General Dynamics agreed to buy CSRA in February for $40.75 a share in cash, or about $6.8 billion. General Dynamics said it's proceeding with that offer, suggesting it doesn't plan to raise its price. CACI sank 7.5% to $143.80, and General Dynamics rose 0.5% to $223.90.
KLA-Tencor, which makes equipment used in manufacturing semiconductors, said it will buy Orbotech, a company that makes equipment for electronics manufacturers. The deal values Orbotech at $38.86 a share in cash and stock, or $1.88 billion. Orbotech shares jumped 6.8% to $63.99. KLA-Tencor slid 3.8% to $115.98.
Bond prices gave up an early gain. The yield on the 10-year Treasury note stayed at 2.85%.
Benchmark U.S. crude fell 28 cents to $62.06 a barrel in New York. Brent crude, used to price international oils, fell 16 cents to $66.05 a barrel in London.
Wholesale gasoline fell 2 cents to $1.92 a gallon. Heating oil stayed at $1.91 a gallon. Natural gas fell 4 cents to $2.65 per 1,000 cubic feet.
Gold rose $5.50 to $1,317.80 an ounce. Silver rose 5 cents to $16.33 an ounce. Copper fell 2 cents to $3.08 a pound.
The dollar slipped to 105.97 yen from 106.10 yen. The euro rose to $1.2357 from $1.2284.
Tokyo's Nikkei 225 fell 0.9%. Hong Kong's Hang Seng edged up less than 0.1%. Seoul's Kospi lost 0.8%.
Exploiting Facebook data to influence voters? That's a feature, not a bug, of the social network »
---
UPDATES:
3:55 p.m.: This article was updated with closing prices and context.
1:30 p.m.: This article was updated with the close of markets.
10:45 a.m.: This article was updated with market prices, context and analyst comment.
This article was originally published at 7:40 a.m.
---
Must-read stories from the L.A. Times
Get the day's top news with our Today's Headlines newsletter, sent every weekday morning.
You may occasionally receive promotional content from the Los Angeles Times.