Stocks fall broadly, giving the market its first loss of the week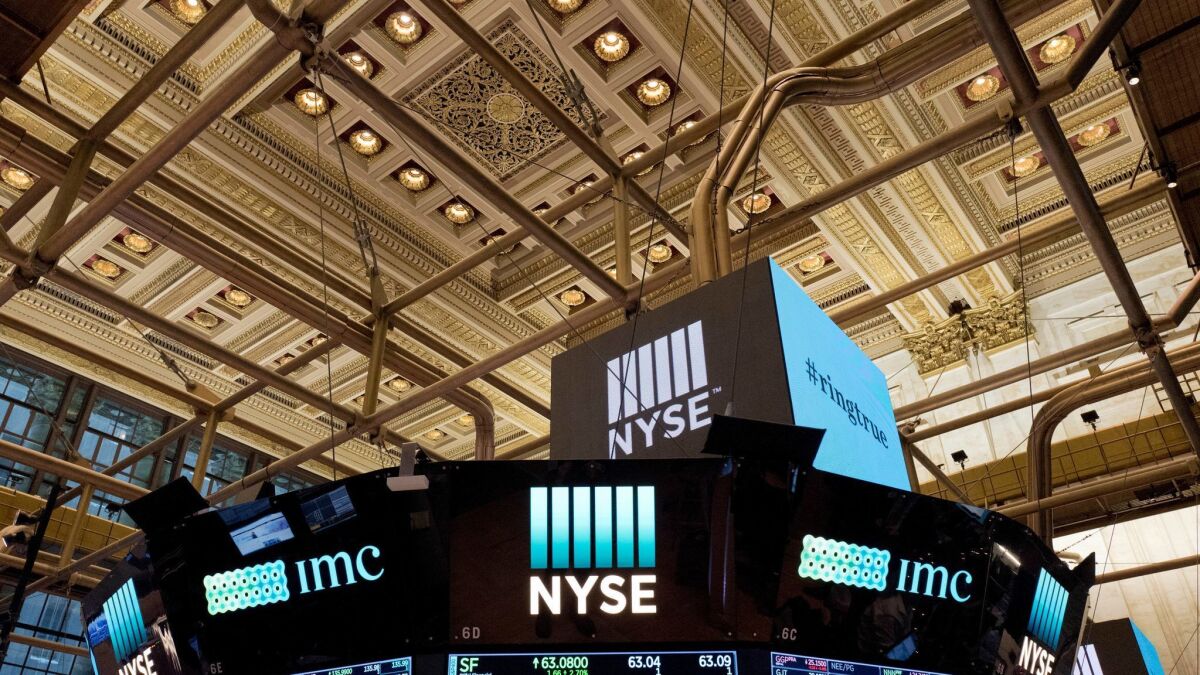 Losses among technology and consumer products companies weighed on U.S. stocks Thursday, snapping a three-day winning streak for the market.
Banks bucked the trend, rising along with bond yields. Energy companies also eked out a slight gain, despite a downturn in oil prices. The broad market slide came as investors pored over the latest corporate quarterly results.
"The earnings were a little bit disappointing today, and we're just really seeing, especially within the tech sector, follow-through on some of the big names that have reported disappointing numbers in some key spaces," said Lindsey Bell, an investment strategist at CFRA Research.
The Standard & Poor's 500 index retreated 15.51 points, or 0.6%, to 2,693.13. The Dow Jones industrial average slipped 83.18 points, or 0.3%, to 24,664.89. The drop knocked the blue-chip average slightly into the red for the year.
The Nasdaq composite fell 57.18 points, or 0.8%, to 7,238.06. The Russell 2000 index of smaller-company stocks went down 9.74 points, or 0.6%, to 1,573.82.
The major indexes headed lower from the get-go Thursday as investors looked over corporate earnings. Disappointing results from Philip Morris International and Procter & Gamble helped pull the market down.
Philip Morris disclosed weak quarterly sales and said sales of its iQos device in Japan were slower than expected. The tobacco company's stock was the biggest decliner in the S&P 500, sinking 15.6% to $85.64. That's its worst single-day loss of all time.
Procter & Gamble fell 3.3% to $74.95 despite posting results that topped Wall Street's forecasts. The consumer products company reported a flat third-quarter profit, and Chief Executive David Taylor said that the company is facing a challenging "macro environment" and that markets it operates within are being transformed. The company also agreed to buy Merck's consumer health business for $4.2 billion.
Technology stocks, still the biggest gainers this year, weighed on the market. Companies in the computer chip business were big decliners for the second day in a row. Lam Research, which makes chip-making equipment, led the slide, dropping 6.6% to $190.39.
Apple fell 2.8% to $172.80 after Taiwan Semiconductor, a company that is reportedly linked to Apple, gave a weak forecast.
Qualcomm slid 4.8% to $52.57 after the Chinese government said it still has concerns about the company's deal to buy NXP Semiconductors. Qualcomm withdrew one proposal for the deal and submitted another.
Financial analysts are forecasting the strongest earnings growth in seven years for S&P 500 companies, partly because of a resurgent global economy, but also because of expectations of the effect that last year's corporate tax cut will have on corporate balance sheets.
Roughly 10% of the companies in the S&P 500 have released quarterly results so far. Most have reported earnings and sales that beat financial analysts' forecasts, but that hasn't necessarily translated into gains for shareholders.
On average, the S&P 500 companies that have reported earnings and revenue that topped Wall Street's expectations saw their share price decline 5% the day they released their results, Bell said.
"A lot of people had high expectations for the first quarter, as far as earnings results go, but it wasn't really reflected in stock prices, necessarily," Bell said, noting that investors appear to be unimpressed by the forecasts that management teams are giving for coming quarters.
Some corporate report cards did impress investors.
American Express jumped 7.6% to $102.37 after the credit card issuer reported a big quarterly profit thanks to strong customer spending and a lower tax rate.
Rising bond yields helped push up bank stocks. When bond yields rise, they drive up interest rates on mortgages and other loans, which can translate into bigger profits for banks. Bank of New York Mellon shares climbed 5.7% to $55.24.
Mortgage rates rose to their highest levels in four years, and home builders' stocks fell. KB Home dropped 7.6% to $26.85.
The yield on the 10-year Treasury rose to 2.92% from 2.88%. That's the highest level since February.
Benchmark U.S. crude gave up early gains, slipping 18 cents to settle at $68.29 a barrel on the New York Mercantile Exchange. Brent crude, used to price international oils, rose 30 cents to $73.78 a barrel in London.
Gold fell $4.70 to $1,348.80 an ounce. Silver slipped 1 cent to $17.24 an ounce. Copper fell 3 cents to $3.13 a pound.
The dollar rose to 107.41 yen from 107.26 yen. The euro fell to $1.2337 from $1.2377.
Indexes in Europe closed mostly higher. Germany's DAX slipped 0.2%, while France's CAC 40 and Britain's FTSE 100 each gained 0.2%.
Major indexes in Asia finished higher. Japan's benchmark Nikkei 225 index rose 0.2%, South Korea's Kospi advanced 0.3%, and Hong Kong's Hang Seng jumped 1.4%. Shares also rose in Taiwan and Southeast Asia. Australia's S&P/ASX 200 gained 0.3%.
---
UPDATES:
2:20 p.m.: This article was updated with closing prices, context and analyst comment.
This article was originally published at 7:10 a.m.
Sign up for the California Politics newsletter to get exclusive analysis from our reporters.
You may occasionally receive promotional content from the Los Angeles Times.