Stock selloff pushes Dow down 400-plus points; 10-year Treasury yield touches 3% milestone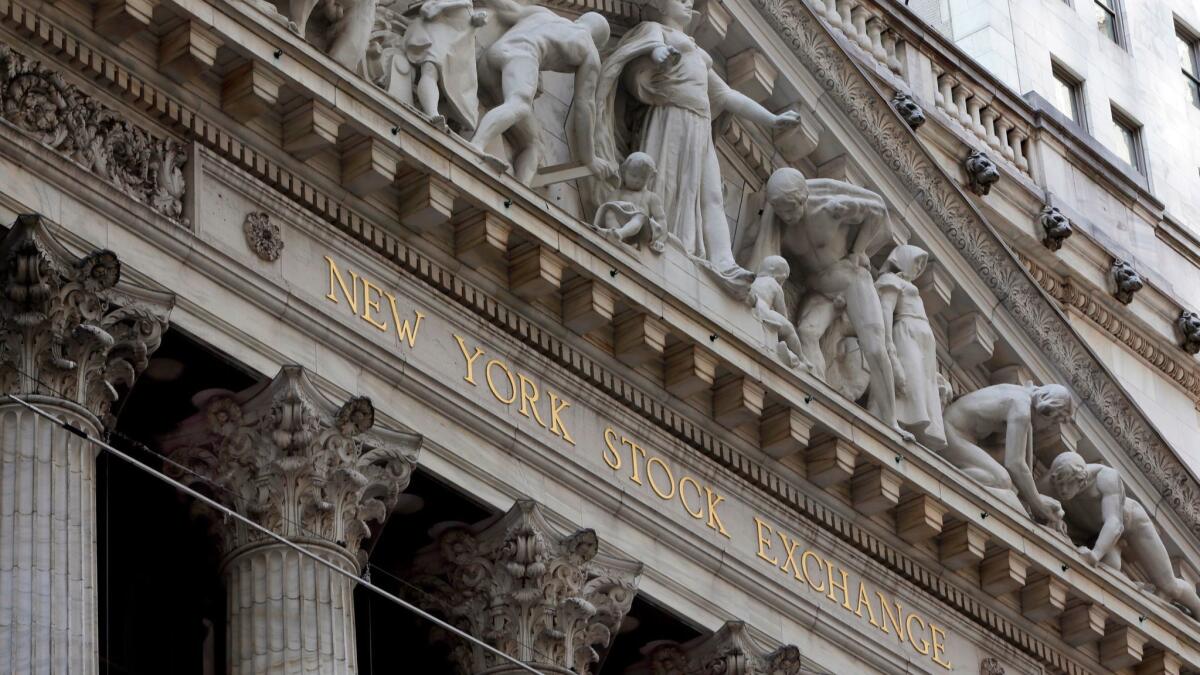 After a strong start, U.S. stocks abruptly sold off Tuesday after machinery maker Caterpillar said it doesn't expect to top its first-quarter profit for the rest of the year. The Dow Jones industrial average plunged as much as 619 points, before recovering somewhat, as investors feared that rising oil prices and other costs would slow growth in company profits.
Stocks climbed in early trading as companies such as Caterpillar, appliance maker Whirlpool and Fifth Third Bancorp posted strong quarterly results. Then Caterpillar executives told analysts on a conference call that they don't expect the company to report a larger per-share profit for the rest of 2018.
Other industrial, technology and basic materials companies also took sharp losses.
The Standard & Poor's 500 index sank 35.73 points, or 1.3%, to 2,634.56. The Dow Jones industrial average finished with a loss of 424.56 points, or 1.7%, to 24,024.13. The Nasdaq composite dropped 121.25 points, or 1.7%, to 7,007.35.
Smaller-company stocks held up better than the rest of the market. The Russell 2000 index declined 8.84 points, or 0.6%, to 1,553.28, about half as much as the S&P 500, which tracks large U.S. companies.
Caterpillar's products are used in a wide variety of industries including construction, power generation, mining and oil and gas drilling.
3M, which makes Post-it notes and industrial coatings and ceramics, said the rising price of oil and other materials is affecting its business.
The companies' statements came as interest rates kept rising, which makes it more expensive for companies to borrow money. The yield on the 10-year Treasury note rose to 3% for the first time in more than four years.
Stocks leaped at the end of 2017 and the start of 2018 as investors bet that the corporate tax overhaul would lead to bigger profits for American companies and greater economic growth. Gina Martin Adams, chief equity strategist for Bloomberg Intelligence, said that hasn't happened yet.
"We're not yet seeing a very strong recovery in the broader economic numbers that would suggest the impact of tax reform is more than just temporary," she said. "The market is very impatient."
Adams said the tax cuts may help stocks later on, but investors always want to see better and faster growth, and now they're not sure where that improvement will come from.
Industrial and basic materials companies and technology firms took some of the worst losses Tuesday. Caterpillar shares finished down 6.2% at $144.44.
3M slid 6.8% to $201.13. The profits of chemical companies and other materials makers could also be affected as oil prices and other expenses rise. DowDuPont slid 3.7% to $63.1.
Aerospace company Boeing fell 2.9% to $329.06.
Bond prices slipped again. The yield on the 10-year Treasury note rose to 2.99% from 2.98%. Earlier in the day it reached 3% for the first time since January 2014. At the start of this year, it was 2.43%.
Low interest rates have played an important role in the economic recovery of the last decade, and the yield on the 10-year note is a benchmark for many kinds of interest rates including mortgages. It has been climbing because investors expect higher economic growth and inflation.
Since the global financial crisis in 2008 and 2009, a combination of low inflation expectations and a bond-buying program by the Federal Reserve has helped keep bond yields low, but the yields have climbed this year as inflation expectations have picked up.
Alphabet slid 4.8% to $1,022.64 after the Google parent company said ad revenue climbed but expenses also rose. It benefited from strong digital ad sales as well as an accounting change. Other big technology companies also fell. Facebook dropped 3.7% to $159.69. Microsoft skidded 2.3% to $93.12. Another market favorite, online retailer Amazon, slid 3.8% to $1,460.09.
The dollar edged up to 108.67 yen from 108.65 yen. The euro rose to $1.2237 from $1.2205.
Benchmark U.S. crude oil fell 1.4% to $67.70 a barrel. Brent crude, used to price international oils, fell 1.1% to $73.86 a barrel.
Wholesale gasoline fell 1.4% to $2.09 a gallon. Heating oil fell 0.6% to $2.13 a gallon. Natural gas rose 1.5% to $2.78 per 1,000 cubic feet.
Gold rose 0.7% to $1,333 an ounce. Silver climbed 0.7% to $16.70 an ounce. Copper rose 1% to $3.14 a pound.
---
UPDATES:
1:40 p.m.: This article was updated with closing prices, context and analyst comment.
10:55 a.m.: This article was updated with indexes' movement and context.
This article was originally published at 7:25 a.m.