Stocks finish mixed; Amazon leads retail rally, and Exxon slides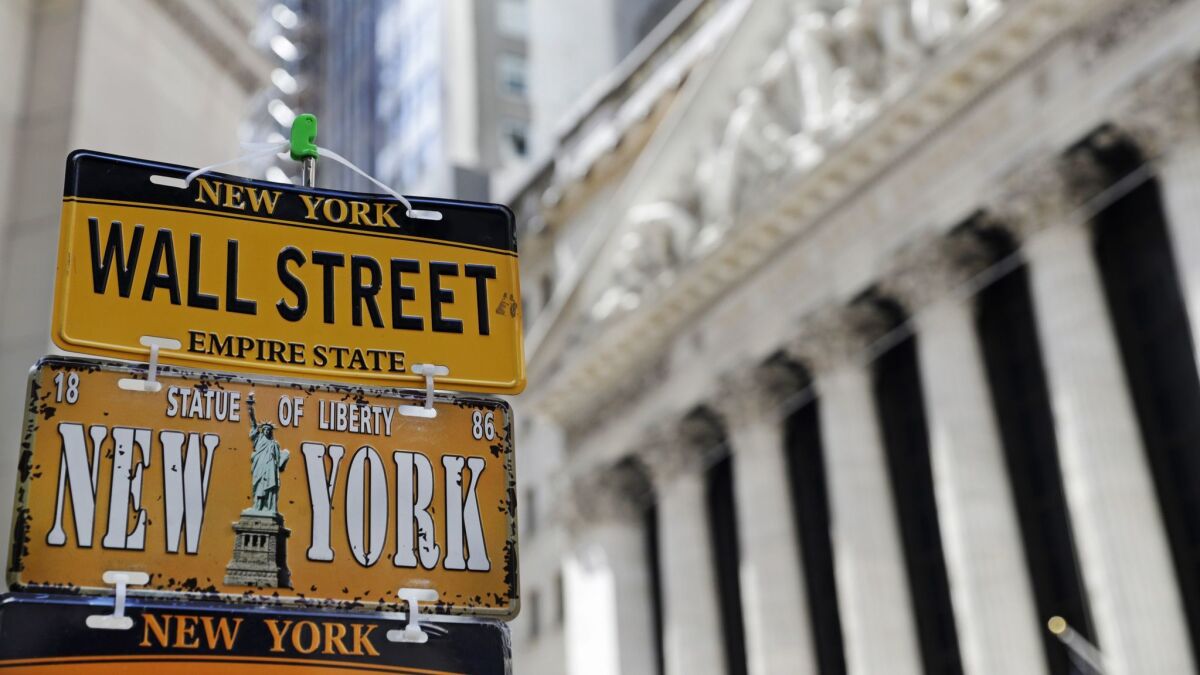 U.S. stocks finished with a split decision Friday after a wobbly day of trading. Amazon led a rally among retailers, but Exxon Mobil dragged energy companies lower to end an uneven week on Wall Street.
So far, U.S. companies' first-quarter earnings reports have been strong, but overall, they haven't thrilled investors. On Friday, Amazon, Microsoft and Expedia all climbed after reporting earnings, but Exxon, Charter Communications and Starbucks slumped. Utilities and other companies that pay high dividends rose as bond yields slipped, but defense contractors fell. Asian stocks rose after the landmark summit of the leaders from North and South Korea.
This week, investors worried that rising raw materials costs, as well as higher interest rates and wages, could eat into corporate profits. Meanwhile, they were pleased with strong results from Facebook, Amazon, Microsoft and others. The Standard & Poor's 500 index finished the week almost exactly where it started.
Karyn Cavanaugh, senior market strategist for Voya Investment Strategies, said investors haven't regained their confidence since February's market plunge. But in her view, the economy continues to do well and there are few signs that inflation or wages are about to jump. Such a leap could dent corporate profits.
"There's reason to think things are very, very good, but not overheating. That's a great environment for earnings," she said. "The market is getting a little bit spoiled."
The S&P 500 index edged up 2.97 points, or 0.1%, to 2,669.91 on Friday. The Dow Jones industrial average slipped 11.15 points, or less than 0.1%, to 24,311.19. The Nasdaq composite rose 1.12 points to 7,119.80. The Russell 2000 index of smaller-company stocks inched down 1.66 points, or 0.1%, to 1,556.24. Most of the stocks on the New York Stock Exchange finished higher.
Amazon climbed 3.6% to $1,572.62, adding to Thursday's 4% gain, after the company said that its first-quarter profit more than doubled as consumers shopped more online and revenue from its cloud-computing business continued to rise. The results were far stronger than Wall Street expected. Amazon also said it will raise the price of an annual Prime membership in the United States to $119 from $99.
Amazon recovered the last of its losses from late March and early April. It slumped after President Trump repeatedly criticized the company over issues including sales tax collection and its contracts with the U.S. Postal Service.
The U.S. economy grew 2.3% in the first quarter, better than experts had forecast. Although consumer spending turned in the weakest performance in nearly five years, experts think it will pick up later in the year thanks to continued low unemployment and Republican-backed tax cuts.
Bond prices rose again. The yield on the 10-year Treasury note fell to 2.96% from 2.98%. It hit four-year highs recently and peaked at 3.03% earlier this week. High-yield stocks such as household goods-makers and utilities rose.
Even with help from climbing oil prices, Exxon Mobil's results still fell short of estimates, and the company's stock dropped 3.8% to $77.79.
Charter Communications tumbled 11.7% to $263.33. Jefferies & Co. analyst Scott Goldman said the cable company's residential video and high-speed data subscriber totals were both weaker than he expected.
Technology companies gave up an early gain. Intel rose 5% in the morning but ended down 0.6% at $52.73. After a big rally in the morning, Microsoft finished up 1.7% at $95.82.
Benchmark U.S. crude fell 0.1% to $68.10 a barrel in New York. Brent crude, used to price international oils, fell 0.1% to $74.64 a barrel in London.
Wholesale gasoline rose 0.6% to $2.13 a gallon. Heating oil fell 0.4% to $2.15 a gallon. Natural gas slid 2.4% to $2.77 per 1,000 cubic feet.
Gold rose 0.4% to $1,323.40 an ounce. Silver fell 0.5% to $16.41 an ounce. Copper dropped 2.2% to $3.05 a pound.
The dollar fell to 109.02 yen from 109.36 yen. The euro rose to $1.2121 from $1.2106.
The leaders of North and South Korea vowed Friday to seek a nuclear-free peninsula and work toward a formal end to the Korean War this year, although they offered few specifics about how they would achieve those goals. As part of the summit, Kim Jong Un became the first North Korean leader to visit South Korea since 1953, when the two sides signed an armistice that left them still technically at war. Later, Kim and South Korean President Moon Jae-in briefly stepped into North Korea together.
Seoul's Kospi and Tokyo's Nikkei 225 each rose 0.7%. Hong Kong's Hang Seng advanced 0.9%.
In Britain, shares got a lift after soft growth data reined in expectations that the Bank of England will raise interest rates again next month. The pound fell sharply, to $1.3785 from $1.3924. That was good news for British exporters, as it makes their goods less expensive in other countries, and London's FTSE jumped 1.1%. The German DAX rose 0.6%. France's CAC 40 gained 0.5%.
---
UPDATES:
2:25 p.m.: This article was updated with closing prices, context and analyst comment.
1:20 p.m.: This article was updated with the close of markets.
8:50 a.m.: This article was updated with market prices and context.
This article was originally published at 7 a.m.
---
Sign up for the California Politics newsletter to get exclusive analysis from our reporters.
You may occasionally receive promotional content from the Los Angeles Times.