Stocks mostly rise after Trump's summit with Kim Jong Un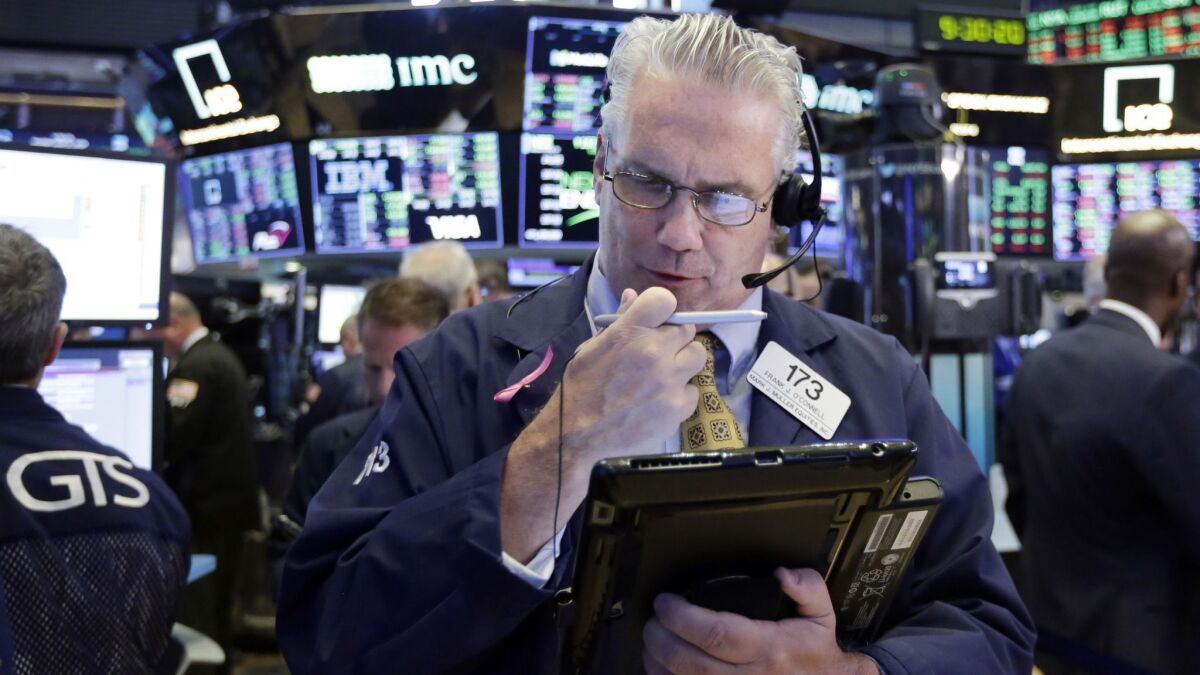 Stocks mostly rose in a quiet Tuesday session, as investors reacted calmly to the outcome of a meeting between President Trump and North Korean leader Kim Jong Un and turned their attentions to this week's trio of central bank meetings.
The Standard & Poor's 500 index rose 4.85 points, or 0.2%, to 2,786.85, closing at its highest level since Feb. 1. The Nasdaq composite advanced 43.87 points, or 0.6%, to 7,703.79. The Dow Jones industrial average edged down 1.58 points, or less than 0.1%, to 25,320.73. The Russell 2000, an index of mostly small companies, rose 7.62 points, or 0.5%, to 1,682.30.
Both the Nasdaq and the Russell set record highs.
Trump and Kim concluded their summit by committing to working "toward complete denuclearization" and to "build a lasting and stable peace regime" on the Korean peninsula.
The broad promises largely reiterated past agreements, while many of the details were left vague and there was no agreement on ending the technical state of war between North and South Korea. A potential deal has the chance of lowering geopolitical tensions in a region surrounded by three of the world's largest economies: Japan, China and South Korea.
"Deal or no deal? Just don't ask what comprises a 'deal' and we are fine. At the risk of sounding a tad frivolous, that appears to be the truth of the matter," Vishnu Varathan of Mizuho Bank in Singapore said of the Trump-Kim summit there.
After the summit, shares of weapons makers and defense contractors were among the biggest decliners in the S&P 500. Raytheon slid nearly 3% to $206.61. Lockheed Martin fell 1.3% to $315.16. Northrop Grumman fell 1.5% to $329.35.
With geopolitical issues set aside, investors turned their attention toward the current health of the U.S. economy.
The Federal Reserve started a two-day meeting on interest rates Tuesday. Investors expect the central bank to raise its benchmark rate by a quarter of a percentage point to a range of 1.75% to 2%. Investors' will focus more on how many additional rate hikes Fed officials may do this year.
The government said that U.S. consumer prices rose 0.2% in May, with surging gasoline costs driving much of the increase. The Labor Department said Tuesday that the consumer price index climbed 2.8% last month from a year earlier, putting inflation on its fastest annual pace since February 2012. But core prices — which exclude the volatile food and energy categories — have risen a milder 2.2% over the past 12 months.
Fed officials have been closely watching inflation data, since they have a target of inflation being roughly 2% per year. Core inflation is still tame, which probably means the Federal Reserve will raise interest rates only gradually.
On Thursday, the European Central Bank will meet and could outline an end to its stimulus program. On Friday, the Bank of Japan is due to give a policy update.
Tesla closed Tuesday with a gain of 3%, at $342.77, after the electric car company announced it would lay off 9% of its workforce in order to boost profitability. The shares were up as much as 6.9% before the announcement.
Twitter jumped 5% to $43.49 after JPMorgan issued an upbeat outlook.
After the market close Tuesday, investors welcomed news that the $85-billion merger between AT&T and Time Warner will be allowed to go through. The Trump administration had sued to block the proposed merger and a rejection likely would have chilled possible multibillion-dollar deals between 21st Century Fox and Walt Disney; Verizon and CBS; and T-Mobile and Sprint.
After the judge's decision, shares of Time Warner rose 4% and AT&T shares fell 2%
Benchmark U.S. crude rose 26 cents to $66.36 a barrel. Brent crude, used to price international oils, fell 58 cents to $75.88 a barrel in London.
The yield on the 10-year Treasury note rose to 2.96%. The dollar strengthened versus the Japanese yen, the euro and the British pound.
Gold fell $3.80 to $1,295.10 an ounce. Silver fell 6 cents to $16.89 an ounce. Copper fell less than a penny to $3.25 a pound.
---
UPDATES:
3:05 p.m.: This article was updated with closing prices, context and analyst comment.
This article was originally published at 7:35 a.m.
---
Sign up for the California Politics newsletter to get exclusive analysis from our reporters.
You may occasionally receive promotional content from the Los Angeles Times.