Stocks gain ground; Starbucks drops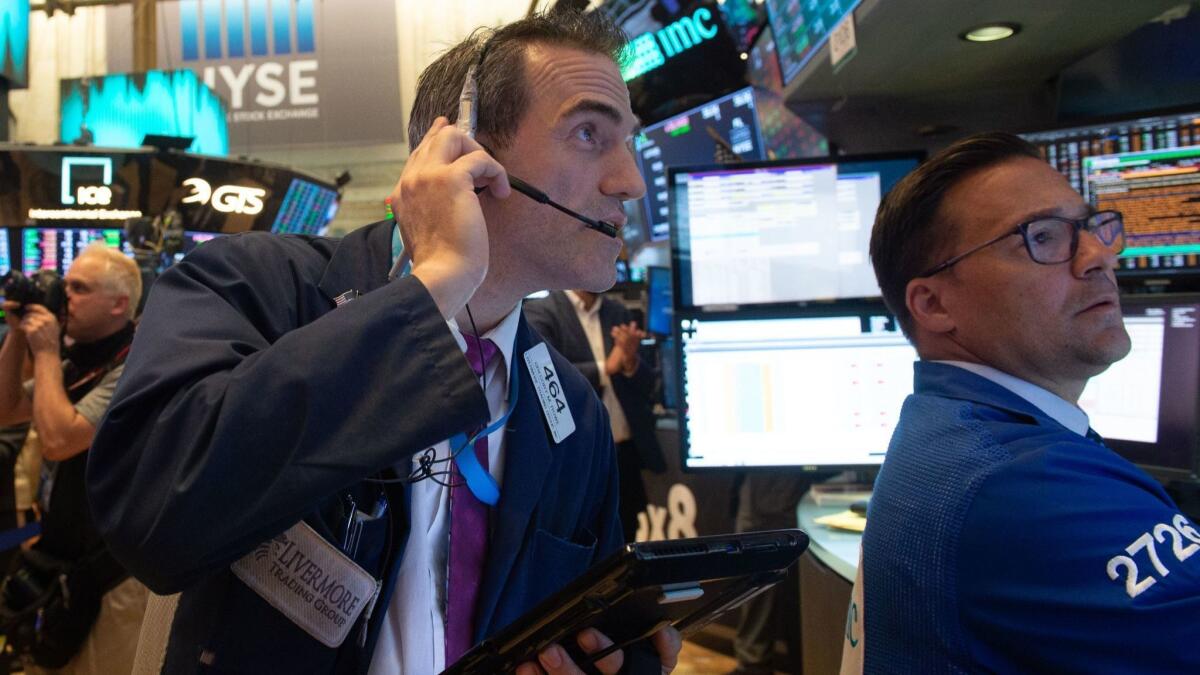 U.S. stocks rose Wednesday as investors bet that technology companies and small, domestically focused firms will continue to do well even if the trade dispute between the United States and China gets worse. Media companies jumped after Walt Disney reached a new deal with 21st Century Fox.
Facebook, Microsoft and Alphabet led the rally in technology companies, and the Nasdaq composite topped the all-time high it set last week. Disney sweetened its deal to buy Fox's entertainment businesses to $71.3 billion, topping an offer Comcast made this month. Other media companies, such as Netflix and Viacom, climbed as investors hoped more deals will follow.
Starbucks plunged to its lowest price in 1 ½ years after the company said its U.S. and China businesses both ran into trouble this quarter. That led to losses in other restaurant companies such as McDonald's, which contributed to a small decline in the Dow Jones industrial average.
General Electric slipped after the announcement that it will be removed from the Dow next week, ending a 110-year stint. Walgreens, its replacement in the index, surged.
Smaller and more U.S.-oriented companies such as retailers climbed. Although technology companies are the biggest sector of the Standard & Poor's 500 index and make most of their sales overseas, just the opposite of small-cap firms, investors feel that both types of stocks are less vulnerable to tariffs than industrial companies or household goods makers, among other sectors.
Sameer Samana, global equity and technical strategist for Wells Fargo Investment Institute, said investors aren't sure what to make of the Trump administration's mix of harsh pronouncements and conciliatory statements. Although the market has taken some sharp drops during the trade dispute, he said, Wall Street usually comes back to the fact that the global economy and especially the U.S. economy are doing well.
"Things are pretty good from an economic and fundamental standpoint," he said.
Samana added that technology companies have often led the way when the market recovers from trade-related slumps because of their strong earnings and because China's government can't put tariffs on too many U.S. tech companies because the country is trying to build up its own technology sector.
The S&P 500 index rose 4.73 points, or 0.2%, to 2,767.32. The Nasdaq rose 55.93 points, or 0.7%, to a record-high 7,781.51. The Russell 2000 index of smaller-company stocks advanced 13.54 points, or 0.8%, to 1,706.99, also closing at a record high.
But the Dow industrials slipped 42.41 points, or 0.2%, to 24,657.80. The Dow has fallen for seven days in a row, its worst streak in more than a year, although the daily losses have been fairly small.
Markets have been on edge with the U.S. and China announcing tariffs on each other's imports and threatening more. While global stocks fell Tuesday, the S&P 500 finished with a loss of just 0.4% as investors decided that many U.S. industries don't face a major threat from the proposals and that negotiations might take some of the sting out of the proposed taxes.
21st Century Fox surged 7.5% to $48.08 after it accepted Disney's latest offer. It said yes to a $52.4-billion bid from Disney in December before Comcast offered $65 billion in cash, and some experts think Comcast will raise its offer again. Disney shares rose 1% to $107.15, and Comcast shares climbed 1.8% to $33.39.
Starbucks dropped 9.1% to $52.22 after issuing a weak sales forecast. The coffee giant said it didn't do as many transactions in China as it expected, and the controversy that followed the arrest of two black men at a Philadelphia store temporarily slowed its U.S. business. Other restaurant chains also struggled, and Dow component McDonald's slid 1.5% to $162.56.
GE slipped 0.5% to $12.88 after the stock was kicked out of the Dow Jones industrial average, effective next Tuesday. Walgreens, which will take GE's place in the Dow, jumped 5.2% to $68.
Oracle slid 7.5% to $42.82 after the software company issued a revenue forecast that fell short of expectations.
Synaptics jumped 11.5% to $54.46 after the touch-screen technology company said it is in talks to potentially be bought by Dialog Semiconductor.
U.S. crude rose 1.8% to $66.22. Brent crude, the international standard for oil prices, fell 0.5% to $74.74 a barrel in London. Wholesale gasoline fell 0.7% to $2.02 a gallon. Heating oil fell 0.7% to $2.11 a gallon. Natural gas jumped 2.2% to $2.96 per 1,000 cubic feet.
Bond prices inched down. The yield on the 10-year Treasury note rose to 2.93% from 2.90%.
Gold fell 0.3% to $1,274.50 an ounce. Silver slipped 0.1% to $16.31 an ounce. Copper fell 0.2% to $3.04 a pound.
The dollar rose to 110.22 yen from 110.07 yen. The euro rose to $1.1588 from $1.1575.
In overseas stock markets, the FTSE 100 in Britain added 0.3%, Germany's DAX rose 0.1%, and France's CAC 40 lost 0.3%. After sharp losses the day before, Japan's benchmark Nikkei 225 index rebounded 1.2% and South Korea's Kospi gained 1%. Hong Kong's Hang Seng rose 0.8%.
---
UPDATES:
2:15 p.m.: This article was updated with closing princes, context and analyst comment.
1:30 p.m.: This article was updated with the close of markets.
This article was originally published at 7:35 a.m.