U.S. stocks rally as fears about Turkey ease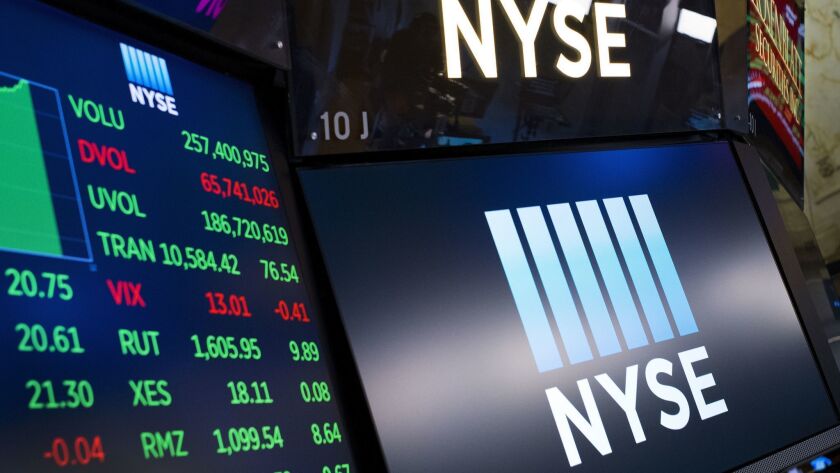 U.S. stocks rallied Tuesday as banks, retailers and smaller companies jumped. That helped the market recover most of its losses from the previous two days.
The Turkish lira steadied as officials from Turkey and the United States said the countries are in talks to ease diplomatic tensions, which have resulted in high tariffs on Turkish steel and aluminum. Stocks in emerging markets such as Argentina, Russia and Brazil jumped.
In the United States, the biggest gains went to small and midsize companies, which do more business domestically than the large multinational firms on indexes such as the Standard & Poor's 500 and the Dow Jones industrial average. Retailers rose, thanks in part to strong quarterly reports.
The reduced tensions with Turkey also stopped a rally in bond prices and sent yields and interest rates higher. That helped banks.
Industrial and basic materials companies also rose Tuesday, but compared with other parts of the market, they didn't recover as much of their losses.
Invesco Chief Global Market Strategist Kristina Hooper said investors are shifting money into more U.S.-focused companies in response to the Trump administration's aggressive handling of its dispute with Turkey, a longtime member of NATO.
"This is a reminder that the U.S. is a very different country than it was just a few years ago," she said.
The S&P 500 index climbed 18.03 points, or 0.6%, to 2,839.96. The Dow Jones industrial average rose 112.22 points, or 0.4%, to 25,299.92. The Nasdaq composite advanced 51.19 points, or 0.7%, to 7,870.89. The Russell 2000 index jumped 17.26 points, or 1%, to 1,692.58.
On Friday and Monday, the S&P 500 fell a combined 1.1% as investors worried that Turkey's financial woes would affect other countries.
Many retailers will report their quarterly results this week, a potential hint about how much money consumers are spending. Tapestry, the parent company of Coach and Kate Spade, jumped after its fourth-quarter results surpassed analysts' estimates. The stock surged 12% to $53.16.
Auto parts retailer Advance Auto Parts jumped 7.8% to $156.13 after it did better than expected in the second quarter. Competitors AutoZone and O'Reilly Automotive climbed as well.
Smaller companies made outsize gains. Footwear maker Wolverine World Wide rose 2.4% to $38.39, and watchmaker Fossil advanced 4.8% to $25.68.
Among midsize companies, Boston Beer climbed 3.9% to $291.30 and RV maker Thor Industries ticked up 2.6% to $97.06.
Economists say Turkey's central bank still needs to raise interest rates significantly to strengthen its currency. President Recep Tayyip Erdogan has ruled out that step.
Hooper, of Invesco, said it's common for stocks to fall across emerging markets when one country is in trouble, but that reaction isn't necessarily justified.
"What we're seeing in emerging markets today is a repeat of what we've seen crisis after crisis for the last few decades," Hooper said. "We can't treat all emerging markets the same way."
She said Argentina, like Turkey, is dealing with a plunging currency and political turmoil. But most of Turkey's problems are specific to that country, and other emerging markets such as Mexico are likely to recover.
Bond prices moved down. The yield on the 10-year Treasury note rose to 2.90% from 2.88%.
Health insurer Cigna rose 1.9% to $185.30 and pharmacy benefits manager Express Scripts rose 2.4% to $86 after billionaire investor Carl Icahn said he was ending his campaign to block a deal. He previously urged Cigna shareholders to vote against the $52-billion acquisition of Express Scripts and said the price was far too high.
Consumer credit company Synchrony Financial rose 2.8% to $30.01 after it said it extended a contract to manage credit card programs for home improvement retailer Lowe's. Lowe's rose 1.3% to $98.40.
Benchmark U.S. crude slipped 0.2% to $67.04 a barrel in New York. Brent crude, used to price international oils, slipped 0.2% to $72.46 a barrel in London.
Wholesale gasoline rose 1% to $2.03 a gallon. Heating oil fell 0.4% to $2.13 a gallon. Natural gas rose 1% to $2.96 per 1,000 cubic feet.
Gold rose 0.2% to $1,200.70 an ounce. Silver rose 0.5% to $15.05 an ounce. Copper fell 1.8% to $2.68 a pound after weak economic reports from China: Growth in factory output, consumer spending and retail sales in July were slower than expected.
The dollar rose to 111.22 yen from 110.69 yen. The euro fell to $1.1339 from $1.1394.
---
Your guide to our clean energy future
Get our Boiling Point newsletter for the latest on the power sector, water wars and more — and what they mean for California.
You may occasionally receive promotional content from the Los Angeles Times.