Stocks sink again as job growth lifts bond yields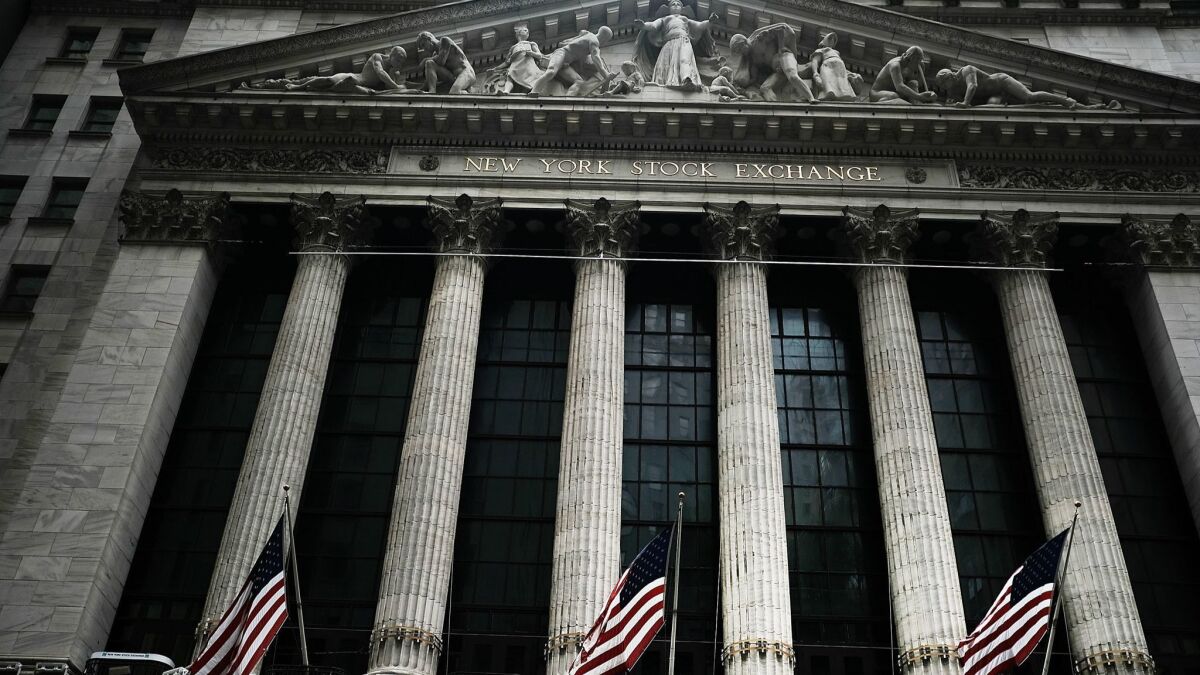 U.S. stock and bond prices fell again Friday after the Labor Department said the economy continues to add jobs at a strong pace, and investors worried about a three-day surge in yields.
The Department of Labor said employers added significantly more jobs in July and August than it previously thought, which made up for a slightly disappointing gain in September. That was another sign economic growth is likely to continue.
That's usually good news for stocks, but this week the market stumbled as investors sold government bonds at a rapid pace. That pushed yields to their highest levels in more than seven years, a sign that investors are unsure how high and fast interest rates will rise.
Kate Nixon, the chief investment strategist for Northern Trust Wealth Management, said the decline in stock and bond prices started with comments by Federal Reserve Chairman Jerome Powell on Wednesday.
In a moderated discussion, Powell expressed confidence in the economy and said rising interest rates are a "long way" from holding back growth. Nixon said that means the Fed is intent on raising rates further, and investors aren't sure when it intends to stop.
"The Fed is clearly no longer in the business of being accommodative, and now the burden of proof is on the data to prove them wrong," she said. Until last month, the Fed had described its policies as "accommodative," or encouraging faster growth, since the Great Recession.
The Standard & Poor's 500 index fell 16.04 points on Friday, or 0.6%, to 2,885.57. The Dow Jones industrial average fell 180.43 points, or 0.7%, to 26,447.05.
Technology and internet companies and smaller, more U.S.-focused companies continued to suffer steep losses. The Nasdaq composite skidded 91.06 points, or 1.2%, to 7,788.45. The Russell 2000 index slid 14.80 points, or 0.9%, to 1,632.11.
The Nasdaq dropped 3.2% this week and the Russell tumbled 3.8%, their biggest weekly losses in more than six months. The Russell index finished at its lowest level since late May.
The yield on the 10-year Treasury note jumped Friday to 3.23%, its highest since May 2011, from 3.19%.
"It's so unusual to see these kinds of dramatic moves in the U.S. Treasury market without there being some kind of Big Bang event," Northern Trust's Nixon said. "We haven't seen anything like it since the [2016 presidential] election."
Technology companies and retailers, which have been the biggest gainers on the S&P this year, took steep losses this week. Banks and industrial and energy firms, which have struggled for most of 2018, finished with strong gains.
Among technology companies, chipmaker Nvidia slid 3.4% to $269.86 and Apple fell 1.6% to $224.29. Among internet and communications companies, Netflix slumped 3.4% to $351.35. Retailers also declined; Amazon fell 1% to $1,889.65.
Several major banks will post their third-quarter results late next week as the next round of company earnings reports begins.
Tesla stock dropped 7.1% to $261.95 to end a particularly wild week for the electric-car maker. On Thursday evening, CEO Elon Musk taunted the Securities and Exchange Commission on Twitter just days after he agreed to settle an SEC lawsuit triggered by a tweet he posted in August.
As part of that settlement, Musk agreed to step down as chairman and submit to oversight when he's communicating company news. His criticisms of the SEC don't appear to be company news, but they may have worried investors who hoped his feed would be a little more boring from now on.
Costco slid 5.6% to $218.82 after the wholesale club operator said it discovered technology problems related to its financial reporting processes. Costco said it hasn't found any mistakes in its earnings reports so far.
Benchmark U.S. crude was little changed at $74.34 a barrel in New York. Brent crude, the standard for international oil futures, fell 0.5% to $84.16 a barrel in London.
Wholesale gasoline fell 0.7% to $2.09 a gallon. Heating oil fell 0.3% to $2.39 a gallon. Natural gas fell 0.7% to $3.14 per 1,000 cubic feet.
Gold rose 0.3% to $1,205.60 an ounce. Silver rose 0.4% to $14.65 an ounce. Copper fell 0.5% to $2.76 a pound.
The dollar slipped to 113.73 yen from 113.86 yen. The euro rose to $1.1525 from $1.1515.
---
UPDATES:
3:15 p.m.: This article was updated with closing prices, context and analyst comment.
This article was originally published at 7:35 a.m.
Sign up for the California Politics newsletter to get exclusive analysis from our reporters.
You may occasionally receive promotional content from the Los Angeles Times.