Stocks struggle to a mixed finish; tech shares fall again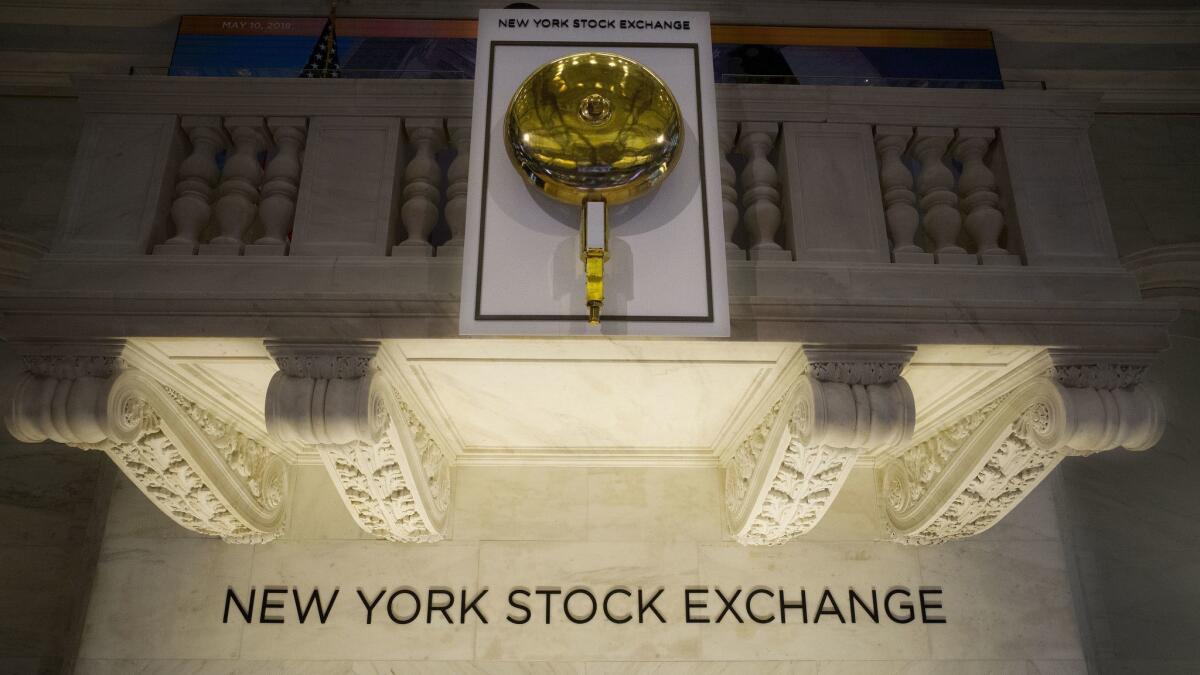 U.S. stock indexes found their footing after a sharp early loss Monday and finished mixed. Technology companies sank for the third day in a row.
Stocks slumped in morning trading after posting big declines late last week. Some of the largest losses went to tech firms, including payment and credit card companies. Indexes in Europe also dropped as Italy vowed to ramp up spending that will increase its deficit.
A sharp increase in bond yields last week had startled investors and prompted them to shift money out of stocks. Bond markets in the United States were closed for the Columbus Day holiday, and stock trading was relatively light.
Banks, whose shares often rise along with interest rates, continued their advance. High-dividend companies, which tend to fall when yields go up, recovered some of their losses from last week.
Kristina Hooper, chief global market strategist for Invesco, said tech firms have dropped because investors worry that they are vulnerable as the Trump administration wraps up trade negotiations with Mexico, Canada and Korea and zeroes in on China.
"The U.S. has made very significant concessions [to those countries], and I expect them to do that with Japan as well," she said. "The ultimate goal is to bring China to its knees."
The Standard & Poor's 500 index slipped 1.14 points to 2,884.43. The Dow Jones industrial average reversed an early loss of 223 points and ended with a gain of 39.73 points, or 0.2%, to 26,486.78.
The Nasdaq composite slid 52.50 points, or 0.7%, to 7,735.95. The Russell 2000 index of smaller-company stocks slipped 2.60 points, or 0.2%, to 1,629.52. The Nasdaq and Russell are both coming off their worst week since late March.
Among payment technology companies, PayPal slid 3.2% to $80.55 and Mastercard fell 2.3% to $208.26. Elsewhere, Microsoft fell 1.1% to $110.85.
Alphabet, Google's parent company, fell 1% to $1,155.92 after it said a flaw in its Google Plus social network may have exposed personal information of as many as 500,000 people. It will end Google Plus for consumers next year.
Google found the problem in March, and the Wall Street Journal reported Monday that the company didn't disclose it at the time, partly to avoid scrutiny from regulators and damage to its reputation. Google did not comment on that report.
Invesco's Hooper said technology companies have been returning big profits this year, so investors have been slow to recognize the harm that could come from the trade spat.
"There's the potential for China to place an embargo on rare earth metals, which would be very disruptive to some parts of the tech industry," she said. "Tech is not going to be unscathed in a trade war."
Overseas, Italy's deputy premier vowed to press ahead with a plan to increase spending and the country's deficit even after the European Commission expressed "serious concern" about the idea. Italy's FTSE MIB dropped 2.4%, and Italian bond prices dropped, sending yields higher. Other European indexes stumbled too. The euro sank to $1.1488 from $1.1525.
China's government injected money into its cooling economy by reducing the level of reserves that banks are required to hold, and its central bank told Chinese banks to lend more to entrepreneurs. Chinese leaders are trying to shore up economic growth that began to cool after Beijing tightened lending controls last year to rein in a debt boom.
Brazil's main stock index staged its biggest rally in 2½ years, jumping 4.6% for its highest close since May after far-right candidate Jair Bolsonaro led the first round of presidential voting by an unexpectedly wide margin. He's now the favorite to win this month's final election.
Bolsonaro has repeatedly said he doesn't understand the economy and has spoken approvingly of Brazil's 1964-1985 dictatorship. But business leaders and financial markets approved of his choice of an esteemed banker as head of his economic team, and they oppose the left-leaning Workers' Party.
With bond markets in the U.S. closed, the yield on the 10-year Treasury note, an important benchmark for mortgages and other types of long-term loans, stayed at 3.22%. That's its highest in more than seven years, and it's helping bank stocks.
High-dividend stocks rose Monday. Those stocks are often treated as an alternative to bonds because of their large payments to shareholders, which are similar to the yields from bonds. Shares of real estate investment trust Crown Castle International climbed 1.4% to $110.27, and Coca-Cola rose 1.3% to $46.48.
Benchmark U.S. crude slipped 0.1% to $74.29 a barrel in New York. Brent crude, used to price international oils, fell 0.3% to $83.91 a barrel in London.
Wholesale gasoline rose 0.4% to $2.09 a gallon. Heating oil inched up 0.1% to $2.39 a gallon. Natural gas jumped 3.9% to $3.27 per 1,000 cubic feet.
Gold fell 1.4% to $1,188.60 an ounce. Silver fell 2.2% to $14.33 an ounce. Copper rose 0.1% to $2.77 a pound.
The dollar fell to 112.98 yen from 113.73 yen.
---
UPDATES:
3:40 p.m.: This article was updated with closing prices, context and analyst comment.
1:15 p.m.: This article was updated with the close of markets.
This article was originally published at noon.