Stocks take sharp losses; Apple, Microsoft, Amazon and Facebook drop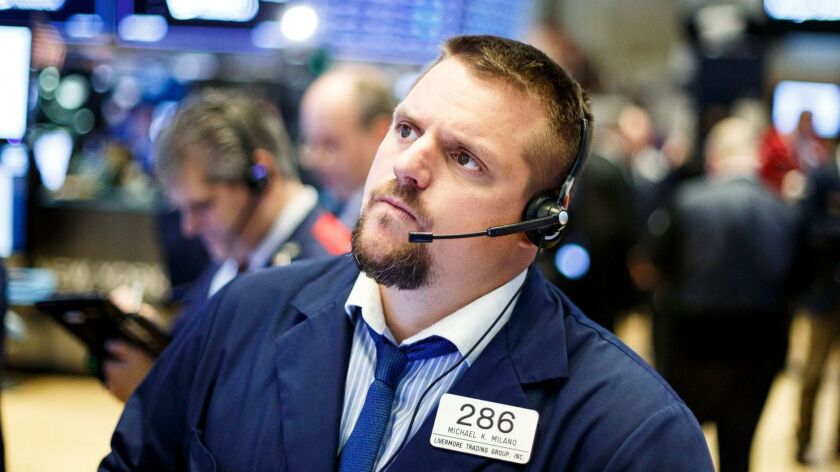 Big technology and internet companies tumbled again Monday, leading to broad losses across the stock market. The Dow Jones industrial average briefly was down more than 500 points.
Apple, Microsoft and Amazon, the most valuable companies on the market, sustained some of the worst losses. Facebook, another longtime investor darling that has fallen out of favor since this summer, also skidded.
After a brutal October, stocks started to recover early this month. But continued losses for tech companies have sent major indexes down again.
Mark Hackett, chief of investment research at Nationwide Investment Management, said investors are dumping the high-profile technology companies that have dominated the market recently. He said investors are picking companies based on traditional profit and revenue figures instead of the kind of user growth figures that tech companies favor.
"These things had outperformed the S&P by a mile over the last three years," he said, but that's changed now. "On good days they're not the leaders, and on bad days they're the laggards."
The Standard & Poor's 500 index slid 45.54 points, or 1.7%, to 2,690.73. The Dow fell 395.78 points, or 1.6%, to 25,017.44.
The Nasdaq composite skidded 219.40 points, or 3%, to 7,028.48. The Russell 2000 index of smaller-company stocks declined 30.99 points, or 2%, to 1,496.54.
Investors focused again on trade tensions between the United States and China after the two countries clashed at a Pacific Rim summit over the weekend.
A drop by Boeing, a major exporter that would stand to suffer greatly in a protracted trade war, weighed heavily on the Dow. Boeing slid 4.5% to $320.94 but is still one of the best-performing stocks in the 30-stock index. Apple fell 4% to $185.86 on renewed worries that iPhone sales could slow. Microsoft fell 3.4% to $104.62.
Amazon, which is not a Dow component, slid 5.1% to $1,512.29.
High-dividend stocks such as real estate companies and utilities, which investors favor when they are fearful of market turmoil, held up better than the rest of the market.
The disagreements between the United States and China at the Asia-Pacific Economic Cooperation meeting left investors feeling pessimistic about the prospects for a deal that would end the trade tensions between the world's two largest economies. For the first time in almost 30 years, leaders at the summit could not agree on a joint declaration on world trade.
Talks between the United States and China are continuing ahead of a meeting between Chinese President Xi Jinping and President Trump planned for the G-20 summit this month.
Among tech and internet stocks, chipmaker Nvidia dropped 12% to $144.70, adding to its losses from last week. Nvidia said last week that it had a large number of unsold chips because of a big drop in mining of cryptocurrencies.
Facebook sank 5.7% to $131.55. Netflix slid 5.5% to $270.60. Adobe declined 8% to $219.69.
The S&P 500 index of technology companies has plunged 13.1% since the end of September.
Nissan said its chairman, Carlos Ghosn, was arrested Monday and will be dismissed from the company after, it said, he underreported his income and engaged in other "significant misconduct." U.S.-traded shares of Nissan fell 5.8% to $16.90. In Paris, shares of Nissan's partner Renault dropped 8.4%.
Industrial companies and retailers also stumbled. Caterpillar fell 3.1% to $125.98. Nike fell 3% to $72.52.
Benchmark U.S. crude reversed an early loss and rose 0.5% to $56.76 a barrel in New York. U.S. crude prices have dropped six weeks in a row and are trading around their lowest level in about nine months.
Brent crude, used to price international oils, was little changed at $66.79 a barrel in London.
Wholesale gasoline rose 0.4% to $1.58 a gallon. Heating oil rose 0.6% to $2.09 a gallon. Natural gas surged 10% to $4.70 per 1,000 cubic feet.
PG&E, the parent company of California utility Pacific Gas & Electric, fell again — declining 4.7% to $23.26 — after it disclosed that it had a second-power line failure near the start of California's deadliest wildfire the morning the fire began. PG&E shares have plunged 51% since Nov. 8, the day the Camp fire started, as investors try to assess the damages the company might have to pay if it is held liable for the blaze.
Gold rose 0.2% to $1,225.30 an ounce. Silver inched up 0.1% to $14.40 an ounce. Copper held steady at $2.80 a pound.
Bond prices rose. The yield on the 10-year Treasury note fell to 3.05% from 3.07%. The dollar slipped to 112.54 yen from 112.83 yen. The euro rose to $1.1453 from $1.1412. The pound rose to $1.2855 from $1.2831.
France's CAC 40 gave up 0.8% and Germany's DAX slid 0.9%. Britain's FTSE 100 slipped 0.2%. Japan's benchmark Nikkei 225 rose 0.7% and Hong Kong's Hang Seng added 0.7%. South Korea's Kospi gained 0.4%.
---
UPDATES:
3:25 p.m.: This article was updated with closing prices, context and analyst comment.
1:15 p.m.: This article was updated with the close of markets.
11:20 a.m.: This article was updated with more recent figures.
This article was originally published at 9:15 a.m.
---
Your guide to our new economic reality.
Get our free business newsletter for insights and tips for getting by.
You may occasionally receive promotional content from the Los Angeles Times.