Stocks drop, capping their worst week since March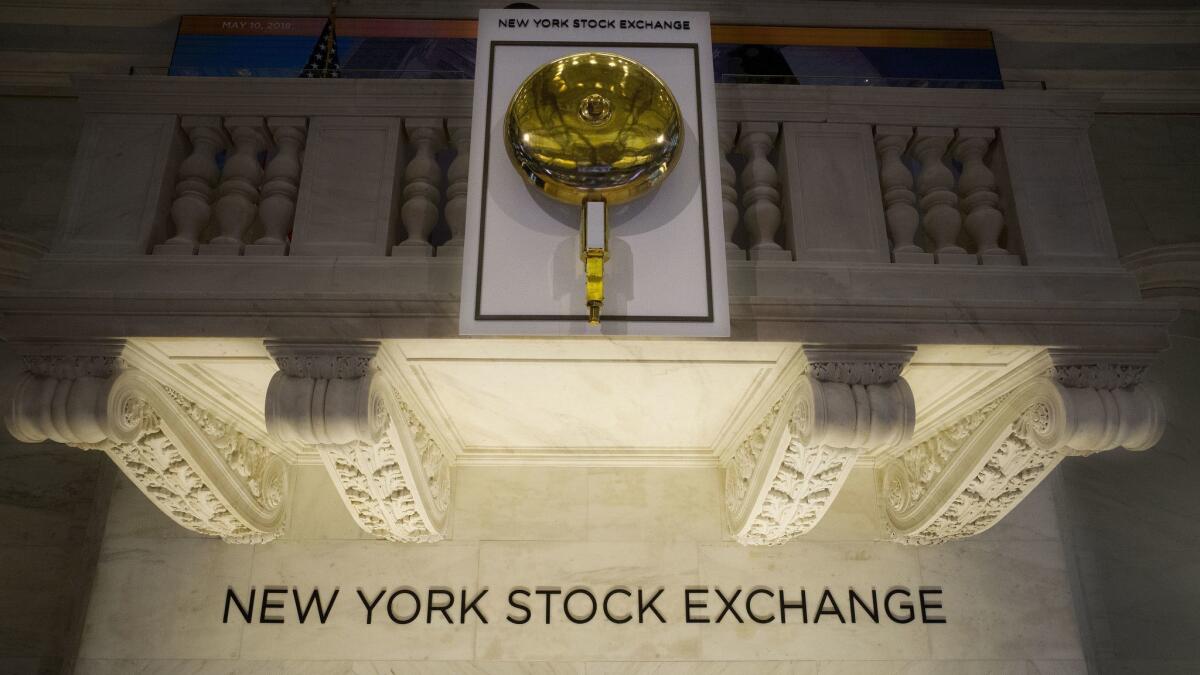 The U.S. stock market capped a turbulent week of trading Friday, posting its biggest weekly loss since March as traders fretted over rising trade tensions between the United States and China and signals of slower economic growth.
Friday's wave of selling erased more than 550 points from the Dow Jones industrial average, bringing the blue-chip index's three-day loss to more than 1,400. For the week, major U.S. indexes fell more than 4%.
Worries that the testy U.S.-China trade dispute and higher interest rates will slow the economy has made investors uneasy, leading to volatile swings in the market from one day to the next.
On Monday, news that the United States and China had agreed to a 90-day truce in their trade war drove stocks sharply higher, adding to strong gains from the week before. The next day, as doubts mounted over the likelihood of a swift resolution to the trade war, stocks sank. On Friday, an early rally faded into another sharp drop.
"We're in a market where investors just want to sell any upside that they see," said Lindsey Bell, investment strategist at CFRA. "The volatility we've seen the last couple of weeks has been pretty extreme in both directions."
The S&P 500 index slid 62.87 points Friday, or 2.3%, to 2,633.08. The index was down 4.6% for the week and has fallen three of the last four weeks.
The Dow fell 558.72 points, or 2.2%, to 24,388.95. It lost 4.5% this week.
The Nasdaq composite slid 219.01 points, or 3%, to 6,969.25. It sank 4.9% this week.
The Russell 2000 index of small-company stocks fell 29.32 points, or 2%, to 1,448.09. It tumbled 5.6% this week.
The S&P 500 and Dow are now in the red for the year again. The Nasdaq is holding on to a modest gain.
Volatility has gripped the market since early October, reflecting investors' worries that the Federal Reserve might overshoot with its campaign of interest rate increases and hurt U.S. economic growth.
Traders also fear that a prolonged U.S.-China trade war could crimp corporate profits and that tariffs will raises costs for businesses and consumers. Uncertainty over those issues helped drive the market's sell-off this week.
"The Fed has taken the punch bowl away" by raising interest rates this much, said Doug Cote, chief market strategist for Voya Investment Management. "We're also going to get back to more normal volatility."
At the same time, traders are also worried about a sharp drop in long-term bond yields as investors plow money into Treasurys, which tends to happen when they expect slower economic growth.
Technology stocks accounted for much of the market's broad slide Friday. Chip maker Advanced Micro Devices slid 8.6% to $19.46. Fellow chip maker Broadcom, meanwhile, rose 0.6% to $228.56 after it reported big gains in quarterly earnings and revenue and said it would raise its dividend.
Stocks in the healthcare sector, the biggest gainer in the S&P 500 this year, took some of the heaviest losses. Medical device company Cooper tumbled 12.3% to $243.01.
Utilities, which investors favor when they're fearful, edged up. PPL Corp. rose 2.8% to $31.09.
Big Lots dived 23.1% to $31 after the discount retailer reported a quarterly loss of $6.6 million. It posted a profit in the year-earlier period.
United Natural Foods tumbled 24.6% to $14.88 after the organic and specialty foods distributor reported results that were far weaker than investors expected.
Oil prices rose after OPEC countries agreed to reduce global oil production by 1.2 million barrels a day for six months, beginning in January. The move would include a reduction of 800,000 barrels per day from OPEC countries and 400,000 barrels per day from Russia and other non-OPEC nations.
The news, which had been widely anticipated, pushed crude oil prices higher. U.S. benchmark crude rose 2.2% to $52.61 a barrel in New York. Brent crude, used to price international oils, climbed 2.7% to $61.67 a barrel in London.
The Labor Department said U.S. employers added 155,000 jobs in November, a slowdown from recent months but enough to suggest that the economy is expanding at a solid pace despite sharp gyrations in the stock market. The unemployment rate remained at 3.7%, nearly a five-decade low, for the third straight month.
Bond prices rose, sending yields down slightly. The yield on the 10-year Treasury fell to 2.86% from 2.87%.
The decline in bond yields, which affect interest rates on mortgages and other consumer loans, weighed on banks, which make more money when interest rates are rising. Morgan Stanley shares slid 3% to $41.32.
The dollar edged up to 112.66 yen from 112.65 yen. The euro strengthened to $1.1418 from $1.1373.
Gold rose 0.7% to $1,252.60 an ounce. Silver climbed 1.3% to $14.70 an ounce. Copper rose 0.6% to $2.76 a pound.
Wholesale gasoline climbed 3.7% to $1.49 a gallon. Heating oil rose 1.5% to $1.89 a gallon. Natural gas climbed 3.7% to $4.49 per 1,000 cubic feet.