Stocks slide as slow growth in China hurts company earnings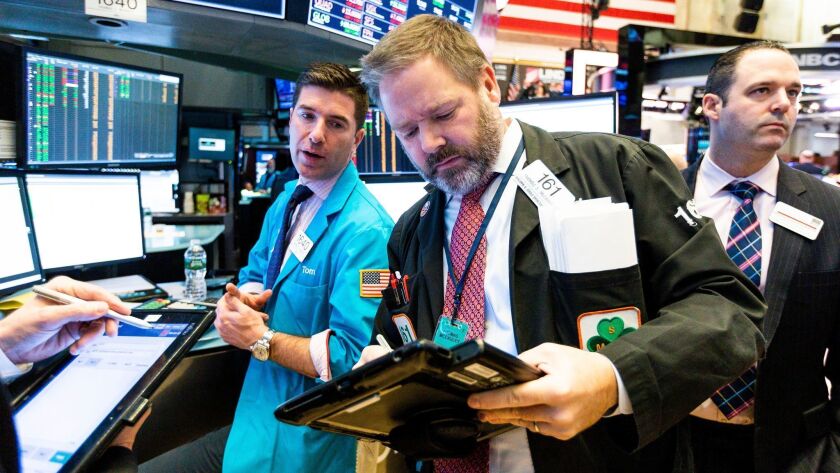 Stock indexes sank Monday after announcements from Caterpillar and Nvidia highlighted how much China's slowing economic growth is hurting U.S. companies' profits.
Caterpillar, a bellwether for industrial companies, reported fourth-quarter earnings that fell well short of analysts' expectations and said it expects construction growth in China to be flat in 2019 after years of significant growth. And chipmaker Nvidia cited slowing demand in China as one of the reasons for slashing its fourth-quarter revenue forecast.
Wall Street had already been fixated on the effects of China's slowdown, particularly with U.S.-China trade tensions high, and the corporate announcements sent the technology and industrial sectors to sharp losses.
The Standard & Poor's 500 index fell 20.91 points, or 0.8%, to 2,643.85. The Dow Jones industrial average fell 208.98 points, or 0.8%, to 24,528.22. The tech-heavy Nasdaq composite slid 79.18 points, or 1.1%, to 7,085.68. The Russell 2000 index of small-company stocks fell 9.32 points, or 0.6%, to 1,473.54.
China's economic growth last year was the slowest since 1990, and the effect is being felt widely among the many U.S. companies that rely on China for sales — especially industrial and technology firms. China accounts for 5.5% of revenue for S&P 500 companies, second-most in the world after the United States, according to FactSet.
Nvidia and Caterpillar had the sharpest losses in the S&P 500 on Monday, sinking 13.8% and 9.1%, respectively.
Tech giants Microsoft and Apple were also weighed down by China concerns. Microsoft fell 2%, and Apple shed 0.9%. Apple shook markets this month when it warned of lagging sales in China.
Kristina Hooper, chief global market strategist for Invesco, expects a "widespread" effect from the global slowdown and said Apple was "the canary in the coal mine."
"This, if nothing else, is putting more emphasis and focus on U.S.-China trade talks this week," she said.
Talks aimed at resolving the impasse over Chinese technology policy and other issues are set to resume in Washington this week. Analysts say there might be moves to trim China's massive trade surplus with the United States — moves that could stave off further increases in punitive tariffs imposed by both sides. However, they expect differences of opinion to remain on key issues such as China's blueprint for state-led development of leading technologies.
The trade meeting is just one of several big events that could swing markets in a busy week. Also upcoming are a Federal Reserve meeting on interest rates, the U.S. jobs report and earnings reports from about a quarter of the companies in the S&P 500 index.
Investors are hoping for encouraging clues that interest rates will remain low enough and job growth strong enough to avoid a recession. Fear of a recession took a toll on the stock market at the end of 2018, and the S&P 500 fell nearly 20% between its Sept. 20 record high and Christmas Eve.
In Europe, the threat of a continued economic slowdown has been hanging over what is the already contentious issue of Britain's expected departure from the European Union in March. Economic growth in Europe slowed in the last half of 2018, and indicators at the start of this year have been weak.
Guess dived 14.6% to $19.17 after the Los Angeles clothing company announced its chief executive, Victor Herrero, is leaving the company. Carlos Alberini, a former Guess executive who is chairman and CEO of Lucky Brand, is to succeed him.
In the commodities market, U.S. crude oil fell 3.2% to $51.99 a barrel in New York. Brent crude, used to price international oils, fell 2.8% to $59.93 a barrel.
The Trump administration imposed sanctions Monday on Venezuela's state-owned oil company, but the price of oil did not have a big reaction to that.
Wholesale gasoline slid 4.1% to $1.33 a gallon. Heating oil fell 2.9% to $1.84 a gallon. Natural gas dived 8.4% to $2.91 per 1,000 cubic feet.
The price of gold rose 0.4% to $1,303.10 an ounce. Silver rose 0.4% to $15.77 an ounce. Copper fell 1.8% to $2.68 a pound.
Bond prices rose. The yield on the 10-year Treasury note slipped to 2.74% from 2.75% late Friday.
The dollar fell to 109.36 yen from 109.64 yen. The euro rose to $1.1427 from $1.1414, and the British pound fell to $1.3158 from $1.3198.
---
For reporting and exclusive analysis from bureau chief John Myers, get our California Politics newsletter.
You may occasionally receive promotional content from the Los Angeles Times.