Stocks edge up, adding to two weeks of gains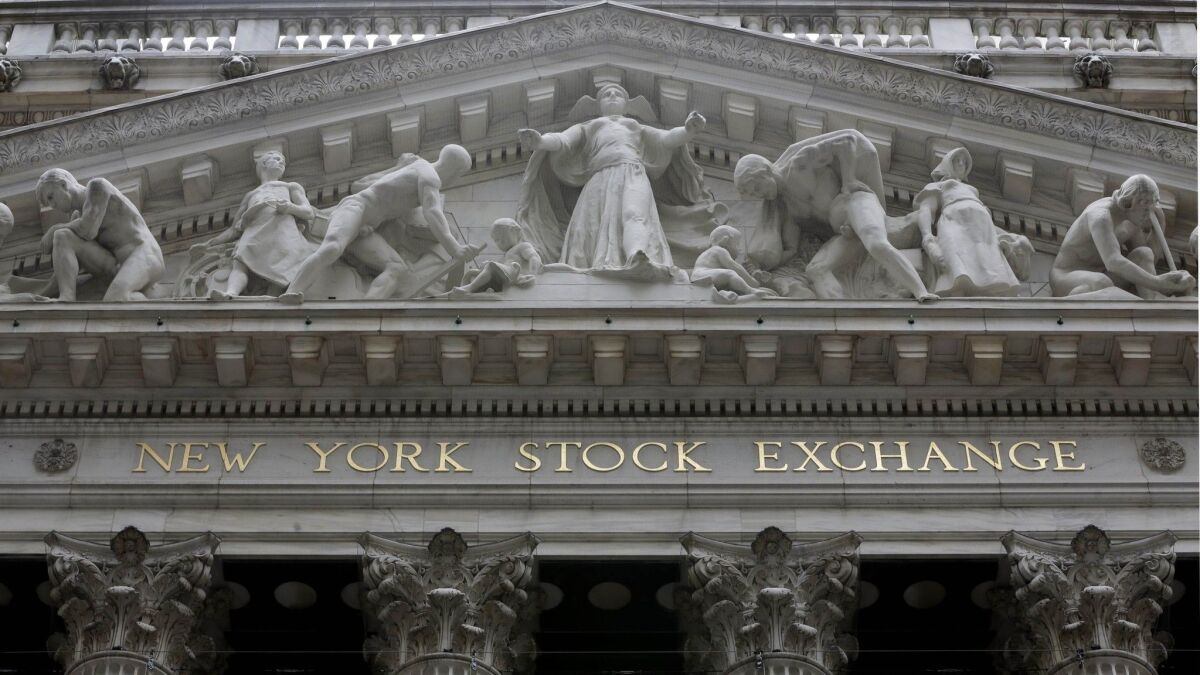 Stocks on Wall Street rose slightly Monday, adding a bit to the last two weeks of gains.
However, trading remained choppy as uncertainty continued over several ongoing trade disputes and their possible effect on economic growth.
The Standard & Poor's 500 index edged up 2.69 points, or 0.1%, to 2,889.67. The Dow Jones industrial average edged up 22.92 points, or 0.1%, to 26,112.53. The Nasdaq composite index rose 48.37 points, or 0.6%, to 7,845.02.
Financial companies were the biggest losers as bond yields slipped. The KBW Bank index, a measurement of the 24 biggest banks, fell 1.3%.
The market's muted gains mirror last week's pattern of choppy day-to-day trading as investors search for direction, waiting for a Federal Reserve announcement on interest rates Wednesday.
On Monday, investors focused on a round of deal-making and kept paying close attention to the U.S.-China trade war.
Array BioPharma surged 57% after announcing that it had agreed to be bought by pharmaceutical giant Pfizer for $11.4 billion.
Array makes an advanced skin-cancer treatment and has a deep pipeline of cancer drugs in development. Pfizer makes a wide range of cancer and other drugs. It is the biggest U.S. drugmaker by revenue. Pfizer rose 0.3% to $42.87 a share.
New York auction house Sotheby's surged 58.6% after announcing its sale to Patrick Drahi, a media and telecom entrepreneur and art collector.
Other companies were also moving after announcing deals.
Oil-field services company C&J Energy Services surged 20% after announcing it is being bought by rival Keane Group in an all-stock deal. LegacyTexas Financial Group rose roughly 2% after it announced a $2.1-billion cash-and-stock sale to regional bank Prosperity Bancshares.
Align Technology fell more than 6% after the medical device maker ended discussions about a potential distribution deal with Straumann Group. The company focuses on products for the dental industry. The deal was initially part of a patent dispute settlement with a unit of Straumann. Instead, Align will receive a $16-million payment.
The current effect of the U.S.-China spat isn't enough to cause a recession, but a further escalation of tensions could become a trigger, according to Jason Pride, chief investment officer of private wealth for Glenmede.
"I think that's why investors are so focused on this trade issue," he said. "In a worst-case scenario, we're talking about a 1.5% GDP impact."
The worst-case scenario would involve additional tariffs on Chinese goods along with other global tariffs, including the United States' currently postponed actions against Mexico.
The S&P 500 eked out a modest gain of 0.5% last week. Investors have been swinging between risky and safer-play holdings on a lack of developments in the U.S.-China trade war. Jitters over trade disputes and their impact on global economic growth have created a volatile market.
In commodities trading Monday, benchmark crude oil fell 1.1% to settle at $51.93 a barrel. Brent crude oil, the international standard, dropped 1.7% to close at $60.94 a barrel. Wholesale gasoline fell 2.4% to $1.69 a gallon. Heating oil was down 1.6% to $1.80 a gallon. Natural gas was mostly unchanged at $2.39 per 1,000 cubic feet.
Gold edged down 0.1% to $1,342.90 an ounce. Silver rose 0.2% to $14.83 an ounce. Copper rose 0.6% to $2.65 a pound.
The dollar rose to 108.57 Japanese yen from 108.55 yen. The euro weakened to $1.1216 from $1.1207.
---
Sign up for the California Politics newsletter to get exclusive analysis from our reporters.
You may occasionally receive promotional content from the Los Angeles Times.