Mattel is cutting more than 2,200 jobs as revenue falls for fourth straight quarter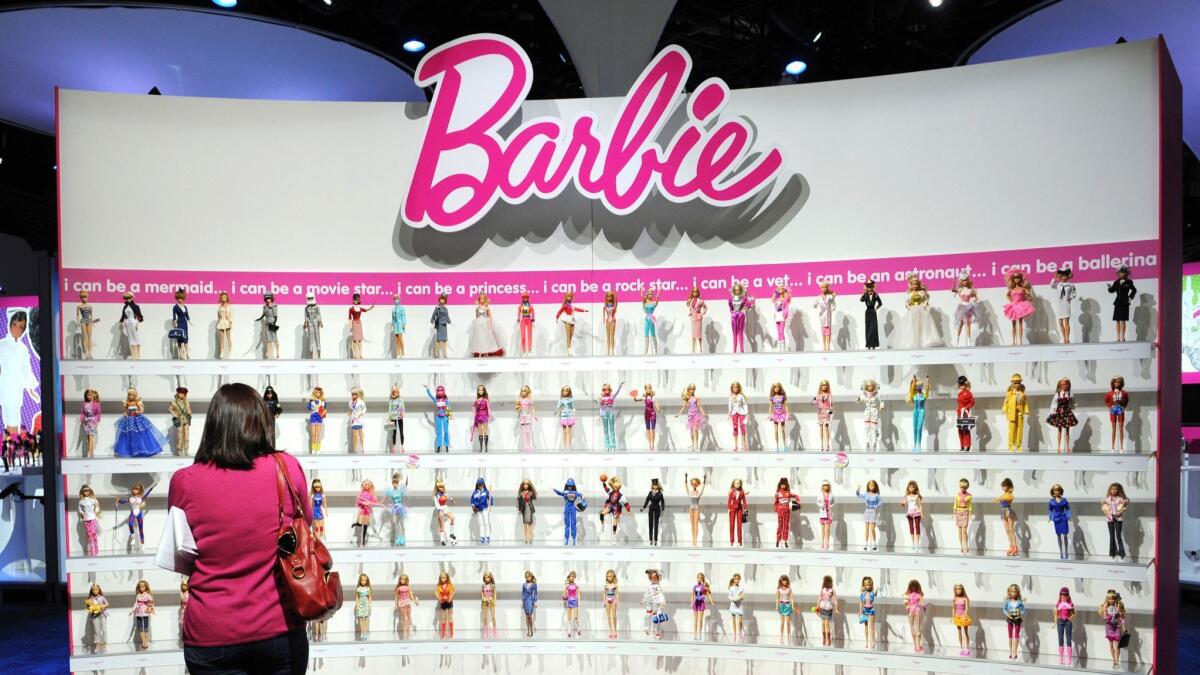 Mattel Inc. announced Wednesday that it is slashing more than 2,200 jobs, which the toymaker said represented 22% of its global non-manufacturing workforce.
The El Segundo company disclosed the move in reporting its second-quarter earnings, which didn't meet analysts' expectations as revenue fell for a fourth straight quarter.
The maker of the iconic Barbie doll, like industry competitors, has struggled with the demise of Toys R Us, a key retailer that has been liquidating its stores after filing for bankruptcy protection last year.
The job cuts began this week and are part of a $650-million cost-cutting plan announced last year, Chief Executive Ynon Kreiz said.
Kreiz, named CEO in April as part of a turnaround effort, said the layoffs are focused on back-office and support positions. The company had roughly 28,000 employees as of Dec. 31, according to a regulatory filing.
Calling Mattel a "company with great potential," Kreiz said that there has been a "big discrepancy between our financial performance over the last few years and where the company should be."
The toymaker has lagged behind its competitors in digital media, analysts say, and is trying to catch up with other brands that have spawned apps, movies and TV shows.
Kreiz, the fourth Mattel CEO in four years, is a former chairman and chief executive of Maker Studios, a digital media company acquired by Walt Disney Co.
Mattel's stock was down nearly 9% to $14.83 in after-hours trading after closing down 19 cents, or 1.2%, to $16.29 in regular trading Wednesday. The shares had gained 5.9% this year through Wednesday's close.
As part of the spending reductions, Mattel also announced that it's selling factories in Mexico as part of a strategy to move the company away from doing its own manufacturing, so it can spend more on developing its intellectual property.
"Our core expertise is in creative," Kreiz said. "We've been overly focused on putting resources behind manufacturing."
Susan Anderson, a research analyst at B. Riley FBR Inc., agreed that the company historically has put too much of its resources into manufacturing compared with competitors that rely on third parties.
"In general, this is all related to selling of factories in Mexico. Mattel is behind competition and they know that," she said.
Mattel's second-quarter sales fell 14% to $841 million. The company's adjusted loss was 56 cents a share, higher than analysts' projections of 31 cents.
Two bright spots for Mattel in the quarter were Barbie and Hot Wheels, its two biggest brands, which both continued to grow. The doll line increased sales 12%, a third straight gain. Hot Wheels sales advanced 21%.
Last year, the company lost $1.1 billion as sales fell 11% to $4.9 billion, excluding currency fluctuations. The loss included a charge related to U.S. tax changes.
In April, Isaac Larian, founder of MGA Entertainment, made an unsolicited offer to merge his Van Nuys toymaker with crosstown rival Mattel, which rejected the offer as not in the best interests of Mattel and its shareholders.
The privately held MGA makes the popular Bratz line of dolls and the L.O.L. Surprise! doll line, one of the top-selling toys over the last few years.
In April, Mattel's chief executive, Margaret "Margo" Georgiadis, abruptly left after only 14 months on the job. She had sought to narrow Mattel's focus to enhance Barbie, American Girl and other core brands while streamlining its operations and slashing costs.
Toy industry analyst Richard Gottlieb said he thinks cutting factories is a start but isn't sure if the company's restructuring will result in more contemporary products that strike a chord with consumers.
"The key statement is about them being creative. What does that mean?" asked Gottlieb, principal of Global Toy Experts. "Is that creative in the old school sense that we're going to make more toys, or in the modern sense with more intellectual property — movies and games?"
Gottlieb also said that as Mattel moves toward movies and games, it needs to ensure it broadens its audience outside of just children, such as what Hasbro did with its Transformers movies.
"How do you make it something a tween, teen and adult can like? It's about making it a lifestyle brand," he said.
The industry is facing broad pressures as online and big-box retailers such as Amazon.com and Walmart eat away at margins, a situation not helped when Toys R Us decided not to reorganize this year after a poor holiday sales season.
Toys R Us was the company's second-largest sales channel after Walmart.
However, some toymakers are doing better than others. Hasbro Inc., the world's largest publicly traded toymaker, beat second-quarter revenue estimates this week even as it too saw revenue fall, at least partly because of the Toys R Us liquidation.
Hasbro, which turned a profit, saw strong sales of its Monopoly game during a quarter in which it agreed to acquire Power Rangers and other titles from Saban Properties.
Los Angeles Times staff writer Jaclyn Cosgrove and Bloomberg writer Matthew Townsend contributed to this report.
Twitter: @smasunaga
---
UPDATES:
4:10 p.m.: This article was updated with details on Hasbro's earnings report and comments from B. Riley FBR analyst Susan Anderson
3:30 p.m.: This article was updated with comments from toy industry analyst Richard Gottlieb.
2:20 p.m.: This article was updated with additional details on Mattel's financial performance, it's turnaround effort and a merger offer by MGA Entertainment.
This article was originally published at 1:25 p.m.