McDonald's facing complaints over worker burns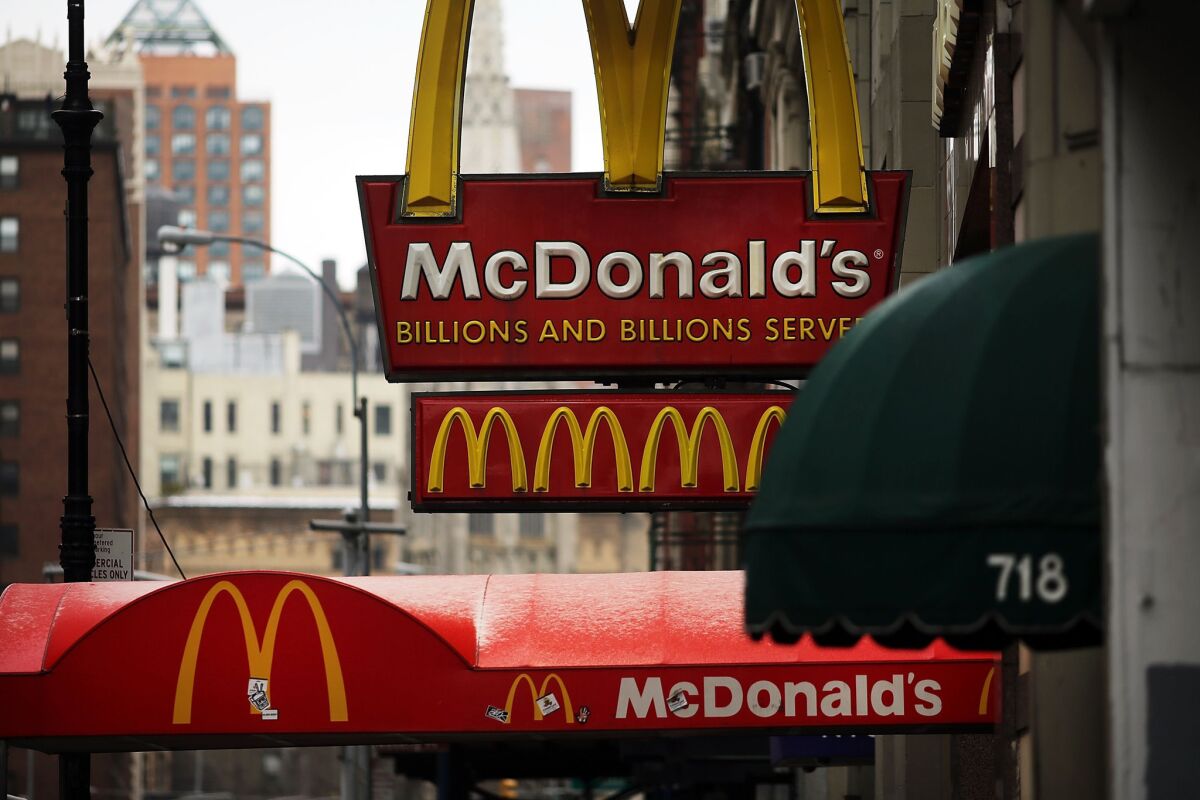 Fast-food giant McDonald's is facing more than two dozen workplace safety complaints from workers who allege that they suffered burns on the job, a labor-backed advocacy group announced Monday.
Restaurant workers have filed a series of complaints against 28 McDonald's restaurants in 19 cities, including nine locations owned by the corporation, according to Fast Food Forward, a group supported by the Service Employees International Union.
The complaints, lodged with the Occupational Safety and Health Administration over the last two weeks, claim that greasy floors, understaffing and a breakneck pace contribute to injuries, and that many restaurants lack first-aid kits to treat workplace injuries, the group said in a statement Monday.
"One of my co-workers and I have to empty the grease trap without protective gear," Martisse Campbell, a worker at a McDonald's in Philadelphia, said in a statement. Campbell said that once a co-worker was badly burned on the job and was told by a manager to "put mayonnaise on it, you'll be good."
Fast Food Forward blamed McDonald's for creating what it says are hazardous working conditions and failing to enforce basic safety standards.
In a statement, the company said it is reviewing the complaints. "McDonald's and its independent franchisees are committed to providing safe working conditions for employees," the company said. "It is important to note that these complaints are part of a larger strategy orchestrated by activists targeting our brand."
According to a recent survey of fast-food workers released by the National Council for Occupational Safety and Health, a worker safety advocacy group, 79% of fast-food workers have been burned on the job in the last year.
Fast Food Forward said McDonald's was to blame for failing to enforce minimum safety standards it sets for franchisees. "The company watches like a hawk nearly every aspect of its franchisees' business operations… but it too often ignores health and safety problems," the organization said in a statement.
The advocacy group has targeted McDonald's and other fast-food chains with a series of high-profile protests and walkouts over the last couple of years, demanding higher wages and adopting the slogan "Fight for $15," or a $15 minimum wage for restaurant workers.
In October, the National Labor Relations Board classified McDonald's Corp. as a "joint employer" and said the company had violated the rights of employees openly seeking better pay and working conditions, including firings, reduced hours and threats against workers, some of whom had participated in the protests.
In those proceedings, the NLRB ruled that McDonald's wields such extensive influence over the business operations of its franchisees that is effectively the top boss.
The Associated Press was used in compiling this report.
For more breaking news, follow me @cmaiduc
---
Sign up for the California Politics newsletter to get exclusive analysis from our reporters.
You may occasionally receive promotional content from the Los Angeles Times.