What Trump effect? Airlines are adding routes to handle growing cross-border travel demand from Mexicans and Americans
The cushy business-class seats that Rosario Marín books on her regular flights between Los Angeles and Mexico are a far cry from those on the two-day bus journeys she took as a teenager to visit relatives in Mexico City.
A consultant for companies that want to do cross-border commerce, Marín says the bus trips of her youth were mostly crammed with families relying on the least expensive transportation within Mexico. Today, she shares airline cabins with business executives and tourists — and the accommodations are a distinct upgrade.

For the record:
2:56 p.m. Oct. 18, 2021A previous version of this story identified Rosario Marin as a former U.S. Treasury Secretary. She was the U.S. Treasurer.
"There is no luxury when you are sitting in a small seat for two days," quipped Marín, a former U.S. treasurer who was born in Mexico.
Marín is contributing to an increasing demand for air travel between the United States and Mexico attributed partly to growing business ties between the two countries and rising international tourism by Mexico's surging middle class. Then, there's the never-ending desire to visit family, which points to changing demographics in the U.S.
To serve the swelling market on both sides of the border, airlines including American, Alaska and Southwest recently added dozens of new routes or increased flight frequency to connect major business hubs and tourist hot-spots in both countries.
In December, Delta Air Lines will launch its first daily Los Angeles-to-Mexico City flights since 2005. That is on top of the five new nonstop U.S.-to-Mexico flights the Atlanta-based carrier announced in May, as part of a cooperation agreement with Aeromexico.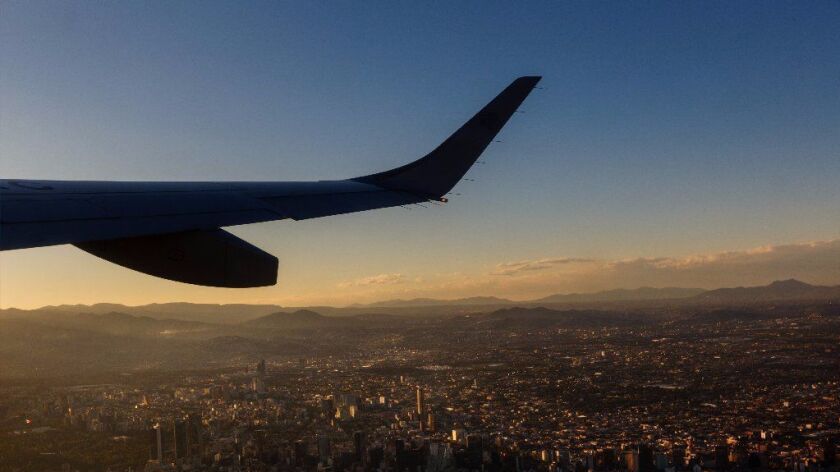 More and more people are willing and able to spend their pesos and convert them into dollars.
Rosario Marín, business consultant, former U.S. Treasury Secretary
Beyond the predictable destinations, airlines are adding less-expected routes between the U.S. and Mexico including Los Angeles to León and Atlanta to Queretaro.
Aeromexico this year expanded its daily nonstop service between industrial hub Monterrey, Mexico, and Detroit, described by the Mexico City-based airline in its announcement as "a U.S. city known for its development and promotion of the automotive industry."
The increase in flights seems to defy travel industry predictions that President Trump's anti-immigrant rhetoric and plans to build a border wall would hurt travel and tourism between the U.S. and Mexico. Similarly, the Trump administration's push to undo the North American Free Trade Agreement raised concerns about a dampening of enthusiasm for cross-border commerce.
Discover Los Angeles, the tourism board for the region, was so worried that it launched an advertising campaign in April with the message "Everyone is Welcome."
The fears have yet to be borne out.
"More and more people are willing and able to spend their pesos and convert them into dollars," Marín said.
Volaris, an ultra low-cost carrier based in Mexico City, has added nine routes between Mexico and the U.S. so far this year. José Luis Suárez Durán, chief operating officer for Volaris, attributes the new routes to a growth in the middle class in Mexico and the affordability of airline travel. He added that 8% of Volaris passengers are first-time fliers.
"Once somebody flies, they become middle class," Suárez said.
The middle class has become the fastest growing segment of Mexico's population, totaling 14.6 million households or 47% of the nation, as of 2015, according to Euromonitor International, the London-based market research company.
Mexico's middle class, defined as a household that earns between $15,000 and $45,000 per year, will continue to grow, adding 3.8 million more households by 2030, Euromonitor predicts.
What's more, business ties between Mexico and the U.S. have continued to grow, 23 years after the North American Free Trade Agreement took effect.
That means executives and their workers need to book flights to inspect factories, meet with business partners and visit families across the border.
Grupo Bimbo, the Mexico-based bread producer, announced last month that it agreed to buy East Balt Bakeries in Chicago for $650 million.
Last year, Mexican diary giant Grupo Lala launched a U.S. division in Dallas, only three months after acquiring U.S. assets from Laguna Dairy for $246 million.
"The growth of business coming here is going to continue because there really is the potential for profit," said Josie Orosco, executive director of the Southwest chapter of the United States-Mexico Chamber of Commerce. "They are making money. They wouldn't come here if they weren't making money."
U.S. businesses are also investing in Mexico.
General Motors Co., for instance, announced this year that it will move production of its revamped GMC Terrain to Mexico from Canada.
Tourism has been strong, with visits from Mexico to the U.S. growing at an average rate of 5% per year from 2009 to 2016, according to the U.S. Department of Commerce.
Visitors from Mexico accounted for nearly 25% of all international arrivals to the U.S. last year, coming close to overtaking Canada as the top source of international visitors.
In January, more than 1.5 million visitors traveled to the U.S. from Mexico, a 2.4% increase over the same month in 2016, according to the U.S. Department of Commerce's latest travel statistics.
Carlos Garcia de Alba, the Mexican consul general in Los Angeles, said Mexicans are drawn to the U.S. by family ties.
"The most Mexican place outside of Mexico is Los Angeles," he said during an event to celebrate Volaris' new routes to Mexico. He added that visitors spend heavily on food, transportation and hotels during such visits.
"The more connected Mexico is with Los Angeles, the better off we all are."
Marín, who was appointed treasurer by President George W. Bush, said the added flights between the U.S. and Mexico show that the occupant of the White House has little influence on economic trends in Mexico and family ties between the two countries.
"What is happening in the market place has nothing to do with whoever is in power," she said.
Although some travel across the border to shop or visit theme parks in the U.S., many come just to see relatives. The Latino population in the U.S. has surpassed 56 million. California and Los Angeles County have the largest Latino populations of any state or county in the nation, according to census figures.
Airlines on both sides of the border were given clearance to add more flights under an bilateral agreement reached last year between U.S. and Mexico to drop restrictions on the number of airlines that can fly between the two countries.
The deal, which took effect in August 2016, followed four years of negotiations. It means U.S. and Mexican airlines are limited only by the number of slots — a scheduled time to land or takeoff — available at various airports.
U.S. and Mexico-based carriers have scheduled 265,166 flights between the two countries for 2017, a 5% increase over the 252,813 flights that were flown last year, according to Airport Strategy & Marketing, an airline consultant.
As business connections expand between Mexico and the United States, airlines are likely to add even more routes linking Mexico and cities in the Midwest and Northeast, said Albert Zapanta, chief executive of the United States-Mexico Chamber of Commerce.
"In the next three years, you will see airlines fly from Mexico to places we never even thought about," he said.
Zapanta, who flies from Texas to Mexico at least once a month, said anti-Mexican rhetoric from the White House won't kill real money-making deals.
"At the end of the day," he said, "you'll get over it if you want to do business."
To read more about the travel and tourism industries, follow @hugomartin on Twitter.
ALSO
North Korea tensions show the disconnect between Trump's words and administration's actions
Yuba City father of two gets 90 days to prepare for deportation to India
ICE in San Diego on pace to deport fewer people than last year, most without a criminal record
---
Your guide to our clean energy future
Get our Boiling Point newsletter for the latest on the power sector, water wars and more — and what they mean for California.
You may occasionally receive promotional content from the Los Angeles Times.