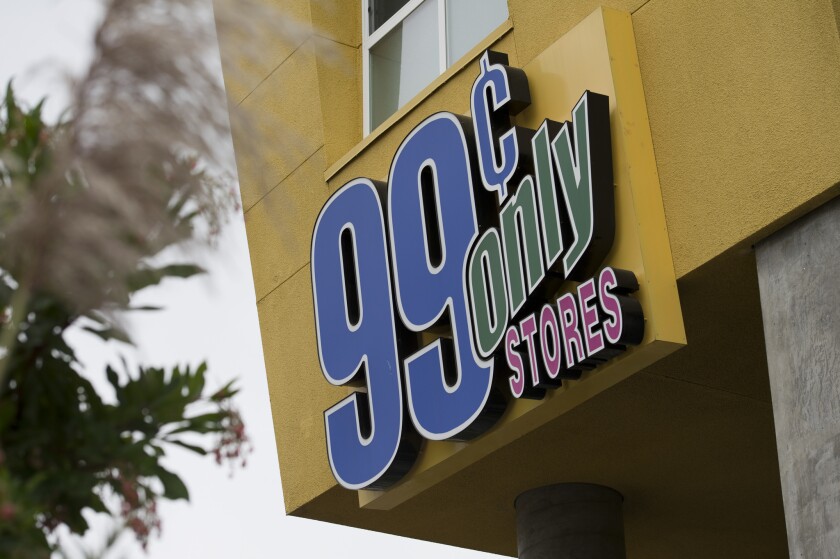 99 Cents Only Stores Inc. has laid off about 160 workers as the company sought to streamline costs and stay competitive.
No stores will be closed and no employers or managers at any of the chain's 332 stores were affected in Tuesday's move, according to 99 Cents Only spokeswoman Maya Pogoda. She said the layoffs represented a tiny fraction of the company's workforce of 14,000.
The City of Commerce chain also pulled advertising from the Los Angeles Times as part of an "evolving" marketing strategy, Pogoda said.
PHOTOS: Best and worst countries in which to grow old
In a statement, 99 Cents Only said the staff reductions were necessary to "remain competitive in a dynamically changing industry."
The layoffs enable the company "to streamline our operations in order to keep costs in line with our competitors, better control sourcing of our merchandise and execute on our strategy to grow our store numbers significantly over the next few years," the statement said.
99 Cents Only, which was acquired in 2011 by L.A. private equity firm Ares Management and the Canada Pension Plan Investment Board, operates 238 stores in California, 44 in Texas, 33 in Arizona and 17 in Nevada.
MOST DANGEROUS JOBS: 10 professions with the highest fatalities in America
Dollar stores have flourished through the lackluster economy as bargain hunters and people on tight budgets flocked there to pick up products on the cheap. Several chains, including Family Dollar, have expanded into California and stepped into the home turf of 99 Cents Only.
Analysts said there is still great potential for dollar stores in coming years, but that growth may be hampered by increasing rivalry among various dollar chains and other low-cost retailers such as Wal-Mart Stores Inc.
"In the next five years, these stores are expected to perform well by targeting low-income households and price-conscious customers," according to a report from research firm IBISWorld. "Nevertheless, competition from big-box retailers and higher disposable incomes will slightly hinder revenue growth."
ALSO:
Facebook loosens privacy policy on teens' posts
Government shutdown may crimp holiday shopping
Amazon.com raises threshold for free shipping to $35 an order
Follow Shan Li on Twitter @ShanLi
---