Attorneys general urge retailers to follow CVS and end tobacco sales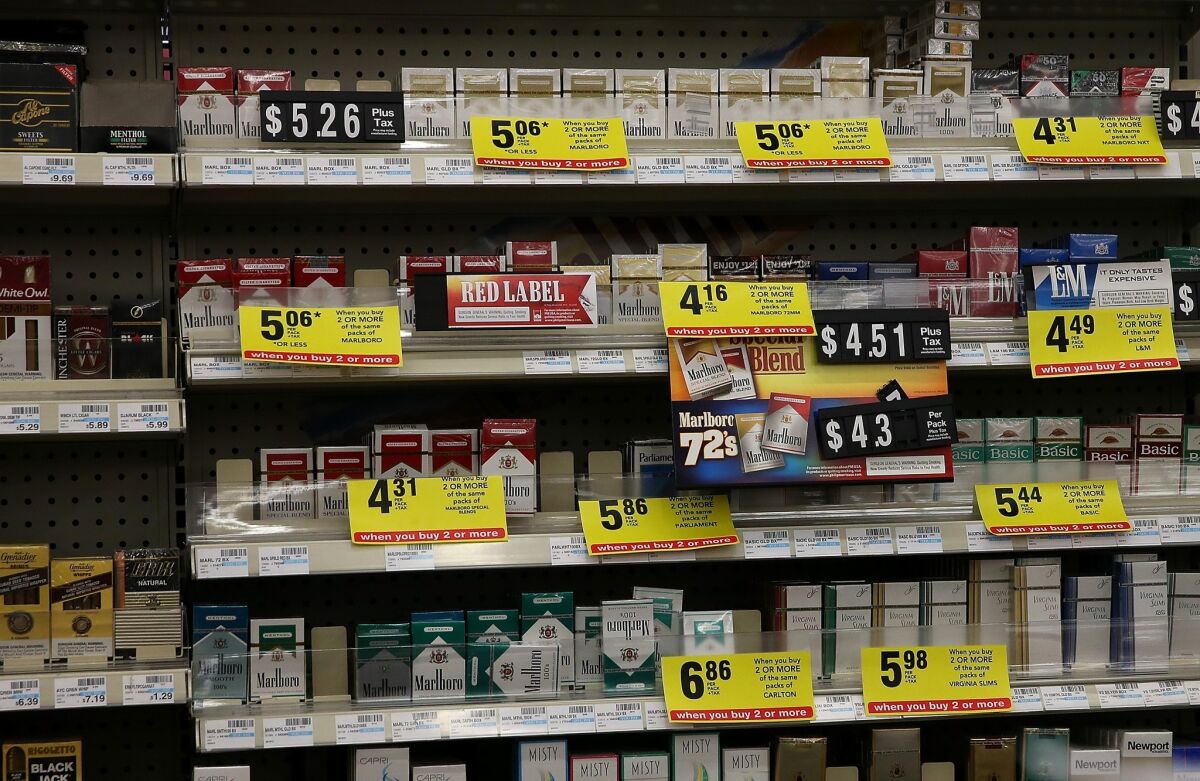 Twenty-eight attorneys general from 24 states, three U.S. territories and Washington, D.C. are pressuring five retailers, including Walgreen Co. and Wal-Mart Stores Inc., to follow the move by CVS Caremark Corp. and end sales of tobacco.
CVS Caremark in early February announced it would stop selling cigarettes and other tobacco products. The pharmacy and retail chain, which has increased its business providing medical care through clinics, said "the sale of tobacco products is inconsistent" with its purpose.
Health advocates cheered the move and said it would probably spur other retailers to do the same.
The effort was spearheaded by Eric T. Schneiderman and Michael DeWine, attorneys general of New York and Ohio, respectively. California was notably absent. A message seeking comment from Atty. Gen. Kamala D. Harris' office was not immediately returned Monday.
"Pharmacies and drug stores, which increasingly market themselves as a source for community healthcare, send a mixed message by continuing to sell deadly tobacco products," Schneiderman said in a statement. "I urge these companies to do the right thing and remove tobacco products from store shelves."
In the letter to the five retailers, the state officials noted that tobacco-related disease kills 480,000 people in the U.S. each year. They also said that healthcare costs and productivity losses attributable to smoking cost the country at least $289 billion a year.
Besides Walgreen and Wal-Mart, the other retailers are Safeway Inc., Kroger Co. and Rite Aid Corp.
"There is a contradiction in having these dangerous and devastating tobacco products on the shelves of a retail chain that services healthcare needs," the attorneys general said in the letters. "The availability of such products in a retail store that also serves as a pharmacy normalizes tobacco use."
In a statement, Rite Aid said it "appreciate[s] that the attorneys general took the time to share their views" and that it is evaluating the letter.
Spokespeople Wal-Mart, Safeway and Walgreen also said the companies are reviewing the letter and declined to comment further. A call for comment was not immediately returned Monday by Kroger.
CVS Caremark's decision in February marked a major turn for one of the country's biggest healthcare companies, which said it was giving up about $2 billion in annual sales, or about 1.6% of the company's 2012 revenues.
Nationwide, less than 5% of cigarette sales occurred in pharmacies in 2009, according to a study by the Center for Global Tobacco Control. But sales at pharmacies have been increasing, even as overall cigarette sales declined. Most tobacco sales, by some estimates, occur at convenience stores.
In the five decades since the groundbreaking U.S. surgeon general's report warning of the dangers of smoking, the nation has seen a steep decline in smoking rates. In 2011, just 19% of adults smoked, down from 42% in 1965, according to the U.S. Centers for Disease Control and Prevention.
But public health advocates have grown concerned that progress has stalled in recent years.
No major retailer has taken steps to limit tobacco sales since Target Corp. announced in 1996 that it would stop selling tobacco products. Some municipalities, including San Francisco, already ban the sale of tobacco products at drugstores.
Public health advocates hope that reducing the number of stores where tobacco products can be sold and advertised will help push smoking rates down even further.
---
Sign up for the California Politics newsletter to get exclusive analysis from our reporters.
You may occasionally receive promotional content from the Los Angeles Times.