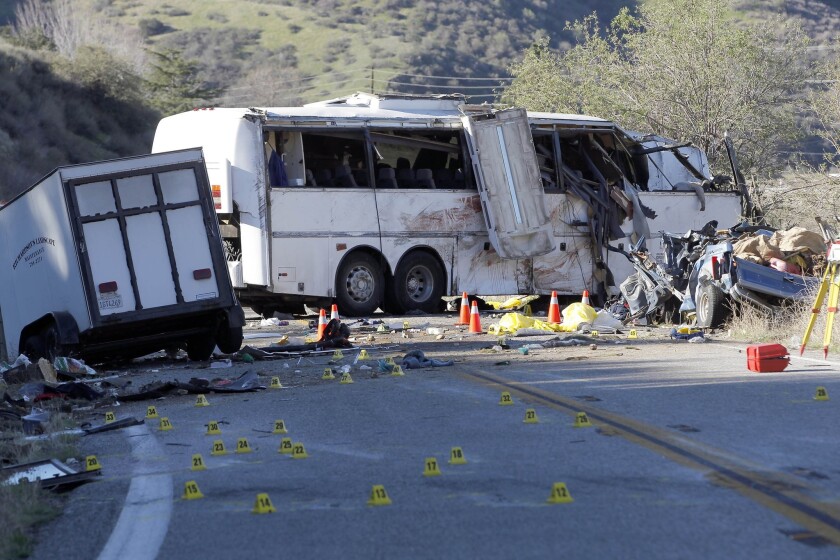 Federal regulators shut down 52 bus companies in a nationwide safety crackdown partly prompted by a February bus crash near San Bernardino that killed eight people and injured 30 others.
The Federal Motor Carrier Safety Administration said it pulled 340 unsafe vehicles from the road after investigators found several safety problems among the bus companies it investigated.
"Bus travel is increasingly popular because it is a convenient, inexpensive option for students, groups and families," said U.S. Transportation Secretary Anthony Foxx in a statement. "But it must also be safe. Through Operation Quick Strike and our regular enforcement efforts, we're shutting down companies that put passengers at risk and educating the public on safe motor coach travel."
More than four dozen investigators began scrutinizing companies with poor safety records in April. The federal agency said that 20 companies were immediately shuttered for violations "posing an imminent hazard to the public."
Another 32 were giving "unsatisfactory" safety ratings and were closed after failing to make improvements.
Twenty-eight others given the same rating avoided being shuttered after making improvements, the agency said.
Regulators said the bus companies failed to adequately maintain their buses, had inadequate drug and alcohol driver testing programs and had widespread problems with drivers not taking required rest breaks during trips.
Overall, the motor coach industry carries about 700 million passengers a year in the U.S., roughly the same as domestic airlines, the Associated Press reported.
In February, a bus crashed in the mountains near San Bernardino, killing eight and injuring 30 others. A federal report last month said a maintenance review of the bus showed each of the six brakes had defects and the bus should have been taken out of service.
---