Sochi Olympics: 5,000 cups of Chobani Greek yogurt are detained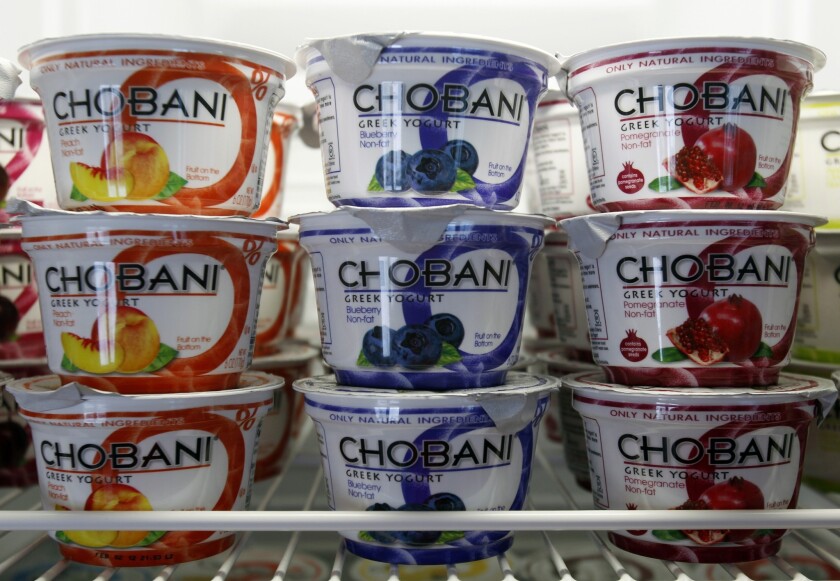 Team USA may not be getting its Chobani Greek yogurt any time soon as a shipment containing 5,000 cups of the protein-packed snack is snagged in a trade dispute between U.S. and Russian authorities.
While some athletes appear to be shrugging off the lack of Chobani, the conflict has become a punch line of late night television, and Sen. Charles Schumer (D-N.Y.) is calling on Russian authorities to free the "yogurt trapped in a holding pattern at Newark Airport" in New Jersey.
Russian customs officials said the shipment doesn't contain the necessary paperwork to allow them to accept the yogurt. Schumer, however, said the customs certificate required is "unreasonable," especially since the product will be consumed only by U.S. citizens.
Political satirist Stephen Colbert on Thursday mocked the so-called yogurt blockade. "Yes, our athletes' yogurt is being embargoed -- but only because the Russians want to protect traditional family values," he said, a reference to Russia's law that prohibits propaganda of "non-traditional sexual relations."
As Colbert puts it, "It's no secret that yogurt is the gayest dairy product. First of all, it's Greek style. It longs to be in the mouth of John Stamos [spokesman for a competing brand of Greek yogurt]. And, need I mention, fruit on the bottom?"
Late night television cracks aside, the Russian Embassy issued a statement criticizing the political tones that the yogurt blockade has taken and blamed the U.S. for not securing the necessary customs clearance.
Chobani, the New York-based company, said it appreciates Schumer's efforts to complete the delivery of its products.
"This is a time when the focus should be on our athletes, so we're just trying to do right by them in getting food they enjoy from home," a spokesman said in an emailed statement.
So what are Olympic athletes doing without their yogurt? Competing anyway.
"Our setup's pretty good. I can get my Greek yogurt when I get back home," U.S. alpine skier Steven Nyman told the Associated Press.
---
Your guide to our clean energy future
Get our Boiling Point newsletter for the latest on the power sector, water wars and more — and what they mean for California.
You may occasionally receive promotional content from the Los Angeles Times.