Gas prices keep rising: $3.70 nationally, $4.29 in California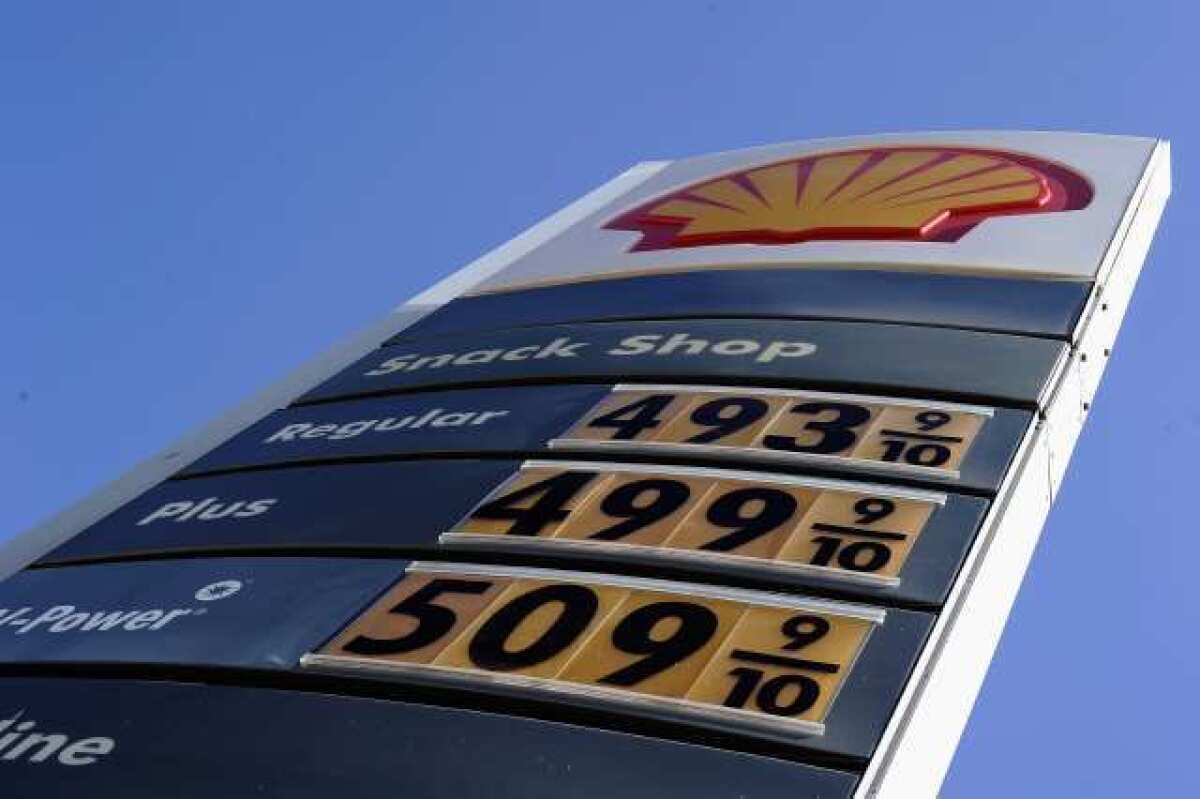 Going somewhere? It'll cost you even more this week, with the national average price of a gallon of regular fuel now up to nearly $3.70 and rising 26 cents to $4.29 in California.
That's up 14 cents a gallon from a week ago and a 29-cent increase from a month ago. A gallon is now more than 10% more expensive than the $3.35 it cost this time last year, according to the AAA Fuel Gauge Report.
But in California, drivers are wishing prices were still that low. The state's average cost for a gallon is $4.29, compared to $4.03 a week ago. That's nearly 15% more than the year-ago cost of $3.74 a gallon.
For more than a year, gas prices in California have hovered above the national average. Prices have already reached levels usually not seen until springtime, when refineries temporarily close for maintenance and more expensive summertime fuel blends are being swapped in at the pump.
Concerns about troubles in the Middle East could also be a factor in the spike, some said. The Obama administration cautioned last week that it may decide to draw from the nation's emergency oil reserve to keep high prices from slowing the economic recovery.
In the Los Angeles and Long Beach area, commuters are shelling out an average of $4.32 a gallon. In Orange County, the average is $4.31, compared to nearly $4.34 in San Francisco.
San Diego has the highest gas prices in the country, with the cost of a gallon at $4.24, according to separate figures from the Lundberg Survey. The report, which was released Sunday, estimates the average nationwide cost of a gallon of regular gasoline at $3.69. In California, where the average cost is $4.18, the lowest price available throughout the state was the $4.05 average in Fresno.
Many Southern California drivers were peeved at the pump, taking to Twitter to complain.
"How u expect me to contribute as an american wit gas prices so high I can't get to work," tweeted Pancho Robles. The sight of gas prices higher than $4 frustrated twitter user Freeky zeek, who wrote: "Kill me now."
Twitter user chara said she was "taking public transportation" to avoid the high cost of gas. User Sarah Ricard joked that there was an upside: "All your friends who pretend to be green actually have to ride those fixed-gear bicycles now."
Oil is also on the upswing, with light sweet crude for April trading at just under $109 before the close Monday in New York. Just before Presidents Day weekend, oil closed at $103.24. In London, oil was trading at just under $124 a gallon on Monday.
RELATED:
As gas prices surge, White House hints it may tap oil reserve
L.A. on brink of $4-a-gallon gasoline ahead of holiday weekend
Jerry Brown talks gas prices, immigration on 'Meet the Press'