Port truck drivers from 3 firms on strike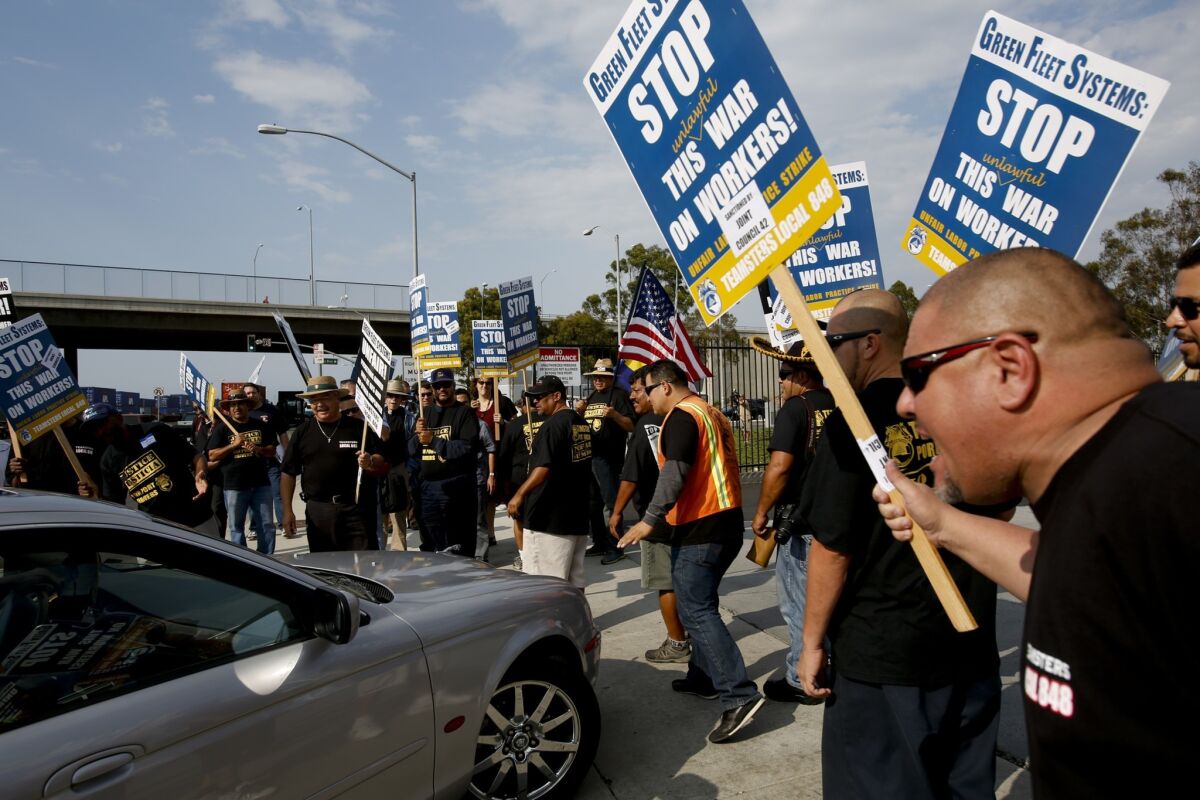 Port truck drivers from three Carson-based firms went on strike Monday, alleging unfair labor practices by their employers, union organizers said.
Truck drivers from Green Fleet Systems allege their employer has in recent months retaliated against them for their efforts in seeking to unionize, organizers said.
This is their second strike in less than three months. In late August, truck drivers went on a 24-hour strike that ended with a rally with clergy before returning to work.
The other trucking firms being picketed are Pac 9 Transportation and American Logistics International, both based in Carson.
Alex Cherin, a spokesman for Green Fleet and Pac 9, characterized the strikes as "the desperate acts of a group trying to force their agenda on an industry that time and time again has simply rejected them."
Cherin said the majority of employees and drivers at Green Fleet do not want a union. In a statement, he said the company offers its employees competitive wages and benefits. "Because of this, and because of our demonstrated safety record, the overwhelming majority of our drivers vehemently and passionately have voiced their opposition to the current strike and organization effort."
Union organizers said they plan to picket the three firms for 36 hours.
The dispute between organizers and the firm centers over charges of unfair labor practices. Organizers said truck drivers have been harassed and intimidated by Green Fleet management as they seek to form a union.
At Pac 9, organizers said truck drivers there have been wrongly classified as contractors.
Tensions between drivers and trucking firms are nothing new. Truck drivers have for years unsuccessfully sought to unionize an industry where the vast majority of drivers work as contractors. The drivers under this model are responsible for their own trucks and maintenance and not entitled to the workplace protections of full-time employees.
That practice, however, has led to numerous instances of contractor-employee misclassification. Then-Atty. Gen. Jerry Brown filed several lawsuits in 2008 during a crackdown on employers who had a pattern of employee misclassification.
ALSO:
Dow hits new milestone: 16,000
Butterball says it has shortage of fresh large turkeys
Advanced economies grew 0.5% in 3rd quarter, helped by U.S., UK
---
Sign up for the California Politics newsletter to get exclusive analysis from our reporters.
You may occasionally receive promotional content from the Los Angeles Times.