Southern California median home price jumped to $400,000 in March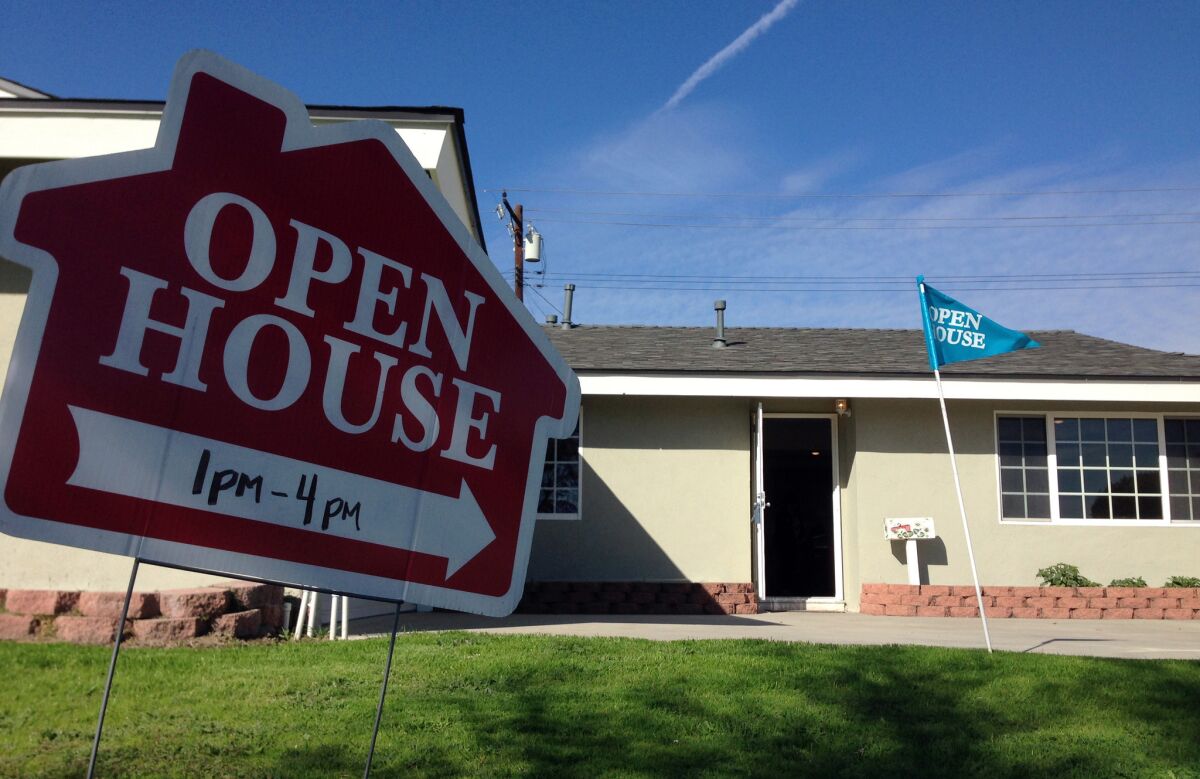 Home prices in Southern California are at their highest level in six years, according to new data, though those gains may be taking a bite out of sales volume.
The median price of a house sold in Southern California rose from $383,000 in February to $400,000 in March, the market's highest level since February 2008, according to San Diego-based DataQuick, which tracks real estate data.
The figure is up 15.8% from the same month last year and is the first noticeable increase since the torrid run-up in prices last spring and summer.
At the same time, the number of sales fell on an annual basis for the sixth straight month as investors and cash buyers pull out in the face of higher prices, and more traditional home buyers hesitate to jump in. There were 17,638 homes sold in DataQuick's six-county Southern California' region, down 14.3% from last March and the second-lowest total for the month -- the start of the key spring home-buying season -- in nearly two decades.
"Southland home buying got off to a very slow start this year," said DataQuick analyst Andrew LePage. "We see multiple reasons for this: The inventory of homes for sale remains thin in many markets. Investor purchases have fallen. The jump in home prices and mortgage rates over the past year has priced some people out of the market, while other would-be buyers struggle with credit hurdles. Also, some potential move-up buyers are holding back while they weigh whether to abandon a phenomenally low interest rate on their current mortgage in order to buy a different home."
The data also show how the recovery is being felt differently at different segments of the market.
While prices have climbed fast on lower-priced homes, the number of sales has fallen sharply, suggesting a lack of homes for sale and buyers who can afford them. Sales of homes for less than $500,000 dropped 26.4% from this time last year.
Meanwhile, at the higher end, price and volume continue to rise, with sales of homes worth more than $500,000 up 2.9% from last year. Sales of homes worth more than $800,000 climbed 5.4%.
Across the region, prices grew fastest in San Bernardino County -- up 21.1% to $230,000 -- and Riverside County -- up 17.8% to $288,500 -- and slowest in Ventura County, up 6.6% to $430,000. The number of sales fell just 5.8% in Orange County, but was down 22% in Ventura County.
<
Twitter: @bytimlogan
---
Sign up for the California Politics newsletter to get exclusive analysis from our reporters.
You may occasionally receive promotional content from the Los Angeles Times.