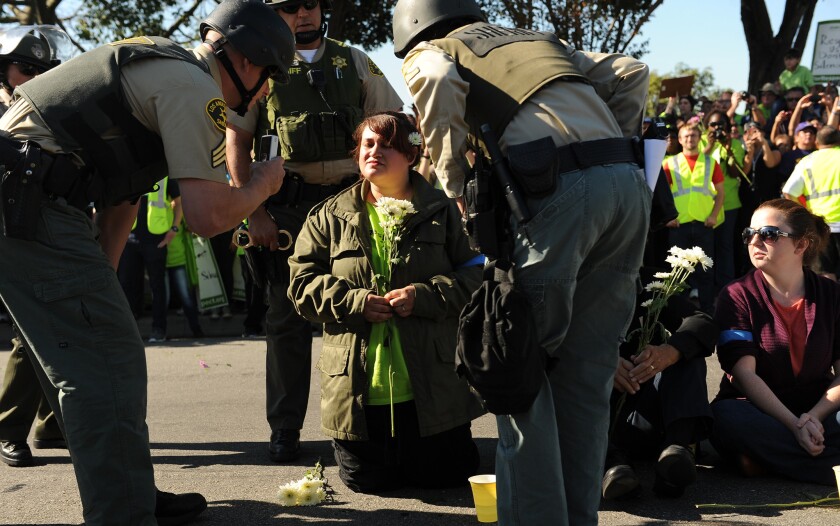 The United Food and Commercial Workers union has promised "not to engage in any picketing or confrontational conduct" at Wal-Mart facilities for at least two months, according to a government agency.
The giant retailer filed a complaint against the UFCW with the National Labor Relations Board in November amid demonstrations by the union. The protests, online petitions and gatherings – organized in part by affiliated advocacy groups seeking better working conditions for Wal-Mart workers – occurred during the bustling Black Friday and Christmas holiday shopping season.
The NLRB, an independent government agency, said the charge against UFCW will be dismissed in six months as long as the union ceases picketing for now.
In a statement, Wal-Mart said the union's demonstrations had amounted to "unlawful tactics and disruptions." The Bentonville, Ark., mega-retailer says the rallies violated the National Labor Relations Act – in short, by trying to unionize Wal-Mart workers without going through the proper channels.
But in a letter to the NLRB, the union and its affiliated group OUR Walmart said it was only agitating to help individual workers improve their lot at Wal-Mart. UFCW wrote that it "has no intent to have Wal-Mart recognize or bargain with it as the representative of Wal-Mart employees."
UFCW wrote that it accepted the terms of the NLRB settlement "without admitting that they have engaged in any conduct that constitutes an unfair labor practice."
ALSO:
Union membership in the U.S. continues its long decline
Some Wal-Mart workers walk out in lead-up to Black Friday
PBR parent a lead bidder for Twinkies, other Hostess cake brands
---