10 Images
Wall Street rogues: Infamous corporate villains
The former Goldman Sachs director was convicted in June of securities fraud and conspiracy for passing confidential information to hedge-fund manager Raj Rajaratnam. Rajaratnam, who ran New York-based Galleon Group, was sentenced last year to 11 years in prison after being found guilty of insider trading. His prison term far exceeds other Wall Street denizens accused of trading illegal information.
(Alessandro Della Bella / AP Photo)
Money manager Bernard Madoff was convicted in June 2009 of perpetrating the largest financial fraud in the nation's history. The federal judge handed down the maximum sentence of 150 years in prison.
(Associated Press)
The black fedora-wearing former Republican lobbyist was convicted of a string of charges including conspiracy, fraud and corruption in the mid-2000s. In his heyday, the Beverly Hills High School alum would trade golf trips to Scotland and sports tickets for influence with lawmakers. His crimes include bribing public officials, evading taxes, bilking Indian casinos out of lobbying fees and defrauding lenders out of more than $23 million in order to buy a casino cruise line. Abramoff was released in 2010 after serving less than four years in a minimum-security federal facility. He since has had two films based on his story and is hosting a radio show. He now styles himself a crusader for lobbying reform.
(Gerald Herbert / AP Photo)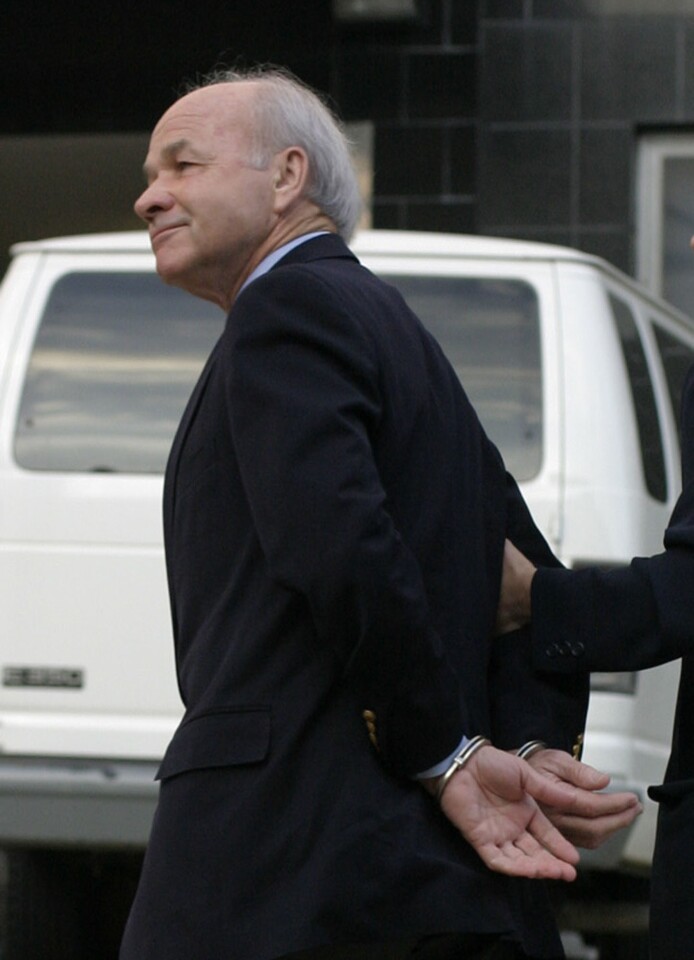 Former Enron Corp. chairman Kenneth Lay is often considered to be the modern embodiment of corporate wrongdoing for his role in his energy trading company's spectacular collapse. Government regulators began investigating Houston-based Enron's books in 2001, suspecting that Lay and fellow executive Jeffery Skilling were hiding losses and doctoring statements to conceal the company's dire financial straits. In the space of a year, Enron's stock price tanked and investors lost billions. The company, once seen as a titan of its industry, tumbled into the biggest bankruptcy filing at the time. Lay resigned in 2002 and was found guilty of 10 charges of conspiracy, fraud and more in 2006. But before he could be sentenced, Lay died of a massive heart attack while vacationing in Colorado. Skilling is now serving out a prison term.
(Michael Stravato / AP Photo)
The violation that sent Martha Stewart to jail is relatively small-scale compared with other schemers on this list, but her saga captured the public's attention. In 2001, the domestic mogul sold nearly 4,000 shares of ImClone Systems stock -- about $228,000 worth. She had received an insider tip from her broker that the federal Food and Drug Administration was planning to deny approval to the company's cancer drug. Soon after, the agency made its announcement and shares took a double-digit plunge. Later, as accusations of a coverup grew, Stewart resigned her short-lived position as board member at the New York Stock Exchange and stepped down as chief executive and chairwoman of her Martha Stewart Living Omnimedia company. She was convicted in 2004 of lying to investigators, conspiracy and obstruction of justice and sentenced to five months in prison in West Virginia. After her 2005 release, she spent two years in supervision, partly served in home confinement with electronic monitoring. The media entrepreneur has since regained much of her involvement in MSLO.
(Stephan Savoia / Los Angeles Times)
Dubbed the second coming of Bernie Madoff, Texas billionaire financier R. Allen Stanford operated a $7-billion scheme that conned thousands of investors worldwide for two decades. The Ponzi scheme -- one of the largest in memory -- involved the sale of certificates of deposit through his Caribbean bank. Stanford used the funds on private jets, regulator bribes and more. Convicted in March of all of his 14 fraud-related charges except one, Sanford was sentenced in June to 110 years in prison. But when it came time for his statement, Stanford blamed the government for ruining a legitimate business with its "gestapo tactics" and said he was a victim of the recessionary credit crunch.
(Associated Press)
Bernie Ebbers was, for a while, the pre-Madoff face of white-collar crime. The onetime chief executive of telecommunications firm WorldCom, Ebbers was convicted in 2005 of charges including fraud, conspiracy and filing false financial reports. The Mississippi company, already bleeding after a string of acquisitions, had to file for bankruptcy before reemerging as MCI Inc. and selling itself to Verizon. Revelations related to the $11-billion accounting fraud caused the stock to plunge and investors to lose billions. Ebbers is now serving a 25-year term in Louisiana.
(Mark Wilson / Getty Images)
For years, Charles H. Keating Jr. was better known as a champion athlete and anti-pornography activist than he was a financier. But today, he's the poster boy for the brazen greed highlighted by the savings-and-loan scandal of the 1980s. In 1984, Keating used his Phoenix company American Continental Corp. to buy Lincoln Savings & Loan Assn. in Irvine. Lax investing rules at the time allowed Keating to put federally insured deposits in high-risk ventures -- he even funneled money to a group of senators to keep regulators off his back. He built a luxury hotel in Arizona, complete with seven pools and marble floors, for $300 million. But in 1989, Lincoln failed, losing $3 billion. Thousands of investors, including many elderly Southern California residents, lost $285 million. In the early 1990s, Keating was convicted of a string of fraud, conspiracy and racketeering charges in federal and state courts. He served less than five years in prison before many of his original convictions were overturned and he pleaded guilty to a less extensive collection of fraud charges. He blamed regulators for Lincoln's failure, claiming his own innocence.
(Genaro Molina / Los Angeles Times)
The former chief executive of Denver-based Qwest Communications International Inc. was convicted in 2007 of 19 counts of insider trading. Nacchio was accused of selling $52 million in Qwest stock in 2001 despite knowing that the company was in trouble. He is serving a six-year prison term in Pennsylvania.
(Ed Andrieski / AP Photo)
Ivan Boesky partially inspired Michael Douglas' Gordon Gekko character in the hit 1987 film "Wall Street" -- the pop-culture touchstone for tales of insatiable materialism. The stock trader and arbitrageur, who once told an audience at UC Berkeley that he thought "greed is healthy," made his money betting on corporate takeovers. Often, his calls were made with illegal inside tips. When regulators found out, Boesky agreed to cooperate, implicating other major Wall Street players such as financier Michael Milken. He struck a plea bargain in 1986 that involved a short prison term in Lompoc, $100 million in civil penalties and exile from the financial industry. In one court session, Boesky told the judge he was "deeply ashamed" of his deeds and sought to "redeem" himself.
(AP Photo)