Molina Healthcare fires its CEO and CFO, sons of the company's founder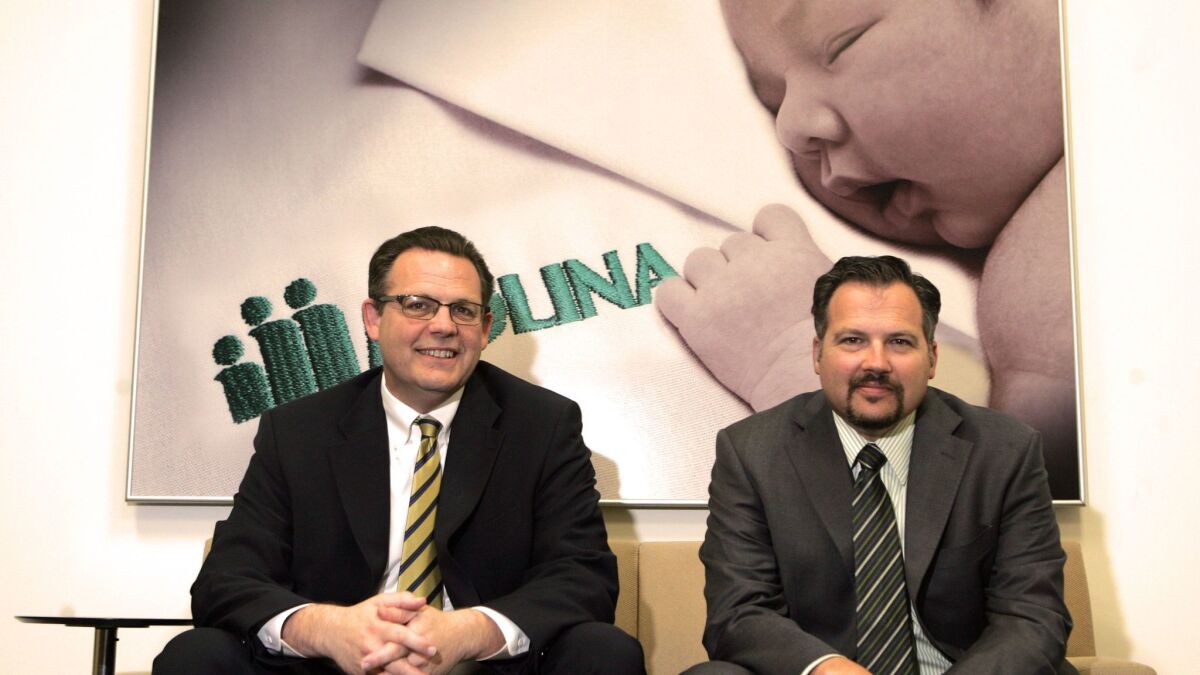 In a surprise shake-up Tuesday, Molina Healthcare Inc. — a major player in Obamacare health insurance markets — ousted its two top executives, both sons of the firm's founder. The company cited poor financial results.
The growing, Long Beach-based health insurer has nearly 5 million customers in 12 states and Puerto Rico, most of them insured through Medicaid, the government program for the poor.
In California, Molina currently insures 765,000 people and operates its own clinics around the state. The company also has Medicare programs, and more than 1 million customers who purchased a plan on one of the marketplace exchanges created by the Affordable Care Act, or Obamacare.
The company's shares soared as much as 20% on Tuesday after it said that J. Mario Molina, the company's chief executive and an outspoken critic of Republican efforts to repeal the ACA, and his brother John C. Molina, the chief financial officer, had been fired.
Analysts have long viewed Molina as a potential acquisition target of a larger insurer. Removing the brothers could make such a deal easier, analysts say.
The two brothers will be replaced by Joseph White, currently the company's chief accounting officer. White will serve as chief financial officer and interim chief executive while the board seeks a replacement for the top post.
The board also named Dale Wolf, a director, as the company's new chairman.
"In light of the company's disappointing financial performance, the board has determined to change leadership in order to drive profitability through operational improvements," Wolf said in a statement early Tuesday.
"The board is committed to achieving operational excellence and improving the company's financial performance on behalf of our shareholders, more than 20,000 employees and our over 4 million members," he said.
The brothers will remain on Molina's board, the company said.
On a conference call Tuesday afternoon, analysts asked Wolf why the board had removed the executives so abruptly. One analyst asked if the company had found signs of fraud or illegal activity.
Wolf told them that was not the case.
"The information we shared in the press release … is all there is to say," he said.
He added that there was "a sense we weren't keeping up with our competitors."
On Tuesday, the company reported its first-quarter results, showing that its total number of insured members jumped by more than 500,000 people to 4,766,000.
In the first three months of the year, the company earned $77 million in net income from $4.6 billion in revenue, for a net profit margin of 1.6%.
"It's a great franchise," Wolf told the analysts. "We just need to improve the results."
According to financial filings, J. Mario Molina owns 2.86% of the company, while John Molina owns 2.33% of the shares. The co-trustee of two Molina family trusts is listed as owning an additional 17.4% of the company.
J. Mario Molina succeeded his father, C. David Molina, as CEO in 1996.
In recent months, he had been outspoken about what he believed was wrong with the Republicans' plans to replace the ACA.
On April 27, he wrote a letter to Congress saying that the company would be forced to pull out of the ACA's exchanges if the government did not continue providing subsidies that lower a person's out-of-pocket costs based on their income.
He wrote that Molina currently covers about 9% of all Americans enrolled in the Obamacare exchanges.
If the subsidies were not funded, he wrote, "we will have no choice but to send a notice of default informing the government that we are dropping our contracts for their failure to pay premiums and seek to withdraw from the marketplace immediately."
The company has tried to control costs by limiting its networks of doctors and hospitals, as well as sending members to its own clinics. Many of its customers are lower income and suffer from chronic health conditions.
The company offers to transport its members on free shuttles that not only get them to their doctors' appointments, but stop at grocery stores, churches, laundromats and check-cashing stores.
The company was founded in 1980 by C. David Molina, an emergency room doctor in Long Beach. In 1994, Molina and his firm won a state contract to provide care for mothers and children in California's Medicaid program, which is called Medi-Cal.
That no-bid contract, considered then to be worth $400 million, became controversial after Molina's application listed state Sen. Diane Watson (D-Los Angeles) on its board of directors. Watson helped oversee Medi-Cal as chairwoman of the Senate Health Committee. Molina and Watson denied that she had done anything to influence the awarding the contract.
The company's stock closed at $59.75 on Tuesday, up $8.95, or 17.6%.
Follow @melodypetersen on Twitter
---
Sign up for the California Politics newsletter to get exclusive analysis from our reporters.
You may occasionally receive promotional content from the Los Angeles Times.