Stop judging that overspending friend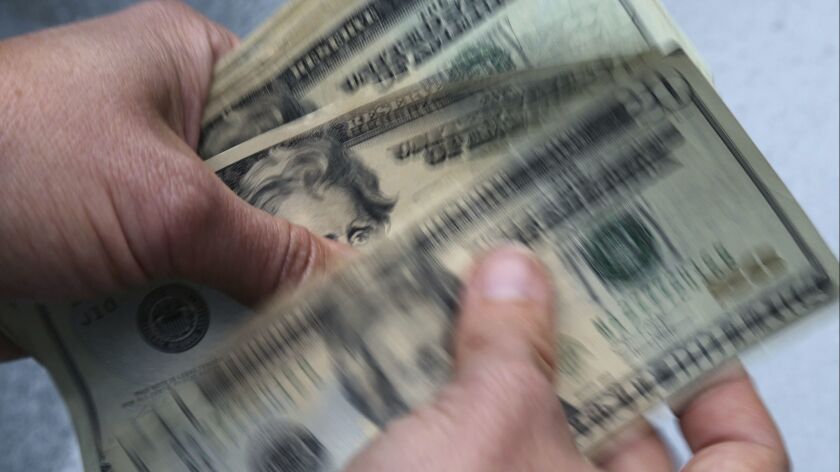 Dear Liz: My friend is not good with money. He has always lived above his means. He lived in a fancy apartment, leases a BMW and goes out to eat often. To make matters worse, he lost his job a year ago and had to move in with a mutual friend. He continues to spend money he doesn't have. I tried to help him with his finances and setting a budget, but he lost interest after one conversation. He's 41 with no savings and more than $10,000 in credit card debt.
My question: Should I feel guilty about inviting him to things? When he was unemployed, I suggested doing things that don't cost money, but he never seemed interested. I'm planning a trip for my 40th birthday and I'd like to invite him, but I don't think he has the self-control to say, "No, I can't go, I can't afford it" because it will add $2,000 or more to his debt. How do you deal with someone when you're more concerned with his financial well-being than he is?
Answer: You let go of the idea that you're responsible for another person's behavior.
Financial planners often encounter clients who, despite the planners' best efforts, sail blissfully on toward economic disaster. And those clients paid for the advice that could save them. You're not being paid. Your friend may not have even asked for your help. So you can stop offering it.
This will be hard for you. You understand how important it is to avoid credit card debt and save for the future. You may be thinking that if you could come up with the right words, you could persuade him to change his ways. Give up that fantasy, because he won't change — if he ever does — one second before he's ready.
There are a number of things you can do to prepare for that moment, if it ever comes. The first is to let go of any judgmental attitudes and feelings you might have about his situation. He may already feel a lot of shame about his circumstances. Even if he doesn't, he's unlikely to seek you out if he feels judged and blamed.
The next is to look for other resources that might help him, such as a financial counselor or coach. You can get referrals from the Assn. for Financial Counseling & Planning Education. He may find it easier to work with a professional than a friend.
Finally, resist the urge to offer opinions or observations about his situation. He knows you're there to help if he ever wants it, so wait to be asked.
Get help claiming Social Security
Dear Liz: I read your column about the disabled woman who was asking about survivor benefits. I am 60 and my husband died when he was 65, but he was not receiving Social Security. We both paid into Social Security for our entire working careers and maxed out every year. I have been told that I can receive his benefits when I am 65. I wonder why I cannot collect his benefits now.
Answer: You can, but you may not want to if you're still working and earning the kind of six-figure income needed to "max out" your Social Security taxes.
People who start Social Security benefits early are subject to an earnings test that withholds $1 in benefits for every $2 they earn above a certain amount, which in 2019 is $17,640. Social Security has a calculator to help you determine the effect on your benefit at https://www.ssa.gov/oact/cola/RTeffect.html. Your survivor's benefit also will be reduced if you start it before your own full retirement age, which in your case is either 66 years and 8 months (if you were born in 1958) or 66 years and 10 months (if you were born in 1959).
Once you've reached full retirement age, however, the earnings test goes away, as does the reduction for starting benefits early. At that point, you could apply for full survivor benefits and leave your own retirement benefit alone to grow 8% each year until it maxes out at age 70. You can continue to work and receive benefits without facing any reductions.
Social Security can be astoundingly complex, and claiming decisions can be affected by a number of factors. AARP has a free Social Security claiming calculator, but it can't deal with some situations such as survivor's benefits, child benefits (for retirement-age people who have minor children) or the offsets associated with pensions that don't pay into Social Security. For those, you would need to pay about $40 to use a more sophisticated calculator such as the one at MaximizeMySocialSecurity.com, or to consult a fee-only financial planner with experience in this area.
Liz Weston, certified financial planner, is a personal finance columnist for NerdWallet. Questions may be sent to her at 3940 Laurel Canyon, No. 238, Studio City, CA 91604, or by using the "Contact" form at asklizweston.com. Distributed by No More Red Inc.
---
Must-read stories from the L.A. Times
Get the day's top news with our Today's Headlines newsletter, sent every weekday morning.
You may occasionally receive promotional content from the Los Angeles Times.