U.S. and Canada fail to meet White House-imposed deadline to settle NAFTA disputes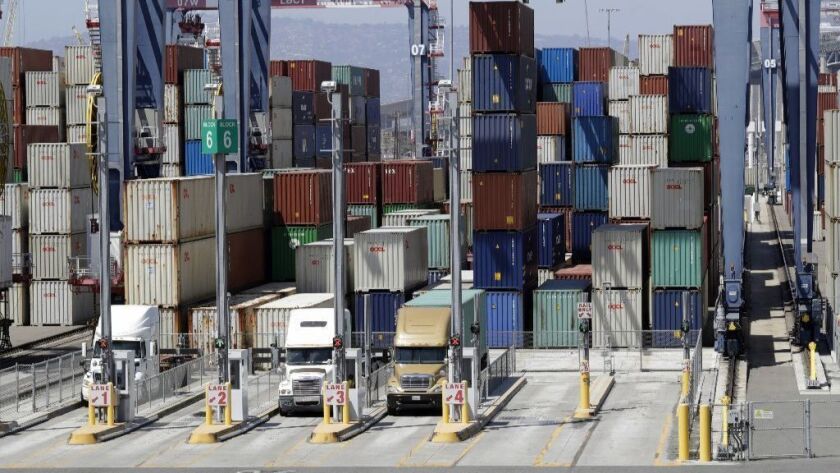 Reporting from Washington —
Despite a furious few days of talks and intense pressure from President Trump, U.S. and Canadian officials failed to meet a White House-imposed deadline of Friday to reach a deal on a revamped North American Free Trade Agreement.
Missing Trump's cutoff date does not imperil a renegotiated NAFTA, which also includes Mexico. Senior Canadian and U.S. negotiators plan to resume talks next Wednesday to discuss Canada's protected dairy market and other areas of dispute.
"The talks were constructive, and we made progress," said U.S. Trade Representative Robert Lighthizer at the conclusion of Friday's negotiations in Washington.
Canadian Foreign Affairs Minister Chrystia Freeland agreed that progress was made. She said a deal was still within reach, but insisted that Canada "will only sign a new agreement if it benefits Canada and Canadians."
The longer the discord remains, however, the greater the risk that a trilateral accord will be pushed much further into the future, or that Trump will scrap NAFTA altogether and go with a bilateral deal with Mexico, which he has threatened to do.
And Trump's Twitter confirmation Friday that he had told Bloomberg News on Thursday that he would not compromise with Canada on trade did not help the prospects for a quick or easy settlement.
"If we don't make a deal on Canada, that's fine," Trump said later Friday in Charlotte, N.C.
This week, Trump heaped pressure on Canada by announcing that the U.S. and Mexico had come to terms on a revised NAFTA and that he would move ahead with a separate U.S.-Mexico agreement if Canada did not come on board by Friday. Moreover, Trump threatened to slap tariffs on Canadian autos.
As the deadline passed, Trump delivered a notice to Congress that he intended "to enter into a trade agreement with Mexico — and with Canada if it is willing" by the end of November.
Business groups and some members of Congress said they were encouraged that the U.S. was continuing to negotiate with Canada, but others criticized Trump's notification to Congress as premature and called into question the president's strong-arm approach to trade.
"You're up against a deadline and he says, 'Give in, give in!'" said Philip Levy, a senior fellow at the Chicago Council on Global Affairs, questioning the strategy.
The Friday deadline that Trump set — and his hardball tactics — did bring Canada hurriedly back to the bargaining table after several weeks of being on the sidelines as the U.S. and Mexico negotiated. But they still weren't enough to push Canada to a speedy compromise, as there were thorny issues to resolve and in part perhaps because the Friday cutoff didn't have as much weight as some may have initially thought.
The deadline was meant to satisfy a congressional procedural requirement for a 90-day notice before a new NAFTA could be signed. The U.S. and Mexico wanted to ensure that the current Mexican president, Enrique Peña Nieto, could sign the agreement before he leaves office on Nov. 30. Technically speaking, that meant the notice of a trilateral deal had to be given by Friday.
But experts said that rule didn't appear to be so rigid. A drop-dead date for the parties to agree to a deal looks to be closer to Sept. 30, because the so-called trade promotion authority granted to Trump calls for a full text of a revised NAFTA agreement to be made public within 30 days after the notification is given.
If Peña Nieto doesn't end up signing, and responsibility for NAFTA talks passes onto the incoming Mexican president, Andrés Manuel López Obrador, many believe it will complicate and delay efforts for a completion of a new agreement. For this reason, Mexican officials seemed eager to sign a deal with Trump, even making concessions and risking leaving Canada out of the equation.
Political considerations are working in reverse for Canada, said Wendy Cutler, who has led trade negotiations for Presidents George W. Bush and Obama. Trump has imposed steel and aluminum tariffs on Canada, and is threatening to slap hefty duties on Canadian cars. He has also insulted Canadian Prime Minister Justin Trudeau, calling him "very dishonest" and "weak." The result is that Trump is highly unpopular in Canada.
"Canada is being jammed and squeezed, and it just complicates Canada's ability to move," Cutler said. She thinks it's still possible for the U.S. and Canada to reach an agreement in September, but said that it may go down to the wire. "Canada, for domestic purposes, may need to fight to the bitter end."
Besides disputes over Canada's dairy supply system, the U.S. and Canada remain at odds over intellectual property rights and the Trump administration's bid to weaken or eliminate special NAFTA courts that Canada has used to fight U.S. anti-dumping tariffs on lumber and other goods.
Despite domestic pressures to stand up to Trump, Trudeau may have little choice but to make significant concessions. The country is one-tenth of the U.S. in population and economy, and depends much more on exporting to the United States than the other way around. That is largely behind Trump's confidence that he will have his way in the end.
Lawmakers have made clear their preference for keeping a trilateral NAFTA intact and have questioned whether Trump can push through a stand-alone pact with Mexico under the trade-promotion authority that allows the president to ease passage of a trade deal with minimal debate and no amendments in Congress.
In a conference call with reporters Friday, a senior Trump administration official acknowledged "there would be risks" in how congressional rules are interpreted. But he expressed confidence that the administration's actions to date were in "full compliance."
Negotiations to rewrite NAFTA began more than a year ago after Trump threatened to withdraw from the pact unless there were substantial changes that are more favorable for the United States. The president has blamed NAFTA for the large U.S. trade deficit with Mexico and the loss of many domestic jobs and plant closures.
The U.S. preliminary deal with Mexico includes changes to increase North American auto production, limit investor dispute settlements for certain sectors and strengthen labor rights in Mexico. These are not areas of dispute with Canada. On the whole, analysts and industry executives say these and other amendments should benefit some American workers and businesses, but note that it is too early to tell how big of an improvement they are likely to be from the existing pact.
Lori Wallach, director of Public Citizen's Global Trade Watch, said Friday there were some key improvements in the preliminary agreement, including "razing NAFTA's investor tribunals" that have hugely benefited multinational firms and provided incentives for offshoring. But she added that "swift and certain enforcement of what we understand are improved labor standards is lacking and must still be added."
Trade among the three NAFTA countries totaled about $1.2 trillion last year, more than triple the level since the agreement took effect in 1994.
Follow me at @dleelatimes
---
UPDATES:
3:50 p.m.: The article was updated with reaction from Canada and trade experts.
1:40 p.m.: The article was updated with comments from U.S. officials.
The article was originally published at 12:40 p.m.
---
For reporting and exclusive analysis from bureau chief John Myers, get our California Politics newsletter.
You may occasionally receive promotional content from the Los Angeles Times.