Construction halts on $1-billion mixed-use complex in downtown L.A.
Construction on Oceanwide Plaza, one of the biggest real estate development projects in downtown Los Angeles, has stalled in what may be a shortfall in financing from the project's Chinese owner.
The condominium, hotel and retail complex across the street from Staples Center is expected to cost more than $1 billion and be a key part of the flashy entertainment, hotel and residential district emerging along Figueroa Street.
The plaza is being built by Oceanwide Holdings, a Beijing-based publicly traded conglomerate that reported revenue of $2.37 billion in 2017. The company said in a statement Thursday that the hold-up is due to a recapitalization of the project and that work will resume by the middle of next month.
Any halt of a Chinese-backed real estate project, however, is bound to raise concerns that it may be related to Chinese government policies restricting the flow of money out of the country. The policies, put in place in 2016, sent shock waves through real estate circles because China has become a major investor and developer in the U.S.
The shutdown also comes at a time when the FBI is conducting a corruption probe at City Hall that is investigating possible kickbacks and other crimes that might involve foreign real estate developers with downtown building projects.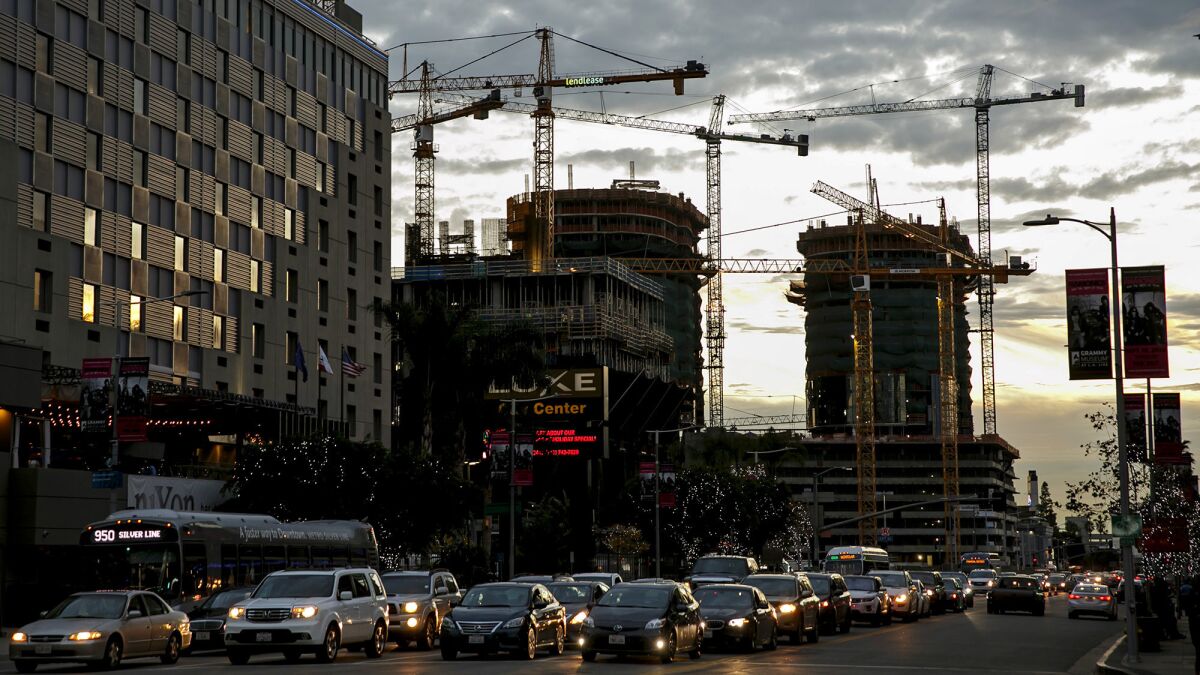 The Oceanwide development is well underway and was expected to be completed this year. The three towers that are to house more than 500 luxury condos and a Park Hyatt hotel have already reached their peak heights of as much as 55 stories and work was taking place inside the structures, which are still partially exposed to the elements.
The general manager of the city Department of Building and Safety, Frank Bush, said his agency received a call on Friday from Lendlease, the general contractor on the project, saying it was canceling an inspection that had been scheduled for that day.
"They said they were stopping work on the project at this time, and had no further explanation," Bush said.
Bush said the shutdown had nothing to do with any inspections or permitting issues involving his agency. "It doesn't have anything to do with any corrections we've given them or anything like that. It wasn't at our direction," he said.
Lendlease, a multinational construction company based in Australia, did not respond to requests for comment.
Federal agents have inquired about Oceanwide and other downtown development projects with foreign investors as they seek evidence of possible crimes including bribery, extortion, money laundering and kickbacks that could involve L.A. city officials and development executives.
In a warrant filed last year, federal agents asked Google for information from a Gmail account used by former Deputy Mayor Ray Chan, including records relating to Oceanwide and other development projects in downtown Los Angeles.
However, it is unclear whether the FBI had any specific evidence of wrongdoing by Oceanwide or was simply casting a wide net in its investigation.
No one has been arrested or charged in the probe, and the federal warrant did not say that agents had gathered evidence of criminal activity by the individuals or companies named in the document.
Oceanwide has declined in the past to answer questions about whether it has gotten a federal subpoena. The company said Thursday that because the federal investigation was ongoing, "Oceanwide has no comment regarding any investigation-related matters."
On Thursday, Oceanwide cited financing as the reason for the halt in construction.
"In an effort to prioritize construction activity, and while we restructure capital for the project, interior construction at Oceanwide Plaza is temporarily on hold," Oceanwide said in its statement.
"Our decision to provisionally pause construction is solely based on these internal factors and nothing else. With more than $1 billion of equity already invested in Oceanwide Plaza, we look forward to investing more capital into the property and together, with Lendlease, remain committed to building this landmark project for LA."
Construction will resume in the middle of February and the project will be completed next year, the statement said.
Chinese companies have been among the biggest commercial real estate investors in the Los Angeles area in the post-recession boom, spending more than $5 billion in the region in the five years leading up to 2018, according to property brokerage Cushman & Wakefield.
That includes condominium, hotel and retail complexes being built downtown and large hotels in Universal City and near Los Angeles International Airport being upgraded by their Chinese owners. But the Chinese government-ordered pullback in overseas investment has affected several announced big deals.
Nearly a year ago, Chinese regulators took control of Anbang Insurance Group, a privately owned Chinese conglomerate that sprang to global prominence when it purchased the Waldorf Astoria hotel in New York for $1.95 billion in 2014. Two years later it spent $5.5 billion on a portfolio of 15 other luxury hotel properties.
The move was prompted by financial irregularities that have since sent Anbang's founder to prison, but the scrutiny the company drew from regulators at least partially stemmed from its aggressive overseas investments.
One Beverly Hills, one of the most desirable real estate development sites in the West with an assessed value of $444 million, was sold in November by Chinese owner Dalian Wanda to Alagem Capital Group and Cain International, the owners of the adjacent Beverly Hilton and Waldorf Astoria hotels.
Dalian Wanda, a Beijing company that has its roots in real estate, made a splash in Hollywood when it acquired the AMC movie theater chain for $2.6 billion in 2012 and Legendary Entertainment — the production company behind several Batman titles. However, it has since reduced its U.S. ambitions amid the Chinese pullback.
Another large Chinese-backed project downtown — the $1-billion, four-tower Metropolis condominium and hotel complex being built by Greenland USA — is moving along and expected to be completed by the end of the year. Its Indigo hotel is open and two of its three residential towers are finished and partially occupied.
Oceanwide Plaza is expected to cost at least as much, and Thomas Feng, chief executive of Oceanwide Plaza, said in a statement last year that Oceanwide Holdings had fully funded the development.
The project, featuring a 700-foot outdoor LED screen stretching its length along Figueroa Street, will also have a seven-story podium overlooking L.A. Live anchored by an open-air galleria with stores and restaurants intended to be an entertainment destination.
---
Sign up for the California Politics newsletter to get exclusive analysis from our reporters.
You may occasionally receive promotional content from the Los Angeles Times.