Mortgage servicer to pay $268 million to Californians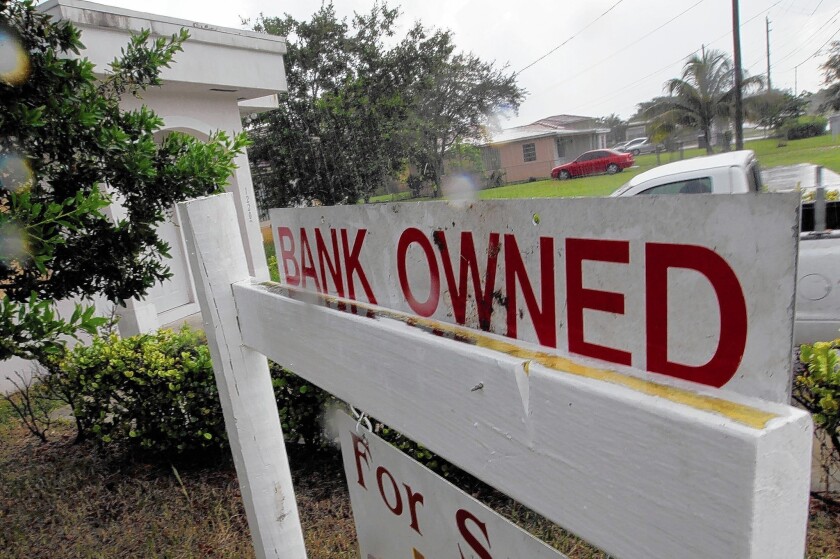 California victims of alleged foreclosure abuses will get $268 million in relief from a $2.1-billion national settlement with Ocwen Financial Corp., the nation's largest non-bank provider of mortgage customer service.
Ocwen broke state law by improperly denying loan modifications, failing to honor modifications granted by prior servicers and charging unauthorized fees, according to the California Department of Business Oversight.
"Californians should not lose their homes because of deceptive and poorly executed mortgage servicing practices," Commissioner of Business Oversight Jan Lynn Owen said Monday in a news release.
The announcement provided new details on how alleged victims would benefit from the settlement, finalized last month between 49 states, the U.S. Consumer Financial Protection Bureau and Ocwen. It also spotlights a growing controversy as major lenders outsource their mortgage servicing operations to Ocwen and other firms that specialize in collecting payments, pressuring delinquent borrowers and foreclosing on defaulted mortgages.
The banks are seeking to limit the hassle and cost imposed by tougher regulation of loan servicing in the aftermath of the mortgage meltdown. That's bringing a rush of new business to firms including Ocwen and Nationstar Mortgage Holdings Inc., which traditionally have specialized in handling subprime borrowers.
But as they have mushroomed in size, the specialists have become targets for foreclosure abuse complaints similar to those that have plagued the nation's largest banks since the housing crash.
Ocwen, an Atlanta company with a mortgage servicing arm based in Florida, began managing home loans in 1988. Thanks to an acquisition spree, the number of residential loans it services has grown from about 350,000 to 2.9 million over the last four years. The unpaid balance on these loans totaled $464.7 billion as of Dec. 31.
Mark Buchignani is among those accusing Ocwen of improperly threatening to foreclose on his home. He took a second mortgage of $39,500 when he bought a home in Phoenix in 2006. The original servicer, since replaced by Ocwen, was GMAC Mortgage, a spinoff from General Motors Corp. that had been a major player in home loans during the housing boom.
Buchignani said he never missed a payment until July, when automatic transfers from his bank account stopped going through for four months without his knowledge. He said he continued to receive emails saying the payments had been made. Since he discovered the problem, his offers to bring the account current have been met only with penalties, he said, and a recent threat to foreclose on the home.
"No amount of communication, calls or emails or faxes or letters, complaints or explanations has deflected them from piling on fees and interest and penalties and credit damage," said Buchignani, a video-game designer who recently moved to Southern California and is renting out his house in Arizona.
"They continue to forward my communications to 'Research,' who then issues letters saying they will respond within 20 days," Buchignani said. "But, of course, they don't."
Ocwen did not respond to requests for comment Monday.
In its recent annual report, Ocwen described itself as a leader "in foreclosure prevention and loss mitigation that helps families stay in their home and improves financial outcomes for investors."
But advocacy groups and state regulators have questioned whether it and other big independent servicers have been able to handle the influx of mortgages.
Ocwen said last month that it had indefinitely postponed a planned purchase of servicing rights on about 184,000 severely delinquent Wells Fargo home loans with a principal balance of $39 billion. The move came in response to pressure from the New York Department of Financial Services. Ocwen said it would work with the New York regulator "to resolve its concerns about Ocwen's servicing portfolio growth."
Many of the servicing rights Ocwen acquired came from such household names as Bank of America and Chase. The biggest deal of all was with Residential Capital, which owned the GMAC servicing rights, and while in bankruptcy proceedings sold Ocwen the servicing rights to more than 1.7 million loans in February 2013.
ResCap, as it is known, was among five lenders that signed the national settlement requiring them to provide $25 billion in relief to distressed borrowers; the others were BofA, Chase, Wells and Citigroup Inc. As a result, Joseph Smith, the former North Carolina banking commissioner overseeing the lenders' compliance with the settlement, has now been given authority as well over Ocwen.
In an interview Monday, Smith said he hadn't yet had time to test and report on Ocwen's compliance with stricter servicing rules contained in the settlement. "They're still new to the party," he said.
"My colleagues and I are going to be working on these kinds of issues with Ocwen for the next three years," Smith said, a reference to when his authority expires.
Twitter @scottreckard
---
Your guide to our clean energy future
Get our Boiling Point newsletter for the latest on the power sector, water wars and more — and what they mean for California.
You may occasionally receive promotional content from the Los Angeles Times.