Voters choose sides in Palm Springs short-term housing rental war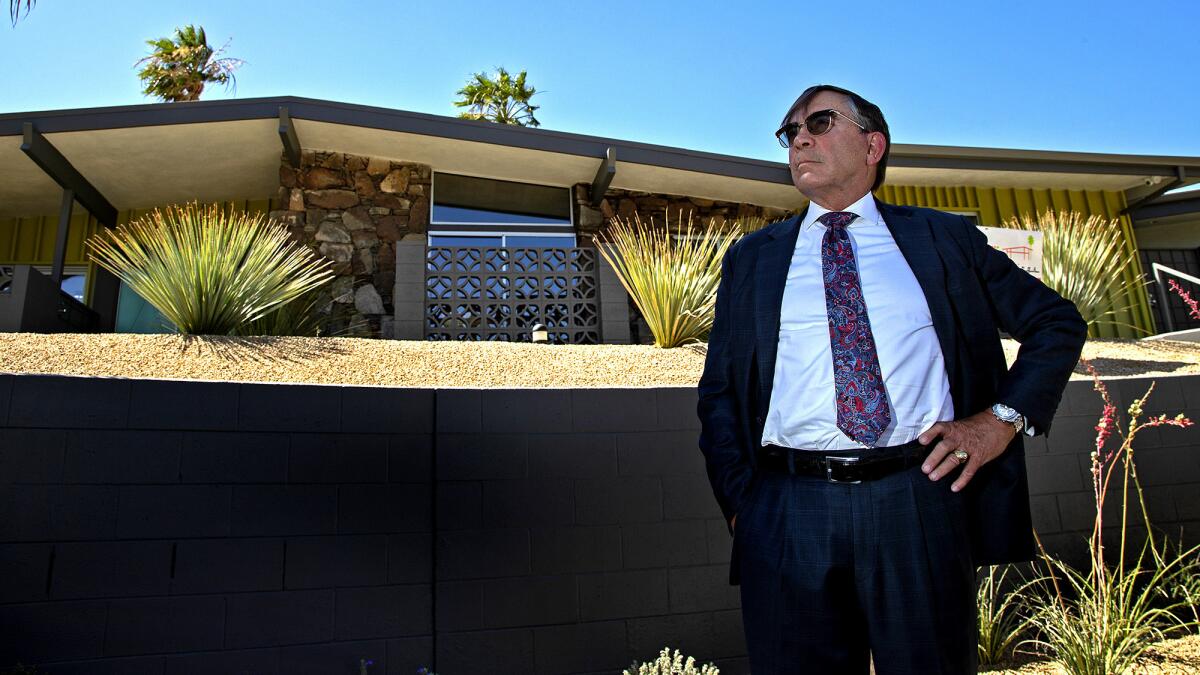 That classic Midcentury Modern home you've been eyeing on Airbnb might not be listed for much longer.
On June 5, Palm Springs is scheduled to vote on Measure C, a ballot initiative that proposes to ban short-term renting of single-family homes.
With 120,000 visitors arriving last year via Airbnb listings, according to the San Francisco rentals company — earning hosts $29 million — Palm Springs has become the epicenter of short-term rental battles waged across the Coachella Valley. Similar fights have taken place in Rancho Mirage, Palm Desert, La Quinta, Indio, Indian Wells and Cathedral City.
On one side are those who rent out their homes and companies such as Airbnb and Expedia, which owns HomeAway. Combined, the two firms have donated $300,000 to defeat Measure C. The City Council also unanimously opposes the measure.
"We have one of the strictest ordinances in California," said Bruce Hoban, co-chair of the "No on C" group We Love Palm Springs, supported by a deep-pocketed coalition of city groups.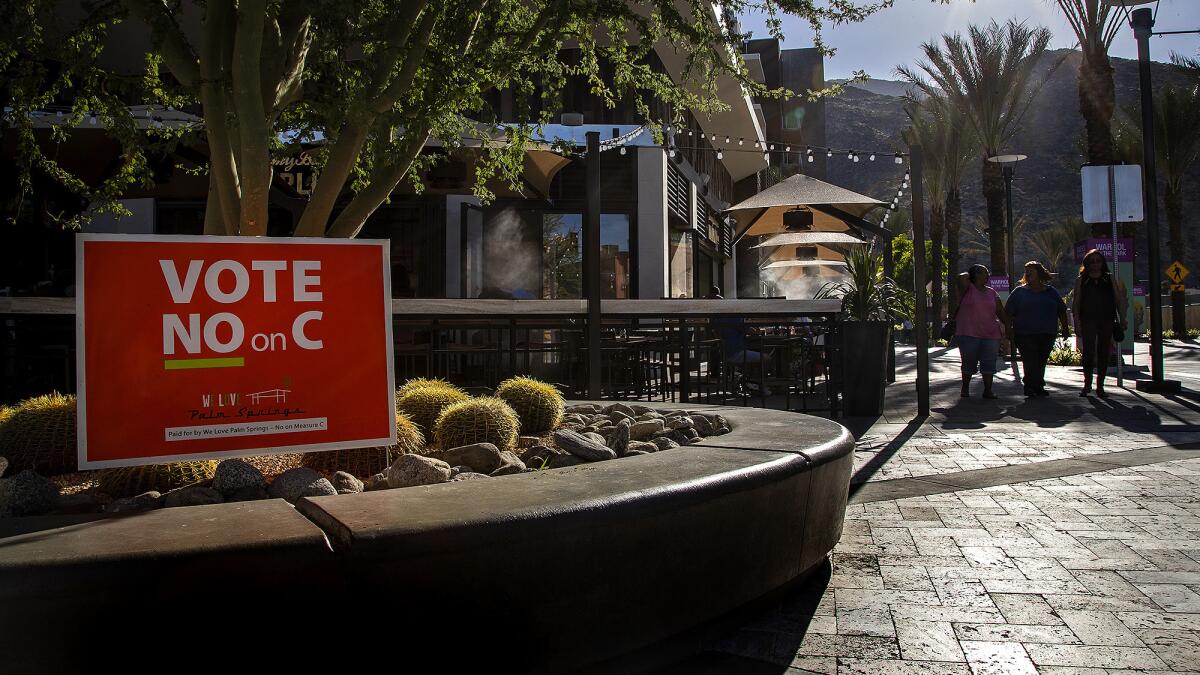 On the other side are aggrieved residents who say weekend renters bring pervasive noise and a transient feel to their city. They contend that travelers dominate neighborhoods where up to half of some blocks are rented to vacationers and say residential areas were never zoned to generate business taxes. (In Palm Springs, short-term rentals are stays under 28 days that are levied an 11.5% transient occupancy tax or bed tax.)
"If you read our zoning laws, there's a consistent theme: You must protect residential neighborhoods from commercial invasion," said Steve Rose, treasurer of the "Yes on C" group Neighbors for Neighborhoods, which last year qualified its Measure C initiative.
City officials worry that the rentals would be forced underground with no systematic way to police them because a compliance department would be defunded if the measure passes.
"It would be the Wild West," said Palm Springs Mayor Rob Moon.
The city also fears loss of visitor and bed tax revenue — short-term rental transient occupancy tax revenue has more than quadrupled to $7.6 million in 2017 since fiscal 2008 — especially in the face of surging unfunded pension and healthcare liabilities.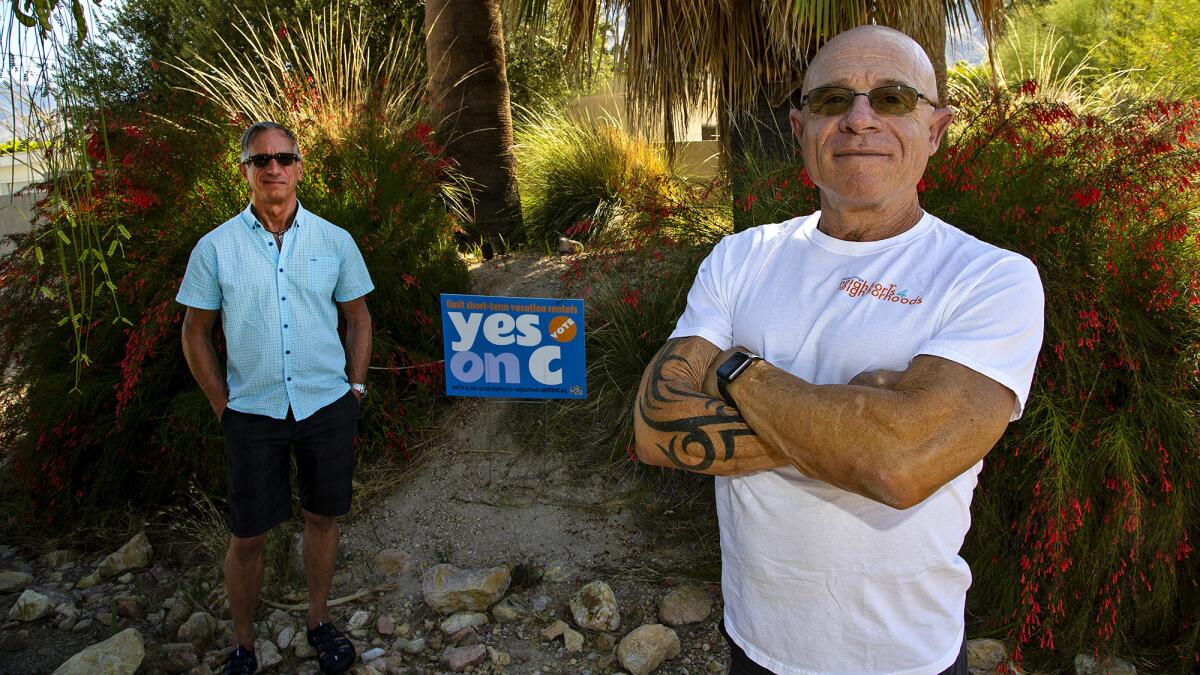 Of the city's 21,246 single-family homes, 1,525 have permits to operate as short-term rentals. If the measure passes, about 75% of vacation rentals would be eliminated once the ban takes effect in two years. Rentals in condos when approved by the homeowners association would still be allowed.
The city attorney cites contradictory language in the ballot measure as to whether home shares, where homeowners are present, would be prohibited.
Along with money, a certain mojo would be lost, say ban opponents, who fear that the resort town would be branded as inhospitable to tourists — a pox on Palm Springs' youthful reinvention as the capital of cool.
Visitor-packed signature events such as Coachella and other festivals help drive hundreds of thousands of visitors to the city — and in Palm Springs, the celebrated midcentury home is considered a destination in itself.
A ban would also have ramifications for a Native American tribe in the region. Some of the homes sit on sovereign tribal land, and in total, about 770 such properties hold short-term rental permits. In a February letter to the city, the Agua Caliente Band of Cahuilla Indians called the ban an "onerous and unnecessary restriction."
The tribe has not indicated whether it would ignore the ban, but "it would be an operational nightmare" if it did, Moon said.
Although Palm Springs has long been an appealing destination for a weekend getaway, its popularity has jumped in part thanks to Airbnb and other online booking platforms.
Given that ease and past problems ("rowdy parties with people jumping off roofs into the pool," Moon said), the city launched a toughened new ordinance in April.
Permit holders are currently allowed 36 guest stays per year; four of them must be during the summer. Numbers of occupants and cars allowed during stays decreased with the new rules, and other requirements were added.
There is no residency requirement; homeowners who live outside the city can operate rentals. Homeowners are limited to one short-term rental permit and those caught renting without one are banned for life from obtaining another in the city.
Also required: annual safety inspections and a meeting with guests on arrival to explain and sign off on rules.
A new nine-person compliance department fields complaints 24/7, visits properties with noise meters and levies fines ($500 to $10,000) for various infractions, including music that's audible at a property line and failure to post transient occupancy tax numbers on Airbnb listings and other advertisements. Annual $900 short-term rental registration fees, up from $225, fund the department's $1.7-million budget.
"We are very aggressive about managing our vacation rental inventory," Moon said. He's "not a huge fan of vacation rentals — people argue that they damage the fabric of a neighborhood. But our vacation rental ordinance is quite good. We've put teeth in it."
Still, residents say they dislike blowing the whistle on unruly vacationers next door.
Movie Colony East homeowner John Ferrante describes a cycle of noise that starts with early-morning screams from pool-loving kids and ends with late-night cocktail chatter, and worse, on patios.
He said most of that is acceptable neighborhood ambiance, but explained that it's unusually pervasive and amplified given that vacationers rent seven homes surrounding him.
"All day long you deal with this," said Ferrante, 58, who has seen rentals on his U-shaped block double since he bought his home five years ago. Half the homes on that block are now rented to vacationers, according to city data compiled by Neighbors for Neighborhoods.
"The new ordinance is good, but it doesn't deal with density," Ferrante said.
The city doesn't limit density, but a Neighbors for Neighborhoods "heat map" reveals a half-dozen neighborhoods with greater vacation rental concentrations, including Movie Colony East, Vista Las Palmas, Racquet Club Estates and Deepwell Estates.
According to the U.S. census, Palm Springs' housing vacancy rate is 36%, and most of those vacancies are second homes found in such neighborhoods. Second homes rented out short term have shaped the current debate, given their profitability as income drivers for absent owners.
Mike Paonessa and husband Mark Steffen illustrate the classic Palm Springs homeowner story.
During vacations, the then-Chicago-based couple fell in love with Palm Springs and the houses they rented. In 2011, they bought a 1952 Deepwell Estates home for eventual retirement, and for seven years they rented the home short-term.
They made up to $35,000 a year, minus costs, covering as much as 70% of their Deepwell home costs. The cash also enabled them to remodel. They left Chicago and moved into the home last year; Paonessa is a retired real estate agent.
"I don't think we would have even bought the house if we couldn't rent it," said Paonessa, 55. "Having it sit empty 75% of the time would be uncomfortable. We had regulars, and most were families with kids. The rentals also help bring a younger generation to this city."
Should the ban be passed, proponents argue, second homes would be occupied by greater numbers of full-time residents.
Opponents counter that as a weekend tourist market, Palm Springs has never been a typical suburban community. Instead, the ban would trigger a sell-off of second homes, they say — housing stock, they add, that has been upgraded because of short-term rental income, helping to revitalize Palm Springs and its population of 47,000.
Other possible ripple effects of a ban include a loss of 349,000 visitors a year and $154 million in spending, along with about $13 million in tax revenue, according to a recent city-ordered analysis by Tourism Economics.
The numbers paint a city increasingly dependent on tourists and the lodging they use. Transient occupancy tax revenue from hotels and short-term rentals now makes up one-quarter of Palm Springs' $112-million budget. The short-term rental portion of that tax revenue grew nearly 20% per year since fiscal 2008.
Neighbors for Neighborhoods faults the city for what it terms an overdependence on those tourists.
"They never consider what a resident is worth," said Rob Grimm, Neighbors for Neighborhoods' campaign manager, noting that resident spending was not penciled into the economic study.
But without tourist infusions, some fear leaner times.
City officials say tourism delivered the city from the Great Recession's long shadow. Spending is back to where it was before the recession, generating $7 billion in the region and sustaining nearly 1 in every 4 jobs, according to a May economic study for the Greater Palm Springs Convention & Visitors Bureau.
As Coachella Valley's flagship city, Palm Springs drove those numbers with a $198-million downtown revitalization, as well as $148 million in incentive programs to renovate and build new hotels.
"I've seen this town when it was struggling, when Palm Canyon Drive was T-shirt and sunglass shops and closed-up storefronts," Paonessa said. "I don't want to go back to that."