Parsons Corp. is moving its headquarters from Pasadena to Washington, D.C., area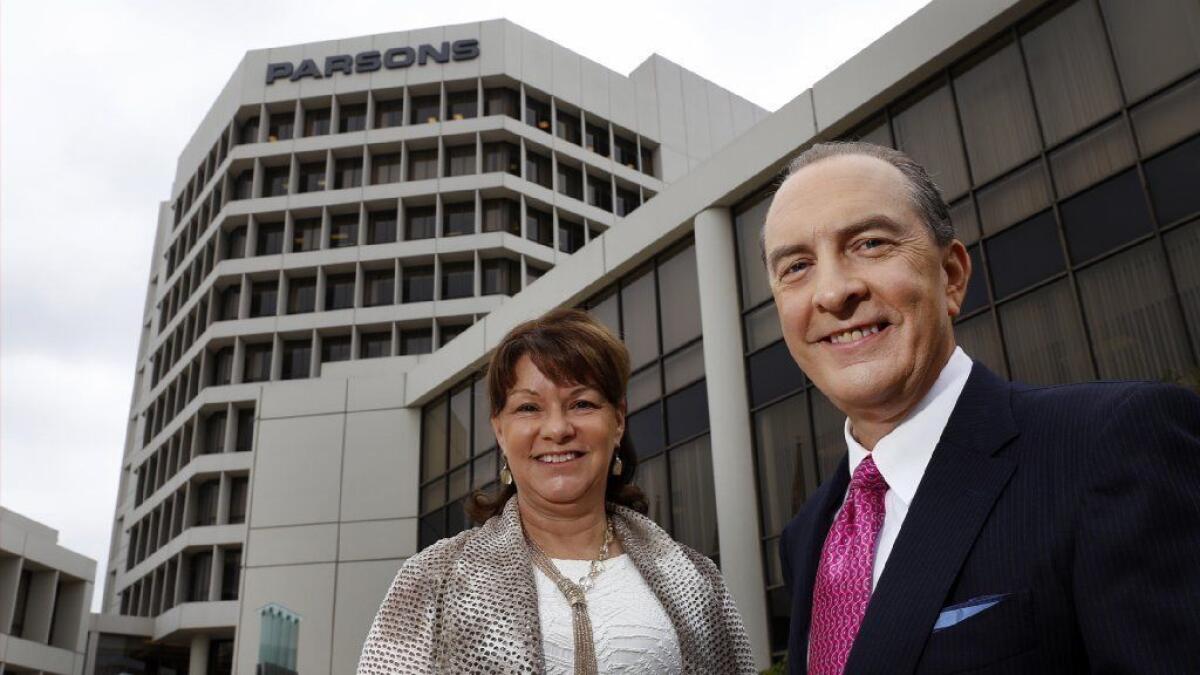 Parsons Corp. said Thursday it's moving its headquarters from Pasadena to the Washington, D.C., area so that the engineering, construction and cybersecurity firm can support its sizable workforce in Washington and be closer to key customers.
The privately held firm is not relocating California employees to its new headquarters at its existing facility in Centreville, Va., nor will there be any job cuts related to the move, said Virginia Grebbien, Parsons' chief marketing officer.
Parsons employs nearly 500 in Pasadena and 1,400 in California overall. The firm has about 2,400 employees in the Washington area and 16,000 worldwide.
The company said the move would not involve a major shift of the executive suite because its senior management already mostly operates outside of Pasadena. Chief Executive Chuck Harrington and Grebbien work out of Charlotte, N.C., for instance, and its chief operating officer, Carey Smith, already works in Centreville, the company said.
Parsons, with annual revenue of $3.6 billion, focuses on the defense, intelligence and infrastructure sectors, and its "strategic actions over the past 10 years, including acquisitions, have led to the Washington metropolitan area having Parsons' largest concentration of employees worldwide," Harrington said in a statement.
"The move of our corporate headquarters to the Washington area will support this concentration of employees in the region," he said.
The move also "puts us in closer proximity to many of our existing and potential clients, as well as key decision makers who influence policy and funding initiatives across our markets," Harrington said.
Parsons becomes the latest in a line of large corporations to move their headquarters out of California to other states for various reasons in the last decade while sometimes retaining a sizable workforce in Southern California.
Jacobs Engineering Group Inc. shifted its headquarters to Dallas from its longtime home in Pasadena in 2016. One reason: The firm said it would "benefit from a business friendly economic and cultural environment."
Another major engineering firm, Aecom, remains headquartered in Century City.
Toyota Motor Co. also picked Texas when it moved its North American headquarters from Torrance to the Dallas suburb of Plano in 2014. The automaker said the shift enabled Toyota to move the company's brainpower close to the company's manufacturing base, primarily in the South.
Occidental Petroleum Corp. also chose Texas in 2014 when it relocated its headquarters from Los Angeles to Houston, a major center for the oil and gas industry.
Other examples include Northrop Grumman Corp., which moved its headquarters to Falls Church, Va., from Century City in 2011 so the aerospace company could be closer to the Pentagon and other decision makers in Washington.
Chris Thornberg, founder of Beacon Economics in Los Angeles, noted that Parsons and many of these other firms are maintaining employment in Southern California and their decision to shift their headquarters "is more about corporations evolving than the idea that jobs are leaving."
"In no way, shape or form does any of this suggest that the Southern California economy isn't booming — it is — and having one of these firms' headquarters leaving is such a drop in the bucket," he said.
"Parsons wants to be closer to D.C., that's where their bread and butter is, and this is a shift to get in front of power brokers in D.C.," Thornberg said. "It's no reflection on the health of the Southern California economy."
Twitter: @PeltzLATimes