A new breed of homes provides 'pet suites' for owners' furry friends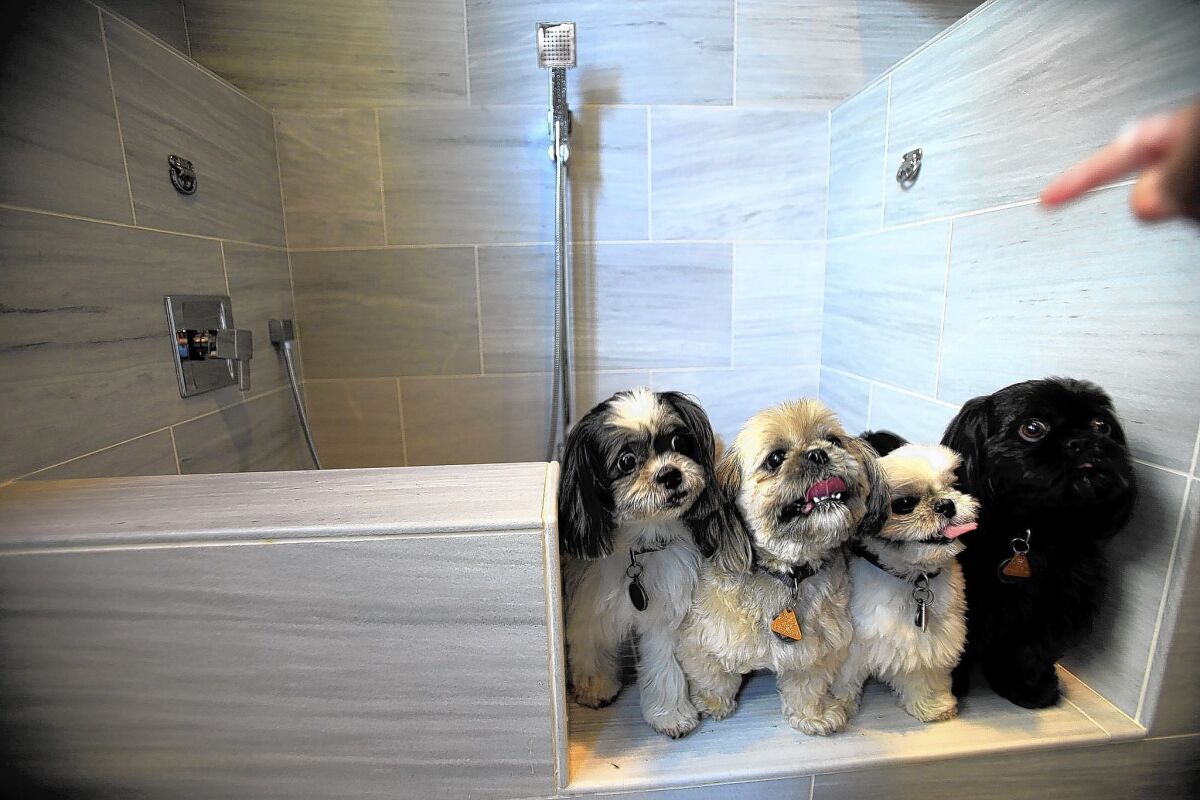 Upstairs, the master bathroom has a spa built for him and her modeled after a five-star resort, with dual showers and porcelain tile. Downstairs, there's another spa, but this one is strictly for paws and fur.
Each floor plan for the new homes being built in Brea, in a development known as Avignon at Blackstone, includes an optional 170-square-foot "pet suite." The suite includes a tiled washing station with leash tie-downs and a hand-held sprayer, a pet dryer, a cabinet with built-in bedding, a stackable washer/dryer combo (separate from the human laundry room), a flat-screen TV and a patio door that opens to a dog run.
The developer, Irvine-based Standard Pacific Homes, says it's building homes with the lap dog of luxury in mind.
"It comes back to enhancing the lives of our homeowners who are pet owners," said Danielle Tocco, a spokeswoman for Standard Pacific.
Pet-friendly residential design is gaining popularity as owners become more sensitive to their pets' needs, said Jennifer Wolch, dean of the College of Environmental Design at UC Berkeley.
"Such inclusive designs range from apartment complexes with dog-washing facilities, cat-friendly interior design, dog runs, trails and parks, and entire communities oriented toward living with companion and other animals," Wolch said.
But Michael Bianchi, managing broker for Berkshire Hathaway HomeServices California Properties, said that after polling his network of 150 agents about the pet suites, he thinks Standard Pacific has taken pet-friendly offerings to a new level.
"Standard Pacific is the only builder offering it as a package," Bianchi said. "The reality is, the amount of money people are spending on their pets is going through the roof. So why wouldn't they?"
The home builder is just one of many responding to a surge in pet ownership — nearly 70% of American households have pets — and spending, according to a pet industry survey. The companies are also capitalizing on a trend that experts call "pet humanization." Owners now think of their furry friends as children, and have begun to redefine what they consider necessary supplies, services and treatments, economists and pet industry experts say.
Wealthy pet owners have long splurged on high-end offerings that in many ways mirror what's available for humans — hotel-style kennel accommodations, fitness programs, expensive veterinary treatments and organic, gluten-free foods, some even prepared by private chefs.
Dogs at D Pet Hotels in Hollywood are boarded in "suites," including some outfitted like human bedrooms. Grooming options include full-body massages and detoxifying thermal wraps, and a chauffeur service will pick up lucky dogs in a Bentley, Rolls-Royce or Lamborghini Gallardo. Owner Alissa Cruz said her clients want to provide such creature comforts for dogs that love them unconditionally, like children who never talk back.
Beverly Hills Caviar offers a line of caviar for dogs and cats. It began in 2009 as a kind of a joke, owner Kelly Stern said. But she now has about 100 regular customers for the stuff — salmon roe for dogs and trout eggs for cats — which runs about $7 per ounce.
"Some dogs, you know, they're just born into luxury," Stern said. Her customers include celebrities and private chefs who cater to the rich — and their pets.
But now even those who aren't millionaires are pampering their pets.
America's pet spending is up across the board, not just among the jet set, and is expected to reach about $60 billion in 2014, according to some estimates. That's an increase of 70% over what it was a decade ago.
More than half the pet market — about $31 billion — is made up of owners who earn more than $70,000 a year, said Michael Dillon, president of Dillon Media, which publishes an annual report on the pet industry. But pet spending is skewing toward even higher income levels, he said.
"The long-term trends show consumers, households making over $100,000 a year have really ramped up spending," Dillon said.
Pet suites in a range of sizes are offered at 27 of Standard Pacific's communities throughout the country with prices beginning at $1,500, but typically around $8,000 or more, spokeswoman Tocco said.
The Avignon community features the largest layout, which adds about $35,000 to home prices that start at $1.3 million. A buyer from China has already ordered a house with a pet suite even though construction has yet to begin on the new homes, Standard Pacific said.
Melanie Dean lives in a Standard Pacific home near Dallas with her husband and two young sons. She said the pet suite was one of many things they loved about the house when they first saw it, though they had no pets at the time. They've since adopted a boxer named Lola.
"She's a part of the family," Dean said. "Everybody else has a room — so does she."
Dean said she thought it was a unique idea, but didn't realize how convenient the suite would be. It has helped her keep Lola's things organized, she said, and has saved her the hassle and expense of taking the puppy to a groomer.
"If we were to move again, now that I've had this space for Lola, I would want it again," Dean said. "It's hard to go backward."
Dean said she didn't know anyone else with a pet suite when they moved in last spring. Now Standard Pacific is building a home for her parents down the street. It'll have a pet suite too.
Twitter: @chadgarland
---
Sign up for the California Politics newsletter to get exclusive analysis from our reporters.
You may occasionally receive promotional content from the Los Angeles Times.